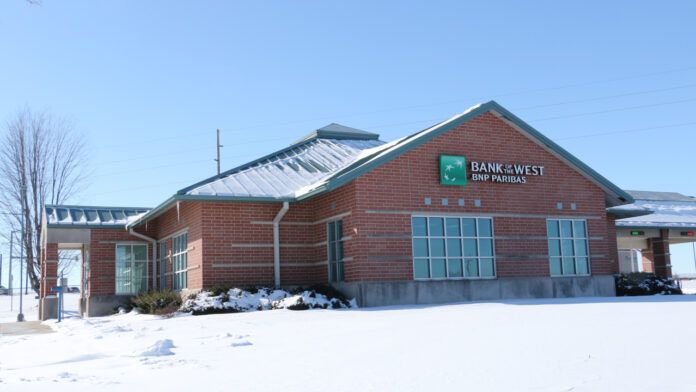 BMO Financial Group has received all regulatory approvals required to complete its acquisition of Bank of the West from BNP Paribas, more than 13 months after the $16.3 billion deal was originally announced.
The acquisition is expected to close Feb. 1, subject to customary closing conditions.
Bank of the West operates 20 branches in 17 different cities and towns in the state of Iowa, including four Corridor locations – two in Cedar Rapids, one in Marion and one in Coralville. The bank has a total of 504 offices in 18 states.
BMO Financial Group also already has a financial presence in the Cedar Rapids market. The group owns ATMs in several retail locations in the Corridor, and also operates a transportation finance office and call center at 3925 Fountains Blvd. NE in Cedar Rapids.
"We are excited to be bringing BMO and Bank of the West together to continue building a leading North American bank with a shared focus on progress for our customers, employees, communities and the planet," said BMO Financial Group CEO Darryl White.
"We've been providing banking services to BMO customers for over 200 years, helping them make real financial progress, expand their businesses and drive economic growth," added BMO Financial Group U.S. CEO David Casper. "We look forward to working with communities across our expanded U.S. footprint to help drive meaningful change at the local level through a strong combination of financial and community-driven investment."
Upon closing, BMO will welcome the nearly 1.8 million commercial, retail, wealth management and business banking customers from Bank of the West and provide increased convenience with access to over 1,000 U.S. branches in 32 states and nationwide fee-free access to over 42,000 ATMs.
Under terms of the deal, BMO Financial Group will also acquire more than 9,300 employees from Bank of the West.
After closing and until conversion of the combined banks' systems, expected in early September 2023, customers will continue to receive service through their respective Bank of the West and BMO branches, websites and mobile applications, according to a release. BMO will provide Bank of the West customers with information about how the combined bank will serve them, including the plan for the conversion of their accounts.
BMO also announced that two new leaders are expected to be appointed to the Board of Directors of BMO's U.S. holding company, BMO Financial Corp.:
Nandita Bakhshi, currently Director of BancWest Holding Inc. and of Bank of the West. Ms. Bakhshi is also currently president and chief executive officer of Bank of the West and co-chief executive officer and a Director of BNP Paribas USA, Inc. She also serves on the Board of Directors of Grameen America; the Supervisory Board of The Clearing House; The U.S. India Strategic Partnership Forum (USISPF); and the Council on Foreign Relations (CFR). Ms. Bakhshi has devoted her career to inclusive, transformational and forward-looking leadership with a particular emphasis on placing women in leadership roles. Ms. Bakhshi will also be appointed Special Advisor on Integration to BMO's Senior Leadership team upon closing.
Claudia Fan Munce, currently Director of Bank of the West. Ms. Munce retired in 2016 from a 30-year career at IBM as the Managing Director of the IBM Venture Capital Group and Vice President of IBM Corporate Development. Ms. Munce is a venture advisor at New Enterprise Associates (NEA), sits on the Board of Directors of Best Buy Corporation and Arteris I.P. and is an appointed faculty member at Stanford University Graduate School of Business.
"We look forward to welcoming these two exceptional leaders to our board of directors," said John Rau, chair of the board of BMO Financial Corp.
BMO Financial Corp. is the U.S. holding company for BMO Harris Bank N.A.