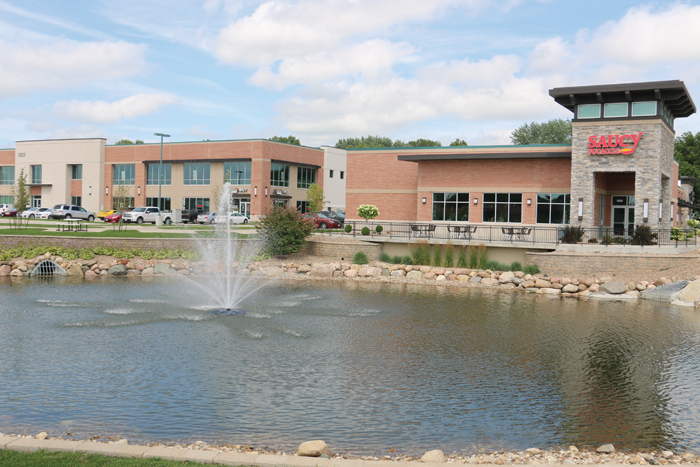 The Fountains in northeast Cedar Rapids, shown in an undated photo. BMO Transportation Finance will bring about 150 employees to the development by next May.  PHOTO/ANGELA HOLMES
By Dave DeWitte
dave@corridorbusiness.com
The sale of GE Capital division assets last year had several significant outcomes, but the biggest locally may be the arrival of BMO Transportation Finance in Cedar Rapids.
BMO Transportation Finance recently signaled that it's committed to keeping the former GE Capital operations in Cedar Rapids by signing a 10-year lease for 23,500 square feet of space in The Fountains, Ahmann Companies' mixed-use development near Blairs Ferry Road and Edgewood Road NW.
About 150 employees of BMO Transportation Finance had been in the Wells Fargo Vendor Financial Services facility at 1010 Thomas Edison Blvd. SW. They will move to The Fountains before the end of May, according to Dave Castelluccio, property manager for Ahmann Companies.
"We wanted to have our own unique space, and we were excited by the vision the developers had for the space," said Patrick O'Herlihy, a spokesman for BMO Harris Bank, the Chicago-based parent company of BMO Transportation Finance.
GE Capital's Transportation Finance business had $8.7 billion in earning assets at the time it was acquired by BMO. The company's Cedar Rapids operations will focus on commercial truck and trailer leasing. It joins a vibrant community of leasing businesses in the Cedar Rapids area, including GreatAmerica Financial Services, Toyota Financial Services and Wells Fargo Vendor Financial Services – another beneficiary of the GE Capital sale.
BMO Harris Bank is a unit of publicly traded BMO Financial, based in Toronto. Its role in the equipment finance business dates back to its 2009 acquisition of M&I Marshall & Ilsley Bank in Milwaukee. M&I's equipment finance business expanded under BMO, and according to a 2015 report in the Milwaukee Business Journal, the bank was instrumental in BMO's acquisition of GE Capital's finance assets.
"We were already active in the equipment leasing business, but our acquisition of the GE Capital Transportation Finance team allowed us to take on the best transportation finance team in the industry," Mr. O'Herlihy said.
The transportation finance market is currently seeing some softness because of overcapacity in the trucking industry. BMO Transportation Finance reports on industry conditions in its own newsletter, which this summer pointed to the significant number of new trucks put into service in the last two years, the excess capacity challenging the trucking industry and "tepid" freight formation.
Regardless, Mr. O'Herlihy said BMO is upbeat on the opportunity. He said it's too early to know what the growth picture for BMO Transportation Finance group in Cedar Rapids will look like, but leasing is seen as a growth business by the bank.
The Cedar Rapids operations of BMO Transportation Finance are being led by Operations Site Leader Brandi Allen, and include six departments: Customer Care, Cash & Financial Accounting, Tax, Collections, Account Management and Automations & Analytics.
BMO Harris Bank has no immediate plans to offer banking services in Cedar Rapids, however "we're always look for synergies, and in the future we could leverage the office for other elements of our commercial banking offerings," Mr. O'Herlihy said.
Wells Fargo acquired the largest portion of GE Capital's assets, totaling about $31 billion. They included GE Capital Vendor Finance, GE Capital Commercial Distribution Finance and portions of GE Capital Corporate Finance.
The Cedar Rapids operations acquired by Wells Fargo were part of GE Capital Vendor Finance, which provides manufacturers and dealers with private-label lending programs for things like IT, office imaging and construction equipment.
GE Capital grew into a major source of business financing during the Jack Welch era, but became major problem for the company during the recession of 2008-2009, due primarily to the quality of some of its loan assets. Jeffrey Immelt, GE's current chairman, continued to grow GE Capital early in his tenure, but facing more intense federal regulation of the financial sector, the company's board decided in April 2015 to unwind the business, taking GE back to its roots in manufacturing.
BMO Financial is best known as the operator of Bank of Montreal. BMO reported its net income rose 4 percent to $930 million for the third quarter of its fiscal year, while earnings per share rose 3 percent to $1.39.
BMO's U.S. Private and Commercial Banking operations reported net income of $277 million (U.S.), up $55 million, or 24 percent, from the year-prior quarter. Revenues increased $169 million, or 23 percent, due partly to the benefit of adding BMO Transportation Finance, along with higher loan and deposit volumes. Expenses increased $66 million, or 14 percent, due to the acquisition of BMO Transportation Finance.