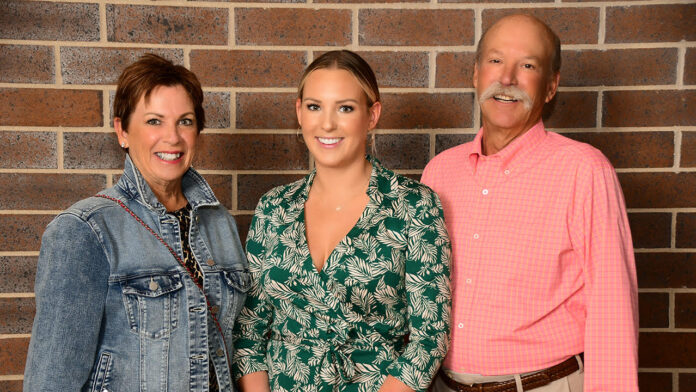 The Mercy Medical Center Foundation has received a $1 million commitment from John, Cindy, and Bailey Bloomhall of Cedar Rapids and Naples, Florida, in support of the Family Caregivers Center of Mercy.
With this $1 million investment, through the Mercy Foundation's Live with Purpose campaign, the Bloomhall's will partially fund the salaries and benefits of two new staff positions at the second location of the center over the course of five years. The positions, Family Caregivers Center Counselor and Caregiver Engagement Specialist, support family caregivers who are navigating life with an adult loved one living with dementia or another chronic condition.
The second location of the Family Caregivers Center of Mercy is located within the DeWolf Family Innovation Center in northeast Cedar Rapids as part of HallMar Village. HallMar Village is an advanced, integrated senior living community being developed by Mercy in partnership with Presbyterian Homes & Services.
"We deeply appreciate the Mercy Foundation and Mercy leadership listening to our unique request and responding accordingly," said Cindy Bloomhall. "We are pleased to offer our support. The two new positions mean more families will find individualized help and support not only in moments of need but all through the years they are caregiving."
"We are passionate about the many caregivers in our area having access to the personal counseling and coaching they need to live their lives with purpose while caring for a loved one," said John Bloomhall. "I'm grateful for the opportunity to provide critically needed resources to family caregivers in our community."
The Family Caregivers Center of Mercy was established in 2015 as Iowa's first comprehensive resource for family caregivers. Services, including support, education, and social opportunities, are available at no cost for caregivers supporting adults living with chronic conditions (dementia, cancer, arthritis, Parkinson's disease, diabetes, hearing conditions, etc.). It is a department of Mercy Medical Center in Cedar Rapids.
The Live with Purpose campaign has secured $11.6 million in the last 11 months, against an $8.5 million goal. Construction of HallMar Village is anticipated to begin this year, with completion expected in 2023.