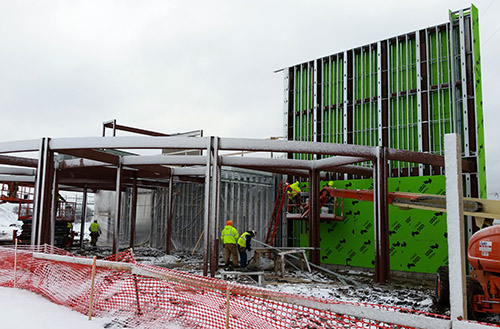 Crews work on the shell of the Rock Top Bar and Restaurant on a recent morning. The building is part of the $11 million Water Rock Place development, located at the former Vigortone feed mill site on Blairs Ferry Road.
By Dave DeWitte
dave@corridorbusiness.com
The year ahead will solidify Blairs Ferry Road as a major retail corridor in Cedar Rapids, as two sizable retail developments rise from redeveloped brownfield sites and new retailers are announced.
Hunter Companies completed demolition last year for Northtowne Market, a 23-acre, $16 million mixed-use retail and office complex on the former site of a Nash Finch distribution center in the 1200 block of Blairs Ferry Road NE.
Just to the east along Blairs Ferry, the Rock Top Bar and Restaurant is expected to open this May in the $11 million Water Rock Place development. It will be the first of many new businesses at the former 7.75-acre Vigortone feed mill site being redeveloped by Tami and Todd Culver.
Randy's Carpets & Interiors will begin redeveloping the former MidAmerican Aerospace warehouse into a contemporary flooring store at 280 Blairs Ferry Road NE this summer, and work will begin on a new University of Iowa Community Credit Union branch at 1400 Blairs Ferry Road later in the year.
Meanwhile, development activity of a different sort is picking up on the Marion end of Blairs Ferry Road more than a mile to the east. Fifty-seven living units are under development in the Blairs Ferry Senior project, 830 Blairs Ferry Road NE. Another senior living community, the Arbor at Lindale Trail, will bring 60 living units to 1362 Blairs Ferry Road NE, and Blairs Ferry Storage, a 147-unit self-storage facility, is nearing completion.
"It's a great time to be up here," said Greg Swartzendruber, director of development for Hunter Companies. "Traffic counts are fantastic, and it's a great bonus to have Rockwell Collins as a neighbor."
More than 25,000 vehicles per day go through the busy intersection of Blairs Ferry Road and Council Street. High traffic is guaranteed by the close proximity of Rockwell Collins, the Corridor's largest private employer, and by the convenience Blairs Ferry offers to shoppers visiting either the Lindale Mall area or the retail stretch west of Interstate 380, which includes Walmart, Sam's Club and Lowe's.
"Most studies show people do the majority of their shopping within a mile of their home or a mile of their work," Mr. Swartzendruber said. "Obviously, the growth of Marion helps us as well."
Six parcel sales in Northtowne Market were pending as of Jan. 28, Mr. Swartzendruber said, the largest being nearly four acres in size. A total of 13 parcels are available in the development, however Hunter Companies could develop most of the remaining parcels itself, he added.
Meanwhile, leasing has been completed on three of four buildings to be developed in Water Rock Place, according to Mr. Culver. Construction on one building is expected to begin April 1, with the others to follow shortly.
Location has been key to the project's early success.
"Our project is connected to Rockwell Collins," Mr. Culver said. "We've donated land behind the property to the city for a bike trail, and when it's done, people can walk or ride over from Rockwell."
Mr. Culver and his wife had never developed a project of the size of Water Rock Place, but they didn't consider it a stretch.
"To me, it's a new Collins Road," Mr. Culver said. While Collins Road has no more developable land and strains to hold peak traffic volumes, he said Blairs Ferry, which parallels it to the north, has potential to pick up the retail demand.
Spring will bring both retail announcements and the start of new construction in Northtowne Market, Mr. Swartzendruber said, although some retailers are expected to announce sooner.
"The internal road will be going in during the spring," he said. "Vertical construction on the first retail center will also start in the spring, and we'll have restaurants going up in the spring. A couple of other larger projects want to get started. There is a 50,000-square-foot store that will try to get foundations in in the fall, and open in 2017."
The buildings set for construction this spring in Water Rock Place will be owned by the Culvers. They will include a 15,000-square-foot all-retail building; a 9,500-square-foot all-retail building; and a 27,000-square-foot multitenant building. The 11,700-square-foot Rock Top building will have 3,000 square feet of restaurant and bar space, including Cedar Rapids' first rooftop patio and restaurant bar.
A list of retail tenants has not been released, however at least one is expected to be a natural/organic foods grocer.
The city of Cedar Rapids believes that having the move-in-ready retail developments will further its retail recruitment strategy, said Jasmine Almoayed, the city's economic development coordinator.
"The north area of Cedar Rapids actually has some of the wealthiest households, but they [retailers] are also looking for shopping patterns," she noted. Grocers, for instance, know that consumers tend to grocery shop within 10-15 minutes after they get off work, making locations close to major employers good choices.
The city is working closely to support Northtowne Market and Water Rock Place on the city's northeast side, even as it continues to support the development of Westdale, a mixed-use retail, office and living development on the west side.
Competition between the retail areas isn't a big concern to Mr. Swartzendruber.
"We have a very different demographic within a mile radius than they do," he said. A study by Buxton, the retail consultant working with the city, shows "a little overlap."
"I don't see it [Westdale] as a negative," Mr. Swartzendruber added. "If it draws eyeballs to Cedar Rapids, it's good. We'll put our site up against anybody's."
The initial leasing stage at a variety of retail developments has potential to build momentum for Cedar Rapids, according to Ms. Almoayed.
"It's a snowball effect," she said. "When you have certain retailers locating in a community, it tends to bring other retailers."
While the new developments are likely to absorb much of the new retail coming to the northeast quadrant in the next year or two, some existing properties also have promise. The owner of an 8,500-square-foot office building at Blairs Ferry Road and Council Street vacated in November by State Farm Insurance put the property up for lease, and it's already attracting a fair amount of attention for purchase redevelopment, according to Jim Angstman, who's representing the property for Gibbs Lamb Drown.
Senior living projects
The development of more than $11 million in new senior living units at the Marion end of Blairs Ferry probably isn't closely related to the area's retail development boom, said Tom Treharne, planning and development director for the city of Marion.
The Blairs Ferry Senior project under development by Landover Corp. and TWG Development LLC at 830 Blairs Ferry Road will have 57 units of affordable housing for seniors 55 and older. The Arbor at Lindale Trail project at 1362 Blairs Ferry Road, developed by Full Circle Communities Inc. and Iceberg Development Group, will have 60 affordable units for seniors 55 and older, and 10 market-rate units.
Mr. Treharne said he believed both developers simply needed ready-to-go sites after being awarded tax credits, which have to be used within a specific time window. The Arbors backs onto a new recreational trail, and Blairs Ferry Senior is conveniently located near Marion's Thomas Park.
Still, it couldn't have hurt that the city had just completed a major reconstruction of Blairs Ferry Road from Seventh Avenue to Lindale Drive, which included a widening of the road surface and sidewalks.
"It's a whole new road," Mr. Treharne said.