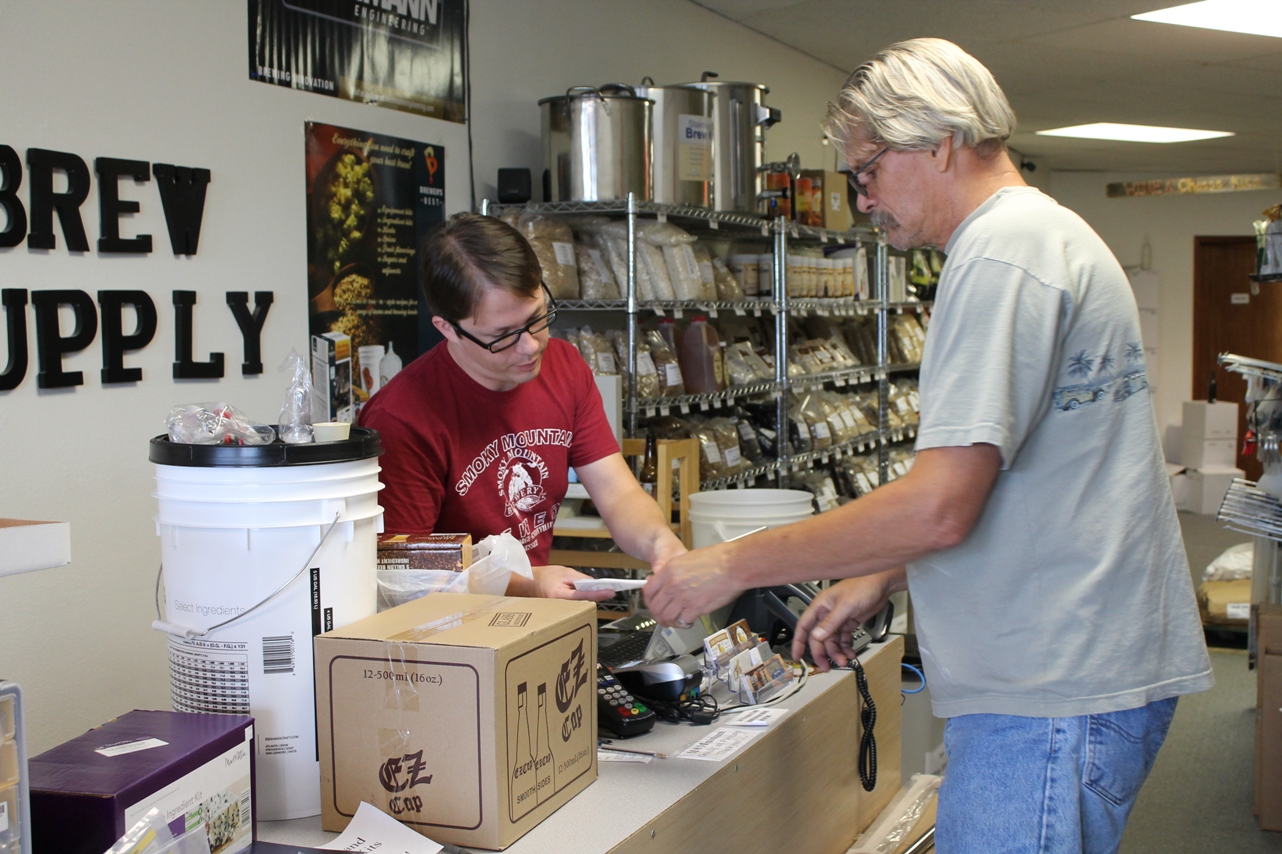 By Angela Holmes
MARION—Planning for events like the upcoming Cedar Rapids Beer Nuts Homebrew Festival has become much easier for home brewers in the Corridor over the past few years.
They now have two places to purchase supplies and talk to a brewer in person. In 2012, Joseph Williams and his fiancée, Nikki Scheel, opened BIY Homebrew Supply in the Indian Creek Shopping Center in Marion. Earlier this year, a second location opened in North Liberty, which is run by Mr. Williams' brother, Matthew Williams.
Before the Marion store opened, Corridor home brewers bought most of their supplies on the Internet, Joseph Williams said.
"There was no complete store that had supplies for making beer, cheese and wine," he said. "I had people knocking on the windows and doors before we opened."
Between the stores, BIY carries more than 100 types of grain and 40 types of hops. It also carries everything from processing chemicals to spices and flavorings. Complete beer, wine and cheese-making kits are also available.
But perhaps the most important asset that BIY offers that the Internet doesn't is Mr. Williams himself.
"There are certain things you have to be able to talk to somebody about," customer Rod Hilsabeck, of Springville, said during a recent visit to the Marion store. "He's always helpful."
Mr. Hilsabeck stumbled upon BIY a couple months ago by accident when he was in the area. A former home brewer, he got back into it once he realized he could find supplies locally.
"They're reasonable," he said of BIY's prices. "You don't have to worry about shipping like online."
Mr. Williams is available to talk to most days of the week, and even can help brewers who are stumped in the process.
"I'm always happy to talk to somebody while they're brewing," he said.
Mr. Williams, who is originally from Indiana, and Ms. Scheel decided to move to her hometown of Cedar Rapids from Chicago a couple years ago after the pet magazine they both worked for showed signs of trouble.
"I was joking, saying, 'I can't move there, they don't have a home brew store,'" he said. Her simple reply was, "why don't you start one?"
The idea took off and the Marion store opened in May 2012.
"There was a good culture here with an engineering mindset," Mr. Williams said. "Brewing combines science and process."
Festival brewing
With the Cedar Rapids Beer Nuts Homebrew Festival coming up Sept. 27 at Benz Beverage Depot in Cedar Rapids, Mr. Williams is seeing more customers in both stores.
"We see folks we haven't seen in awhile when the beer fest comes up," he said.
This will be the home brewing group's third-annual fall festival.
"We want to educate people the hobby is out there," said Tim Sines, president of the Cedar Rapids Beer Nuts.
The home brew event is different than a typical beer festival because patrons can talk to the brewer instead of a distributor. Also, beer served at the home brew festival is only available there, as there are no commercial vendors.
So far, there are seven homebrew groups signed up, including one from Illinois.
"It's a good way to get the hobby out there," Ms. Sines said. "It allows our members to show off their brews and learn how to be a better brewer."
The Cedar Rapids area has had a home brewing club since 1995. In 2006, the name was changed to Brew Nuts, starting out with about 10 members going to each others' houses and discussing brewing.
Four years ago, membership climbed into the 20s, causing the group to outgrow its members' basement bars. The group now meets on the third Thursday of the month, alternating between Bricks Bar and Grill in downtown Cedar Rapids and Lion Bridge Brewing in Czech Village.
            Other area home brewing groups include THIRSTY (The Honorable Iowa River Society of Talented Yeastmasters) in Coralville, CRAZE (Cedar River Association of Zymurgy Enthusiasts) Brewers in Cedar Falls and MUGZ (Mississippi Unquenchable Grail Zymurgists) in the Quad Cities.
As well as being the Cedar Rapids Beer Nuts' primary fundraiser, the 2014 Homebrew Festival will also raise funds for Pints for Prostates, a national group that partners with organizations that raise awareness, support treatment or conduct research aimed at improving care or finding a cure for prostate cancer.