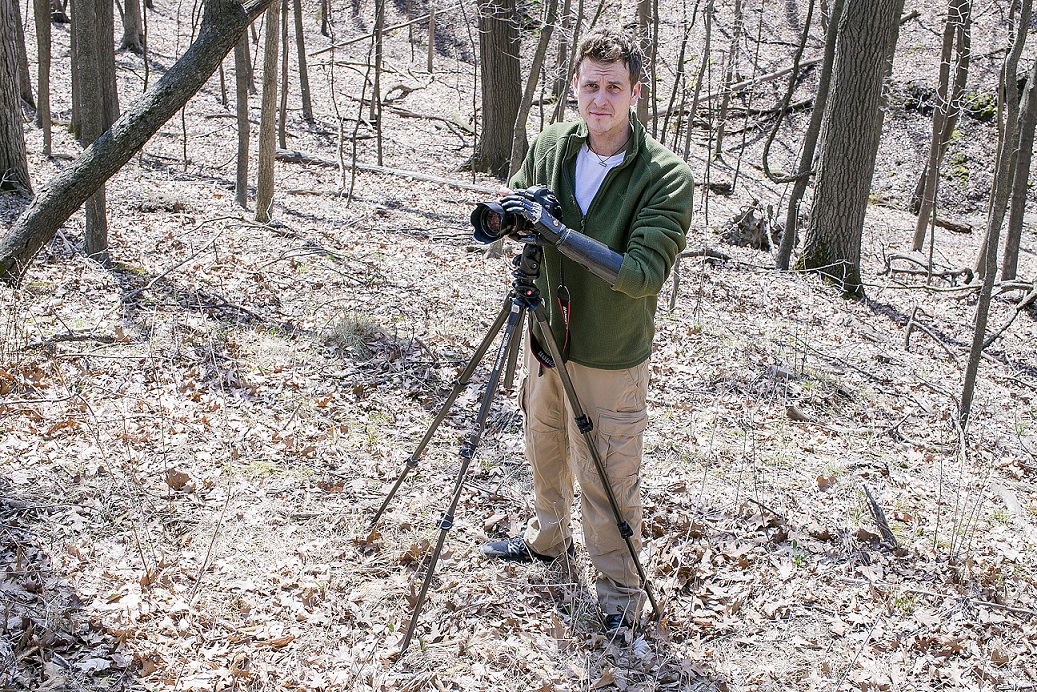 By Cindy Hadish
Ryan Rezin is not defined by his bionic hand, which prompts questions from adults and autograph requests from children, but is philosophical about what the cutting-edge technology provides.
Mr. Rezin, 31, of Iowa City, was just the second person in the United States to be fitted with a "Bebionic" hand from the UK-based Steeper Group.
"This hand gives whoever is wearing it a little more confidence," he said of the sleek black and silver myoelectric design, with individual motors in each finger that help users perform tasks such as tying their shoes.
In Mr. Rezin's case, he can use the hand to grab small camera components in his part-time job at Photo Pro in Cedar Rapids and wears it in other circumstances when he is in the public eye.
Life-changing accident
Now a professional photographer, he was just 18 when he nearly died in an explosion in Palo. The accident killed his two best friends.
The three had graduated from Kennedy High School in Cedar Rapids and were looking forward to college and the bright futures they had planned.
"I remember every step I took and every thought that I had," Mr. Rezin said of the day in August 2004 that left him hospitalized for months. "I've had a lot of time to reflect on it."
That life-changing experience influences his outlook and his openness to new ideas, including the left hand that he uses in place of his own that was lost as a result of the explosion.
Mr. Rezin volunteers for the non-profit St. Florian Fire and Burn Foundation and Phoenix SOAR (Survivors Offering Assistance in Recovery) through which he speaks to other burn survivors and groups, and is a counselor at St. Florian's Miracle Burn Camp.
He worked for several years at the University of Iowa Hospitals and Clinics — the same place he was taken after the accident and where the head surgeon commented that his was the most complex case he had ever seen. He underwent numerous surgeries to repair internal damage and spent eight months in the hospital's burn unit.
"It's very hard to live in the 'now,' but when you're in the hospital, you can't go anywhere and you're forced to look at who you are on the inside," Mr. Rezin said.
He had planned to pursue a career in medicine, but changed course to focus on his love of nature and, in turn, photography. Mr. Rezin's works – he specializes in landscape photography –  can be found through the Iowa Artisans Gallery in Iowa City.
Occasionally, he uses the Bebionic hand for his photo work, which also includes real estate photography for FSBO Homes and one-on-one instruction. Mr. Rezin, who is right-handed, taught himself to use the camera with one hand, even before he was fitted for his left hand.
Advances in prosthetics
Prosthetic limbs have made extraordinary strides in recent years in complexity and function, partly in response to injuries and amputations suffered by military personnel in Middle East conflicts.
After his accident, Mr. Rezin was fitted with a hook, which he still uses, particularly when he is lifting weights or performing other tasks where he finds it more practical.
For a time, he used a prosthetic hand that could only open and close and caused some awkward moments, including one incident when it became caught on a grocery cart and rolled away in the store.
"It actually sat in the closet most of the time," Mr. Rezin said. "It wasn't as useful as the hook."
He was fitted with the Bebionic hand at Advanced Arm Dynamics in Waterloo nearly five years ago, taking just an hour or so to learn how to operate it.
The battery-operated device attaches just above his elbow and uses neurofeedback to move. Flexing his muscles one way, for example, can allow Mr. Rezin to point his finger.
He practiced picking up small objects, such as Lego pieces and CDs, with powerful microprocessors continuously monitoring the position of each finger.
An "auto grip" sensor works to automatically grip tighter when an item, such as a glass, is slipping and adjusts the grip to secure it.
It also can be customized for golfing, fishing and other tasks.
Prosthetics such as the Bebionic don't come cheap, costing between $80,000 – $120,000.
'Iron Man'
Mr. Rezin said besides the high-tech functions, the hand offers hard-to-quantify benefits.
He took a trip last year to Nepal, where children and adults alike were intrigued by the technology.
Children often see it as an "Iron Man" hand from the movies and video games, and even approach him for autographs.
"With this, you kind of look more like a super hero," Mr. Rezin said. "You're more approachable."
Wearing the hook, he is more apt to be taunted, he said, attributing the response to stereotypes of hook-wearers as pirates and killers.
"The biggest advantage is other people's perceptions," Mr. Rezin said of the Bebionic hand. "It gives me a little more confidence; a positive feedback."