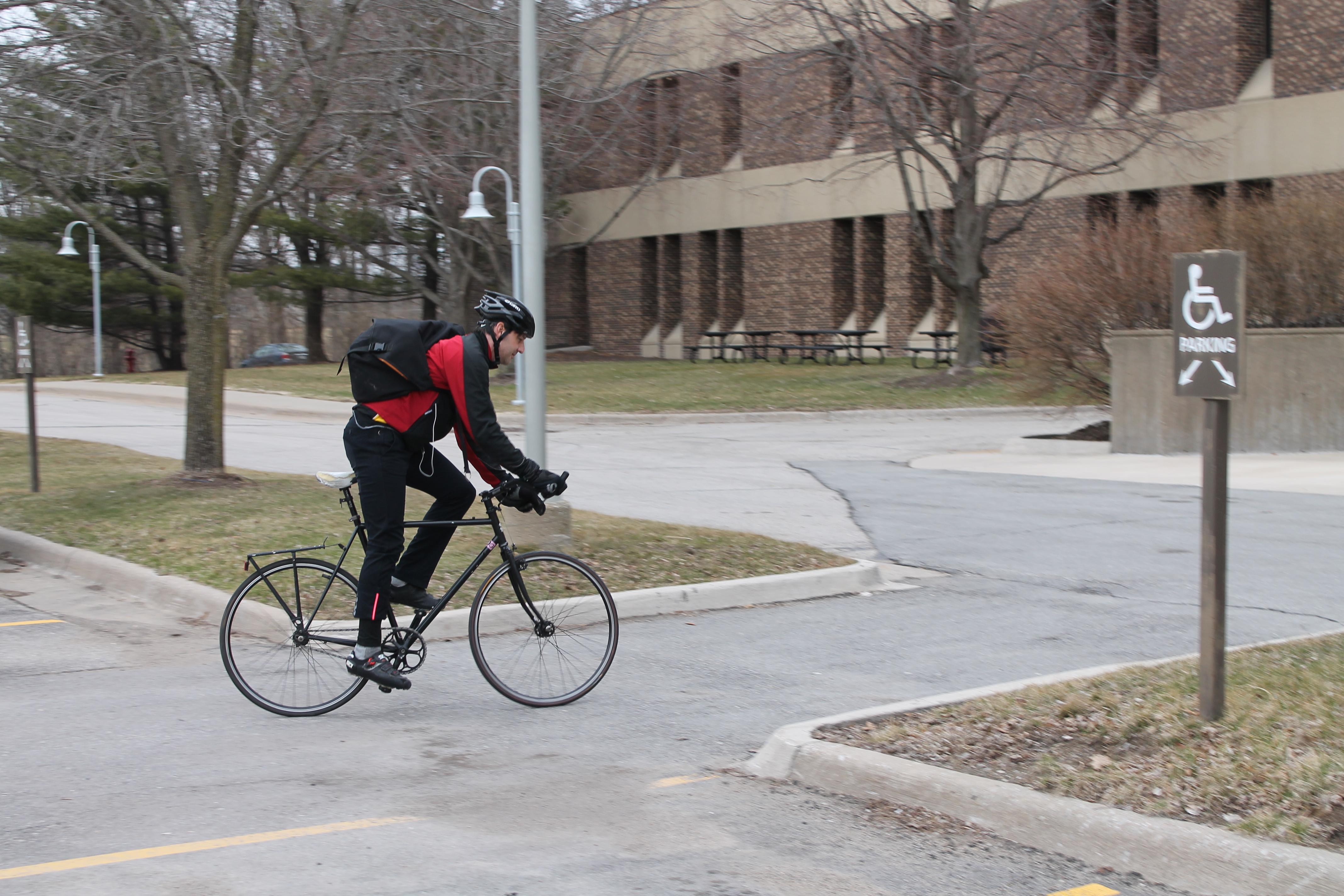 By Dave DeWitte
CORRIDOR – It's an earnest question about an annual observance that seems to get more buzz every year: Why get excited about Bike to Work Week?
Bike to Work Week will roll around this year May 12-18. Promoted by the League of American Bicyclists, it's during Bike Month, and includes an official Bike to Work Day, May 16.
Employers may wonder if it's an event worthy of support, or if it's simply showing favoritism for one recreational hobby over another. Is it something that can involve everybody, or is it mainly for the fit few with no kids and plenty of time for a slower commute? And since it's one of thousands of designated advocacy weeks, should employers pay it any more attention than Be Kind to Animals Week?
One place to look for answers was the Regional Sustainable Business Alliance's Bike to Work Week forum March 26 in Cedar Rapids.
Panelists discussed trends such as the growing adoption of bicycles with rechargeable electric assist motors that increase the distance bicyclists can ride to work, the ability for employers to tape green commuter tax credits and the trend toward employers offering more bike commuting amenities.
Underpinning the entire lunch-hour event was the premise that organizing fun Bike to Work Week activities isn't about cycling elitism or training for RAGBRAI. It's about introducing more employees to a lifestyle that contributes to wellness while reducing their carbon footprint.
"You want it to be the gateway drug to cycling," quipped Mark Wyatt, executive director of the Iowa Bicycle Coalition.
Getting a Bike to Work Week going in a workplace tends to be the product of a grassroots employee movement, often involving some cyclists who already bike to work part of the year, panelists said.
"It starts small – it starts with just one person," said Jim Yoon, who started riding to work at ACT in Iowa City when he didn't have a car.
"I would just write on a piece of paper and staple it around the handlebars of the other person's bike," said Mr. Yoon, who is now moving to New York. The notes would mention that cycling events were being planned for ACT employees, and encourage the bike owner to join in.
"Start small," said Nikki Northrop Davidson of Bike2Work Consultants, Cedar Rapids. A good initial goal, she said, is to organize a planning event for Bike to Work Week.
One first year Bike to Work Week activity to plan might be a how-to workshop focusing on such aspects as route planning, equipment selection and setup and what to wear for safety and visibility, Ms. Davidson said. Another goal might be a celebratory breakfast or lunch for employees who rode to work during the week.
During Bike to Work Week, ACT's employee committee has organized a breakfast for employees who bicycle to work. It also has held a daytime bicycle ride between its facilities in Iowa City for individuals who can't bicycle to work because of the long distance involved.         About 40 participated in that ride, according to Bruce Reynolds, a 34-year employee and avid cyclist.
Outside Bike to Work Week, ACT's committee also organizes monthly lunchtime rides, a "Demo Day" that lets employees try out different kinds of new equipment from World of Bikes in Iowa City, and offers an interactive ACT Cycling Club web site.
Rockwell Collins also has an active bike to work committee and events promoting Bike to Work Week. Richard Bradford, an engineer who commutes by bicycle, said the committee has learned the benefits of partnering with other groups and activities focusing on sustainability and wellness, such as the company's Green Workplace Community of Practice, and its Earth Day Fair.
ACT and Rockwell Collins both participate in the League of American Bicyclists' National Bike Challenge, which provides a way for employer organizations to rank themselves among other employees by cycling participation and mileage.
Mr. Bradford brought a logical engineer's perspective to the issue of cycling to work, saying it combines two vital functions.
"From personal experience, I will not get enough exercise if I don't bicycle to work," he said.
Derek Stepanek, of Northtowne Cycling and Fitness in Cedar Rapids, encouraged employee committees to find advocates in their companies' senior leadership ranks to help them find company resources for needs such as bike racks and event funding. He said Northtowne can often suggest a few names from its customer contacts.
Tangible benefits to the employer can be many, speakers said, including reduced parking congestion, reduced health care expenditures, improved morale, and not least, a valuable recruiting message that they value employees who bicycle to work.
"We've had two or three instances in the past year where we've had companies make major investments in bicycling because it really attracts a more competitive workforce," said Mr. Wyatt, referring to such amenities as bicycle repair stations, sheltered bike storage and even changing rooms.
The event, held at the Cedar Rapids Metro Economic Alliance, attracted about two dozen individuals from area employers, including wellness specialists, human resources specialists and employees interested in starting Bike to Work Week events.