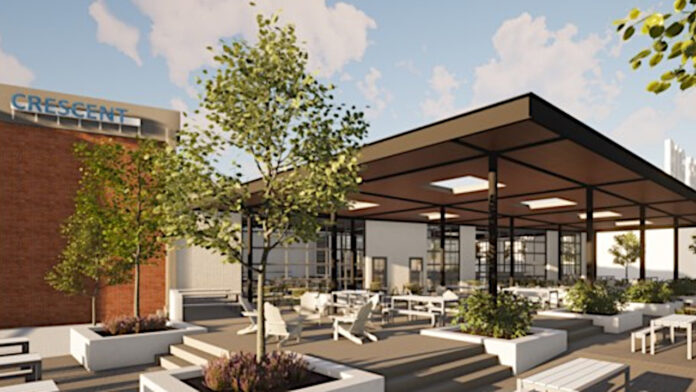 Big Grove Brewery has announced plans to open its newest brewery and taproom location in Des Moines in 2022. Plans for the 15-barrel brewery and taproom are proposed to be located on the eastern side of the Crescent Chevrolet Building as part of the Ingersoll corridor project.
This milestone is a major move for Big Grove Brewery. "For me, it was crazy because I came back to Iowa eight years ago to complete our dream of opening a location in Solon. For the longest time, we didn't think anything past that. I'm thrilled by our growth and bringing the magic of Big Grove to Des Moines. It is a perfect next step," says Doug Goettsch, co-owner of Big Grove.
Big Grove looks forward to contributing to an already successful and growing craft beer scene in Des Moines, while furthering efforts to make the state of Iowa a craft beer destination. "In Des Moines, we plan to cover a full range of beer styles, from barrel aged sours to hazy double IPAs and everything in between," said Head Brewer Andy Joynt. "Quality and freshness are important to us, so it's great to get people closer to the source."
The newest brewery also will offer distinct types of cuisines. "Our chefs are developing a vibrant menu ranging from traditional and approachable brewery fare to global street food, as well as vegan and gluten-friendly options," said Big Grove Culinary Director Benjamin Smart.
For service-style, Big Grove is looking to do a hybrid model. There will be a large full-service section, but guests also can sit in a self-service section which "allows flexibility for bigger parties and people to get up and mingle and just have a different experience that doesn't confine them to their table," said Mr. Smart.
An emphasis will be placed on the experience, especially for families. "Families come and feel welcome, and kids have a place to come around and play while parents gather," said Mr. Goettsch.
Krause+ will be overseeing the building of Big Grove Des Moines and the redevelopment of 5.5 acres including the Crescent block on the north side of Ingersoll Avenue, which aims to connect pedestrian and bicycle traffic.
According to Jerry Haberman, president of Krause+, "We have always envisioned the "Crescent block" to include an 'eatertainment' venue consisting of music, food, and a brewery. This is a successful Iowa brewing scene — Des Moines is becoming a destination for craft beer and brewing."
"At the heart of Big Grove is a goal of fostering the community around us and being environmentally responsible while we do it," says CEO of Big Grove Matthew Swift.
Big Grove, which has locations in Solon and Iowa City, also has plans to open a brewery in Cedar Rapids in 2023.