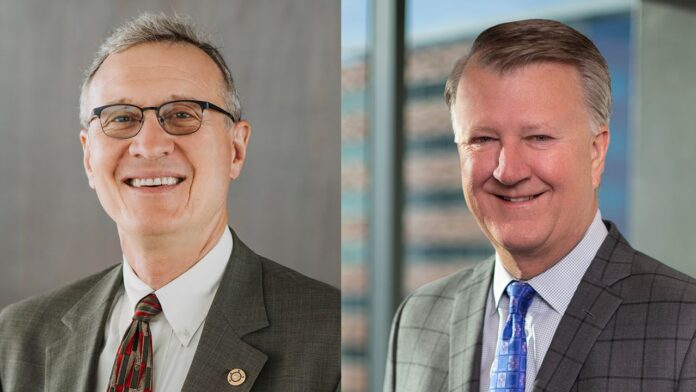 The Great Resignation or Great Retirement isn't limited to the average worker. It is impacting chief executive officers as well.
There are only a small handful of publicly traded companies headquartered in the Cedar Rapids/Iowa City Corridor, and two of them are looking for new leaders after the announced retirements of United Fire Group, Inc. (Nasdaq: UFCS) CEO Randy Ramlo and MidWestOne Financial Group, Inc. (Nasdaq: MOFG) CEO Charlie Funk.
Mr. Ramlo and Mr. Funk both certainly deserve to retire after long, dedicated and successful tenures at their companies while also being significant community leaders. They both have been voted to the CBJ's list of the Most Influential leaders several times during their careers.
Mr. Ramlo has been CEO of Cedar Rapids-based UFG for the past 15 years, and Mr. Funk has been CEO of Iowa City-based MidWestOne since 2008, both outpacing the average tenure of other publicly-traded company CEOs.
According to a 2020 Conference Board study, the average tenure of departing CEOs dropped significantly in the past few years. In the S&P 500, the average tenure of departing CEOs was 7.8 years, the lowest since 2010 and down from 10.8 years in 2015; in the Russell 3000, it was 6.9 years, down from 9.3 years in 2017.
UFG's largest acquisition to date was in 2011 under Mr. Ramlo, when it acquired Mercer Insurance Group for $191 million.
Under Mr. Funk's leadership, Mid-WestOne grew from less than $500 million in assets and approximately 200 employees in 2000 to nearly $6 billion in assets and 750 employees today, with locations in Iowa, Minnesota, Wisconsin, Colorado and Florida.
It is hard to overstate how important it is to hire the right successors to these economically important companies in the Corridor. From employment numbers to charitable donations to overall community leadership to company culture, it often comes from the top, as much as they might want to diminish the importance of their roles as CEO. Leadership does matter.
"CEO succession is one of the most consequential events a company may face, with possible profound effects on its strategy, its organizational culture, and its relationship with investors and other stakeholders," said Matteo Tonello, managing director of ESG Research at The Conference Board and a co-author of the study. 
We congratulate and wish both Mr. Ramlo and Mr. Funk successful retirements. They certainly deserve it. But we also hope that their companies pick the right person to succeed them. It's a choice that could have a profound impact on the region for years to come.