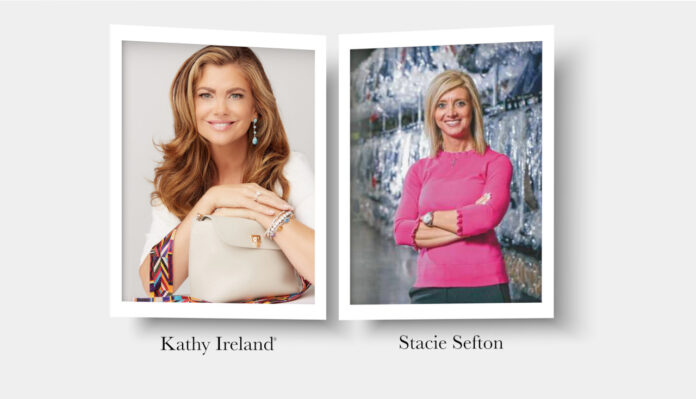 Cedar Rapids-based BHFO, an e-commerce fashion marketplace, supplier to retailers and leading e-tailer, has entered into an expansive partnership with kathy ireland Worldwide, the lifestyle brand founded by Kathy Ireland, and acknowledged by WWD this month as the highest-ranking woman-owned licensing business in American history.
The relationship, following months of confidential negotiations, was made public in late March by Jon and Stacie Sefton, founders and owners of BHFO.com.
Moved by their mutual values, as well as a passion for quality, affordable fashion, the collaboration is based on both companies' shared belief that "style is empowerment and fashion must not be out of economic reach."
"This collaboration connects individuals and families from around the globe with the world's finest brands including those from kathy ireland Worldwide," said Stacie Sefton, CEO of BHFO.com.
The multi-year agreement and extraordinary relationship was negotiated by fashion leader Lee Mandelbaum of Price Point Buying NYC. Mr. Mandelbaum exclusively represents kathy ireland Worldwide (kiWW) in tandem with long term kiWW partners John and Marilyn Moretz of Moretz Marketing. Over the last 6 months, Mr. Mandelbaum has procured licensing agreements for kiWW in fashion & cosmetic arenas for our multiple brands, including yet, not limited to: kathy ireland, Kathleen Marie New York, House of Ireland, MIVI: Ireland Meharey Six, a menswear collection inspired by US Military, Friday Night and Sunday Dinner by Chef Andre, whose New York Times Best-Selling book, "True You" with Janet Jackson is at number 1 and MADLY (Mother And Daughter: Love You) Cosmetics.
"BHFO, Jon and Stacie are extraordinary people," said Ms. Ireland, Chair, CEO and chief designer of kathy ireland Worldwide, America's 15th largest brand, according to License Global Magazine. "They and their colleagues share our core values and are the heartbeat of the fashion industry. Their incredible growth from a family garage to over 240,000-square-foot facility, which includes AI, is inspiring. Not only is their work important, their commitment to the community of customers all over the world is rare and inclusive, especially in the fashion industry. In the history of our company we have never selected an online relationship this comprehensive and expansive… until now. With Jon, Stacie and our BHFO colleagues, some wonderful things are going to happen. BHFO is actually an acronym for Jon and Stacie's daughters, however amusingly, many customers equate BHFO to Beverly Hills Fashion Outlet. We will always honor the family intention, but to also be known as the Beverly Hills Fashion Outlet online is a wonderful branding opportunity."
"BHFO is an extraordinary resource in all things fashion, men, women and children will find their needs met at BHFO.com," said Jon Carrasco and Stephen Roseberry, worldwide creative director and president-chief marketing officer of kathy ireland Worldwide, respectively.
"We will see this great company expand into exciting new categories. The success of this relationship will enhance positive change, throughout our world. Not only because of the customers who are being served… equally important is the passion of Jon, Stacie and Kathy to help non-profits."
"We are thrilled and honored to work alongside Kathy and her incredible team at kiWW," Ms. Sefton added. "When choosing a business partner, it is of utmost importance to BHFO to be aligned on core values, vision and goals. We are grateful to have found all of these with this partnership. Kathy is one of the most successful female entrepreneurs and philanthropists of our time and it will be a privilege to work with her."