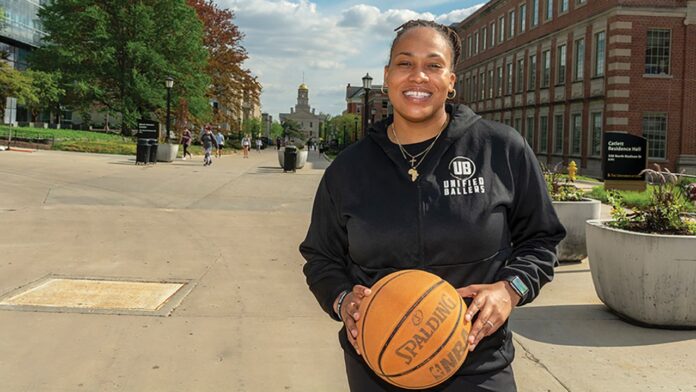 When Raina Harmon was a high school girls basketball assistant coach in her hometown of Detroit just a little more than a decade ago, she had no idea she would rise through the coaching ranks – or that it was even possible.
But after watching Dawn Staley become the only Black head coach of a Division I basketball team –women or men – to win multiple national championships, the University of Iowa women's basketball assistant coach and business owner is excited about the possibilities, not only for herself but for a future generation.
"To do that is really a testament to her hard work and who she is as a person," Coach Harmon said of the University of South Carolina women's basketball coach who led her team to a national championship on April 3 at Target Center in Minneapolis. "I'm happy the women's basketball community has rallied behind her. What she's doing for Black coaches, male or female, is to just show us when given an opportunity, we can come out on top." 
Also, a testament was the number of t-shirts created by Ms. Harmon's athletic apparel company, Unified Ballers, which she spotted while in Minneapolis during Final Four weekend.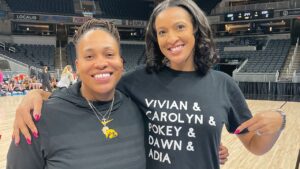 One shirt in particular simply says "VIVIAN & CAROLYN & POKEY & DAWN & ADIA" across the front. It recognizes the only five Black women who have led their teams to an NCAA women's basketball Final Four: former Hawkeye and current Rutgers coach C. Vivian Stringer (who also took Cheyney State College to the Final Four), former Purdue coach Carolyn Peck, former Louisiana State coach Pokey Chatman, South Carolina coach Dawn Staley (who also won the national championship in 2018) and Arizona coach Adia Barnes, who coached in last year's title game.
"It started right when we got to our hotel, seeing a couple people in the lobby with the shirt on and then on social media," Ms. Harmon said. "I walked around Tourney Town and saw the shirts, and when I got to the arena, we started counting at first. It was an amazing feeling; I didn't know these people, but I know they really appreciated the message and what the women on that shirt have done. It was just good that I had a simple thought, and I was able to execute it."
Persistence pays off
Ms. Harmon, who just wrapped up her fifth season on the Hawkeye women's basketball staff, hadn't considered coaching when she played basketball at Central Michigan University in the early 2000s.
"It never really dawned on me that I could be a college coach because I didn't have anybody who looked like me coaching," she said. 
It wasn't until she went back to Detroit and began coaching her former high school and AAU teams that she realized she could further her career. So when college coaches called her asking about potential recruits, she let them know she was interested in any coaching openings they might have available. 
Her persistence paid off when she was hired as the director of basketball operations for the University of Michigan women's basketball program. After learning the ropes there for two seasons, she went back to her alma mater Central Michigan, where she was an assistant coach for five seasons. 
When Iowa's head coach Lisa Bluder called her for an interview in 2017, she didn't know what to expect. 
"I wasn't sure about Iowa. I only knew cornfields and presidential elections," Ms. Harmon said. "When I came to visit, I was kind of blown away by Iowa City in the regard this community has for this program."  
A business is born
As a coach, Ms. Harmon has always considered herself a "highly energetic motivator," firing off phrases such as "where my shooters at?" So, when she noticed former players hashtagging her sayings, she was pleased that the quips stuck with them. But then she thought: "How can I capitalize on these?"
In 2018, she initially created just three shirts with the saying "Where My Shooters At?" for her, her wife and her stepson. 
"As we wore those shirts, people began to ask where they could get one," Ms. Harmon said. "And then I realized I wasn't going to sell them out of the trunk of my car. I wasn't going to get away from taxes and all that, so I had to be a little more professional in my approach." 
Once she created the LLC, she wanted the company's name to represent her values on and off the court.  
"It's my hope to unify the kids on our team, to unify people within the women's basketball community and not only women's basketball, but all of athletics," she said. "So, the name Unified Ballers just came to me to start a clothing and apparel line."
The company's first two shirts, "Where My Shooters At?" and "Bet on Yourself," got the ball rolling. In 2020, United Ballers began to focus on social justice issues.   
"While I have spent most of my life in athletics, I also consider myself an activist," Ms. Harmon said. "I've used this company as a way to combine those two things. I think we've seen a need for people who want to identify themselves in those two intersections, especially after the death of George Floyd while we were in a pandemic. I think a lot of people paid attention to what we were doing right after that."
One of her best-sellers was a face mask with the saying "Time to Unify." Others in the Social Justice Collection include "We Will Not Shut Up and Dribble" and "Dear Black Women: We Got Us!"
"That was the first time that I saw customers that I didn't know starting to purchase some of my items," she said. "It's unfortunate circumstances to be in a pandemic or to even see some unjust things happening in the world. But I think with timing and purpose; I was able to help people speak to something, to help unify people."
A nod to the greats
After the Hawkeyes were eliminated from the 2021 NCAA Women's Basketball Tournament in the third round, or Sweet 16, Ms. Harmon watched the rest of the games from home. 
Realizing that only five Black women had ever coached in the Final Four, she decided to make a shirt with their names for herself. When she posted a picture of the shirt on social media, it immediately drew interest.
"Hundreds of thousands of impressions later on Twitter and a lot of requests, I decided I should probably put that shirt out because I like what it represented," she said. "As a coach in this profession, I looked to these women as somebody who helped break some barriers, so maybe one day I could be in the position that they found themselves in, leading a team to the Final Four."
She wasn't comfortable making money off her mentors' names without their permission, so she reached out to the Twitter profile of the W.O.C. (Women of Color). Even though it was the Final Four weekend, she received a quick response and eventually was connected to the five coaches mentioned on the shirt. 
"That evening [the night before the championship game], I was on a group thread with Vivian, Dawn, Adia, Pokey and Carolyn," she said. "They all gave me their blessing to do it." 
The "Black Coaches Matter" shirt was an instant hit, even receiving a retweet from Ms. Barnes about an hour before she coached in the national championship game. 
Sales picked up again right before the 2021-22 season started and gained traction when Coach Bluder wore the shirt in late February during a nationally televised game against Rutgers.  
"I appreciate Coach Bluder being intentional about it," Ms. Harmon said. "She wanted to pay homage to one of her mentors, Vivian Stringer. She also thinks very highly of the women on that shirt. She understands what representation means to me. She also knew what it would mean for my business. "
Before the NCAA Tournament began, Ms. Harmon announced that a portion of the shirt's proceeds would help five young women attend the Step Up professional development symposium. 
"I had a chance to talk with some female Black head coaches [at the Final Four], and we were talking about them being on the next generation of that shirt," she said. "It sparks a lot of conversation about where we've been in the past and also what the future of women's basketball looks like."  
Get Connected:
Online store: www.unified-ballers.com
Instagram: www.instagram.com/unified_ballers/
Facebook: www.facebook.com/UnifiedBallersLLC