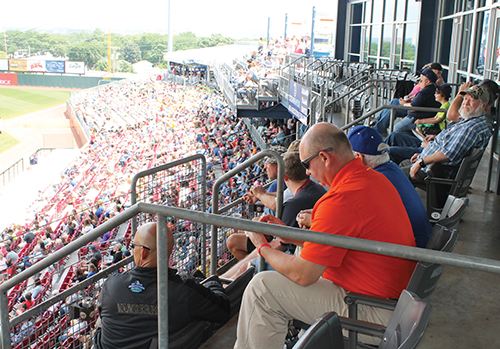 By Angela Holmes
angela@corridorbusiness.com
Whether you're a die-hard baseball fan or just in it for the food, Cedar Rapids Kernels games at Veterans Memorial Stadium offer a variety of spaces to watch the game or socialize with co-workers or clients.
"We relate to any kind of businesses – manufacturers, law firms, accounting," said Doug Nelson, CEO of the Kernels. "Baseball lends itself to be a social event. It's easy to talk to each other during games and it appeals to such a wide audience."
Accountant Jim Brems, who treated his clients and colleagues to a party in a suite during a noon Kernels game on July 7, agreed.
"It's a good social setting with great food and service," he said. "We rent a suite once a summer."
The Diamond Suite rented by Mr. Brems, of James T. Brems P.C., of Cedar Rapids, has table seating indoors and seats outside in the stadium.
"Whether it's hot or cold, you can go inside or outside," Mr. Brems said as he enjoyed a beer and watched the Kernels take on the Beloit Snappers. "Other than apple pie and Chevrolet, baseball is as American as it gets."
The stadium has 12 Diamond Suites available to rent, including the 100-seat Grand Slam Suite, which is used for everything from company meetings to class reunions.
"Any of the spaces can be booked anytime," said Jessica Fergesen, director of corporate sales and marketing. "Meetings can be held in the suite all day and then people stay for a night game."
Two of the most popular areas at Veterans Memorial Stadium for group outings are the the Plumbers and Pipefitters Pavilion behind left field and the Miller Mezzanine near right field, said Andrea Brommelkamp, director of tickets and group sales.
The pavilion has four decks and can accommodate up to 600 people. A minimum of 50 people need to be reserved for each deck; it costs $11 a person with ticket only or $27 per person for all-you-can-eat food and drink service.
"It's one of the most affordable places [to entertain employees and clients] in the Corridor," Ms. Brommelkamp said of the stadium. "We offer the best customer service. It is relatively easy to plan as the Kernels staff does everything for you."
The mezzanine holds up to 300 people with a minimum of 75 needed to rent it. It costs $13 per person with ticket only and $29 per person for unlimited concessions.
The Rockwell Collins Airborne Solution Finance Group took in the noon game July 7 on the mezzanine.
Tim Chadwick, controller, said he likes to treat the department at least once a season to a game as an employee appreciation and team-building event.
"We do this quite a bit," he said. "The venue is great, the Kernels are great. We really like the format of the noon games. Employees can take the afternoon off without taking a vacation day."
Renewals for the mezzanine for the 2016 season will start this fall, Ms. Brommelkamp said. Those who reserved a date this season will receive the first right of refusal. The general public is allowed to rent the area for specific games beginning in October, but those dates typically book up fast.
"You have to plan early, especially for the weekends," Ms. Brommelkamp noted. "You definitely need to plan several months in advance."
The Arctic Insulation Party Plaza, at the end of the concourse on the right field side, was added in 2012 out of necessity because other spaces were filling up so quickly for group outings, Ms. Fergesen said.
The covered area with long tables and chairs and its own concession stands can hold up to 175 people, but requires only a minimum of 15, allowing it to accommodate smaller groups. The area's pricing matches that of the pavilion.
Other group options include the Kernels Party Package for groups of 10 or more people which includes a club ticket to the game, a meal voucher and two beverages per person for $180 for 10 people and $18 per extra ticket; and block group seating in the stands for 25 or more people for $8 per person in the club section and $6 in the plaza section.
The entire stadium or certain areas can be rented when there is not a game, Ms. Fergesen said. Collins Community Credit Union, for example, rented the entire stadium earlier this month for its members. Food and drinks were available and a movie was played on the big screen in the outfield.
More than 80 extra events are held each year in Veterans Memorial Stadium, pushing the total number of annual visitors to more than 250,000.
"If you want to have a party, the best place to come is the ballpark," Ms. Fergesen said. "That's why our slogan is 'Party in the Park.'"
TIMES ON BEST OF LIST:
2 Time Best Sporting Event for Entertaining a Client