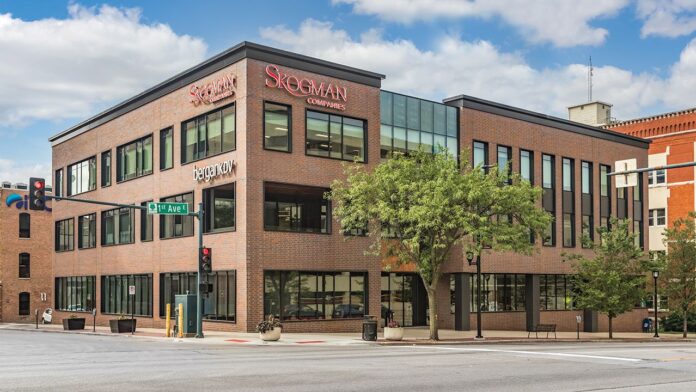 Skogman tops the list of award recipients this year, with honors in five different categories for the firm's various divisions.
Diversification has been key to the company's continued growth. Skogman Companies started as a home building company in 1947 and has built more than 12,000 homes in Iowa. With the addition of Skogman Insurance in 1965, Skogman Realty in 1973, Skogman Commercial Group in 1988, and D&B Remodeling in 2017, Skogman has evolved into the largest real estate company in Eastern Iowa.
The sixth generation of Skogman family members has now entered the business working alongside 200 real estate agents and over 100 full-time employees. Skogman Homes builds homes in the greater Cedar Rapids area, as well as Cedar Falls and Waterloo, and has broken ground on its newest development, a new 80-acre, 279-lot residential development in northeast Cedar Rapids called Prairie Landing.
"Skogman Homes doesn't just build homes, we build neighborhoods, where communities, families and friends come together," says Jeff Janssen, Skogman's vice president of marketing. "Our foundation is quality construction and a simplified buying and building experience."
1st runner up: Urban Acres
2nd runner up: Coldwell Banker Hedges Realty
BEST COMMERCIAL REALTY COMPANY
Skogman Commercial Group
4 times on list
1st runner up: Urban Acres
2nd runner up: Gibbs, Lamb & Drown
BEST HOME BUILDER
Skogman Homes
4 times on list
1st runner up: Watts Group
2nd runner up: Advantage Custom Builders
BEST DEVELOPER
Skogman Realty
2 times on list
1st runner up: Watts Group
2nd runner up: Ahmann Companies
BEST BUSINESS INSURANCE
Skogman Carlson Insurance
1st time on list
1st runner up: TrueNorth Companies
2nd runner up: Relion Insurance