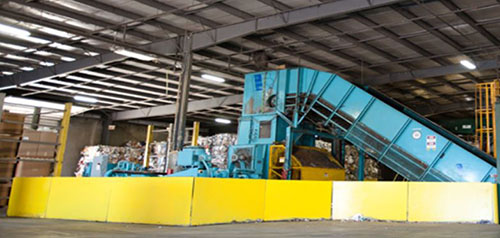 Republic Services of Iowa's Corridor operations, which were part of its City Carton Recycling acquisition in early 2015, make it it "effortless for customers to do the right thing with confidence," according to General Manager Ray Carter.
The company diverted about 70,000 tons of discarded material away from Corridor landfills and into recycling in 2014, according to Mr. Carter, in the process reducing carbon emissions that would be required to produce new virgin materials.
Building trust with customers is key to success in recycling, Mr. Carter said, and Republic Services works hard at it.
"There is no more important relationships in our business," he said. "For our customers in Iowa and nationwide, that means peace of mind that recyclables are indeed recycled the right way. It is the assurance that by entrusting Republic Services of Iowa to own and safeguard what we collect, customers are making a positive, sustainable choice."
As part of a leading national recycler and waste disposal company, Republic Services of Iowa is constantly innovating and improving. The company offers 24-hour drop sites in both Linn and Johnson counties to make it more convenient for customers to recycle. It also offers a "one-stop shop" for Corridor businesses, with recycling, hauling, landfill disposal, equipment repair and maintenance, and document destruction services.
Republic is centralizing its dispatch services in the Corridor to ensure timely pickups, and building a single customer service team to respond to customer needs more effectively, Mr. Carter added.
"We are working on a new website that incorporates all of the services that Republic Services has to offer at our locations," Mr. Carter said. "Currently, our hauling and landfill customers can pay online, but that hasn't yet been extended to our seven recycling facilities in Iowa."
Republic Services of Iowa employs about 120 at its seven locations in the Corridor. It has seven recycling centers and three hauling divisions across the state.
City Carton had made the Best of the Corridor list seven times in a row prior to joining Republic Services in first quarter of 2015. As part of the larger company, it gains access to even more recycling and waste disposal resources and expertise.
Republic Services, based in Phoenix, has 66 recycling centers nationwide, and this fall will open the largest and most sophisticated recycling center in the United States in southern Nevada, Mr. Carter said.
The company collected nearly 5 million tons of recyclable materials in 2014, reducing carbon emissions by the equivalent of 15 million tons – nearly as much as Republic Services' entire carbon footprint.
Beyond recycling, Mr. Carter said Republic Services is committed to converting landfill gas to energy, with 73 landfill gas-to-energy projects across the United States. It has also converted 2,200 of its trucks to compressed natural gas from diesel, and plans to continue converting trucks at the rate of 300 per year.
– Dave DeWitte
TIMES OF BEST OF LIST:
8 Time Best Recycling/Waste Management
(First as Republic Services of Iowa)