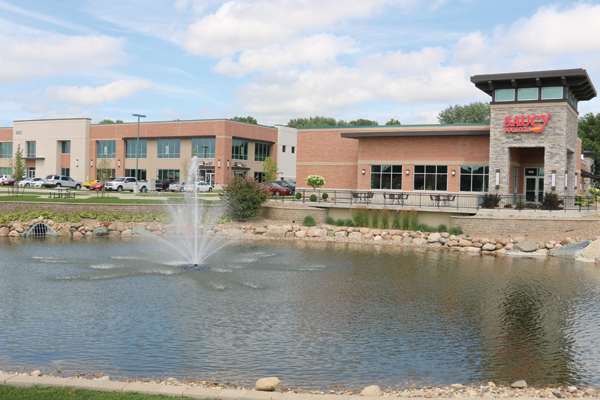 The Fountains, an Ahmann Companies development on the northeast side of Cedar Rapids.  PHOTO/ANGELA HOLMES
The winner of this year's Best Developer category stands out not only because of the results it produces, but the way it produces them.
Hiawatha-based Ahmann Companies is a vertically integrated collection of businesses that design, engineer, build and manage properties. Founder and President Joe Ahmann has roots in the design world, and they show in his attention to detail in the design stage of development projects.
Mr. Ahmann got his start designing homes, forming his own firm, Ahmann Design, in 1991. He has since added Ahmann Properties, a property management company, Fusion Design, an architectural and design firm, and Compass Commercial Services, a commercial and residential construction firm.
"What we say around here – and we believe in it 100 percent – is that we approach the design-build world a little differently because we came at it from the design end, rather than the building end," Mr. Ahmann said.
Before a single design is drafted, the firm's construction, management and design teams will typically deliberate together about how the project can best make use of the site with consideration to construction and property management factors.
"We come up with a more harmonious project," Mr. Ahmann said. "We ask a lot of questions up-front. What are the goals? What do you expect to get out of this, not only short-term goals, but long-term? What if you sell your business? What will the second-generation uses be for that property?"
Mr. Ahmann got his feet wet in development by working on a new office building for his company in Hiawatha. Boyson Square, the first master-planned development in Hiawatha, was his first large-scale project. Although some neighbors and city leaders initially opposed the 10-acre development, it has since grown to nine buildings and 120,000 square feet of office space, winning over many of its early critics.
"After that, I got the bug," Mr. Ahmann said, adding that it pushed him to pursue even larger projects.
The company's largest project to date is The Fountains, a 19.3-acre master-planned mixed-use development on Edgewood Road NW in Cedar Rapids that has already attracted restaurants, spas, offices and service businesses. Managed by Compass Commercial Services, the $34 million development has an upscale appeal derived from extras like a clock tower and a fountain emerging from a large pond.
While The Fountains continues to add tenants and grow, Ahmann Companies' next big commercial development is taking on the redevelopment of a brownfield area behind NewBo City Market. The Depot, as it is called, will bring a live/work environment to the emerging district, with 40 condominiums and about 90,000 square feet of retail and office space.
Nearby, Ahmann Companies is leading a revitalization of the historic ZCBJ building in the 1200 block of Third Street, which will house a popular local coffeeshop, Brewhemia, along with offices, retail and an entertainment venue. At the south end of the Corridor, Ahmann Companies has worked with a private owner to develop 5 Lincoln, a student apartment development, near the University of Iowa College of Dentistry in Iowa City.
The firm's projects tend to be high-profile, but nevertheless fit seamlessly within their surroundings. Clients sometimes remark that they like the look of Ahmann Companies projects, but they often can't define it. It's their attention to the multitude of small aesthetic and functional details, Mr. Ahmann says, rather than any one or two particular features.
"Once it's done, I need something different," Mr. Ahmann said. "We're always looking down the road two or three years, and we tend to create the types of projects that didn't exist before."
– Dave DeWitte
TIMES ON LIST:
1 Time on Best of List