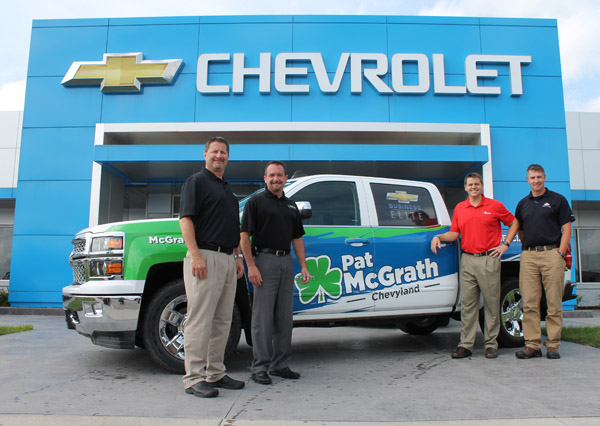 Shown at the company's flagship Pat McGrath Chevyland store are (l-r) Clint Wasendorf, service manager, Pat McGrath Chevyland; Terry Gewecke, service director, Pat McGrath Automotive Group; Gavin McGrath, general manager, Pat McGrath Chevyland; and Jeff Melcher, fleet and commercial sales manager, McGrath Automotive Group. PHOTO / DAVE DEWITTE
By Dave DeWitte
dave@corridorbusiness.com
Best of the Corridor wins in fleet sales and automotive service reflect the customer-centric culture at the McGrath Family of Dealerships, the growing family of new and used automotive dealerships in Eastern Iowa.
Customer service training is required, and updated daily. Employees who provide "over the top" service are recognized once a month with the Difference Maker award based on nominations from coworkers and customers, and ceremonies are held at both the company's Chevrolet and Dodge dealerships to recognize not only the winner, but all employees nominated.
Even though McGrath is one of Iowa's biggest automotive dealer groups, customer service is more important than ever in the highly-competitive service and leasing areas.
"It's always a work in progress," said Murphy McGrath, general manager of the Pat McGrath Dodge Country in Cedar Rapids. "Lately what we've done is enhance our training with a full-time person sourcing our candidates for sales and service, and training them when they come on. We also have an Emerging Leaders program with about 30 people in it that's in its third year."
Mr. McGrath said the course teaches employees to manage people and provide customer service at the high level required. Employees leave the course feeling empowered, Mr. McGrath said, which enables them to quickly resolve service issues when they arise.
"Every business has issues, but how fast you take care of them turns them into a positive or negative," Mr. McGrath said.
Terry Gewecke is corporate service director at McGrath. He said each automaker represented by McGrath has its own customer survey system, but the dealership has also created its own customer survey system to it can get customer feedback and respond to it more swiftly.
Besides helping to make things right with customers, both negative and positive feedback are used for training, Mr. Gewecke said. The focus isn't just on strengthening areas where customer service has fallen short, but also on the positive to keep employees engaged and motivated to provide excellent service.
"It helps them through the rough spots," said Clint Wasendorf, service manager at Pat McGrath Chevyland.
A string of awards attest to McGrath's success in customer service. They include Chevrolet Dealer of the Year, Iowa Chevrolet DealerRater.com Dealer of the Year, Iowa Used Vehicle DealerRater.com Dealer of the Year, Chevrolet Elite Service Dealer, Buick-GMC-Cadillac Elite Service Dealer and Kia Elite Service Dealer.
Fleet approach
Jeff Melcher is fleet manager for McGrath Automotive Group, and applies many of the company's customer service lessons to pleasing business clients who buy multiple vehicles.
"Most business owners don't have a lot of time, so we bring a part of McGrath to their business," Mr. Melcher said. The fleet sales representative typically brings a vehicle to show the prospect, provides a valuation of their trade-in vehicles, and returns after their discussion with a proposal that often includes "good, better and best" options depending on what the customer wants to spend.
Instead of spending a half-day going to the car dealership, the business owner can often get their questions answered in 10 or 15 minutes, Mr. Melcher said.
When McGrath makes a sale or lease, it also saves time for the customer by working with other vendors to get the vehicle ready before delivery. It may take the vehicle to a sign company to get graphics applied to the exterior, or an "upfitter" for installations of extras such as ladder racks and toolboxes.
With large accounts, McGrath often picks up the vehicle for periodic service such as fluid and filter changes, and delivers it back to the site.
"A great fleet vehicle dealer realizes that when the customer's vehicle is down, their business stops," Mr. Gewecke said.
The goal in both fleet sales and customer service is repeat business. Customers who've had a good experience not only come back, but share their assessment of the dealership with others.
"The size of communities we're in, we need people to come back and see us," Mr. Wasendorf explained.
Generating positive energy in the dealership is important because providing good customer service can be hard work. Cedar Rapids employees have access to a McGrath health facility on the second floor of a company collision center, which is staffed by a full-time instructor and offers spin classes, strength training and yoga.
"We really think it energizes them [employees] and gets them ready for the day," Mr. McGrath said.
Among the newest improvements to customer service at McGrath Automotive Group are express service and the McGrath Auto Care Package service. Express service at all dealership locations allow customers to quickly get vehicles in for routine services such as oil and filter changes at all locations, regardless of vehicle make. The auto care package allows customers to prepay for a bundle of automotive services, allowing for a reduced rate per service.
Eight members of the McGrath family are in management or leadership at McGrath Automotive Group, led by Pat McGrath. Three of them, Lindsay McGrath-Vasquez, Gavin McGrath and Jaymie McGrath, are children of Mr. McGrath. Mike McGrath, Pat McGrath's nephew, also has three children in the business: Murphy, Griffin and Tucker McGrath.
McGrath Automotive Group opened a new Volkswagen dealership in Dubuque last year, adding to a list of dealerships that include Pat McGrath Chevyland and Pat McGrath Dodge Country in Cedar Rapids, and McGrath Buick GMC Cadillac, McGrath Kia and McGrath Volkswagen in Hiawatha.
A new McGrath used car superstore will later this summer in Davenport, joining the company's Marion Used Car Superstore in Marion and Westdale Used Car Superstore in Cedar Rapids.
TIMES ON LIST:
3 Time Best Auto Service Dealer
1 Time Best Commercial Fleet Dealer/Manager