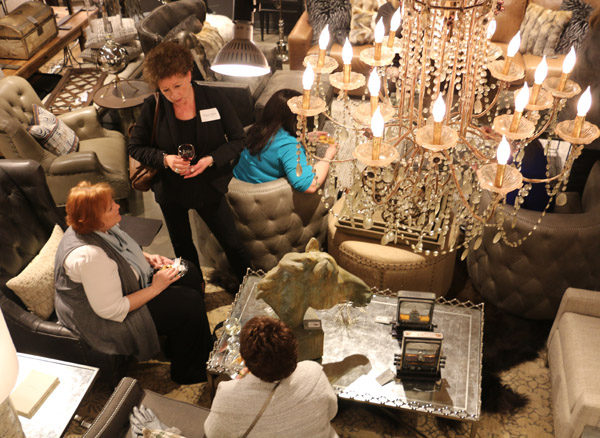 Dwell Home Furnishings in Coralville hosted the CBJ's Women of Influence reception in March. PHOTO/ASHLEY LEVITT
From the CBJ's list of Fastest Growing Companies to the Best of the Corridor, Dwell Home Furnishings is making its mark among the region's homeowners.
Dwell offers upscale furnishings and full-service interior design services, in addition to furniture repair and delivery. Its designers work as a team to offer complimentary in-home consultants, in-store presentations with space planning, and full interior concepts, with an option to work in phases to be more budget-friendly.
The Dwell vision began in 1997, when President Cheri Hochstetler purchased the Expressions Custom Furniture franchise she was managing. After Expressions stopped producing furniture in 2006, Ms. Hochstetler brought in her current partners, Jeff Draker and John O'Meara, to form the backbone of the Dwell team.
The store now offers products from more than 200 vendors around the world, with pieces ranging from modern and industrial to more traditional. Its designers attend four furniture markets each year to find the newest, most forward-looking pieces on the market, all while aiming to create a "comfortable, relaxed feel."
"Dwell sets itself apart from other furniture stores with its diversity of products and how we mix products to make a unique and interesting look," Ms. Hochstetler said. "We are very global with products from around the world, but still use American-made upholstery products and pay attention to quality."
The store's interior almost never looks the same, due to its designers constantly rotating new products in and out, Ms. Hochstetler said.
"Our products are so new to the market that many times we have had pieces on our floor for a year before they finally hit the magazines," she said.
There are plenty of other changes in store this year. This month, the store's warehouse and Dwell Renovations – the store's repair and restoration division – will be moving to a new 12,500-square-foot location at 2010 James St. in Coralville. The store's Dwell Kids line will be moving into the main store location after a 5,500-square-foot expansion is set to open later this year. Further plans to expand the design center are also in the works.
"Dwell will definitely be a home furnishings destination that our clients can spend many hours exploring," Ms. Hochstetler said.
-Emily Bettridge
TIMES ON LIST:
1 Time on Best of list