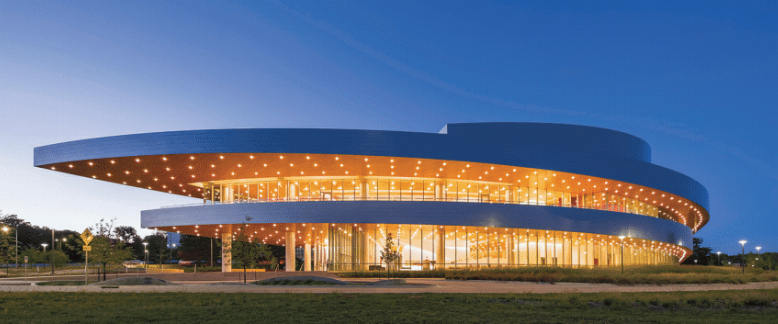 FIRST TIME ON LIST
"You've got to have a home to do the work we do," says Hancher Auditorium's Executive Director Chuck Swanson. And what a home it has now, a decade after the swollen Iowa River destroyed its predecessor.
The soaring 1,800-seat, $176 million auditorium, now in its third season at its new home, has won over performers with its spacious backstage areas and upgraded acoustics, while audiences are captivated by the lobby, the light-filled Stanley Cafe and "the intimacy of the space," says Mr. Swanson. "There's just such a closeness, a chemistry between performer and the audience."
In designing the new Hancher, UI staff worked with architects at Pelli Clarke and OPN Architects to think about the entire experience, not just the stage, so people can be social and "really engage." Watching people depart, "so happy, so satisfied, so pleased," is very satisfying, Mr. Swanson said.
"We want Hancher to be for everybody," he added, noting the schedule features wide variety disciplines and prices plus a busy slate of educational activities. "The arts are a great way for us to come together and learn about the world and understand each other even better."
– Emery Styron
1ST RUNNER UP: Paramount Theatre
2ND RUNNER UP: Theatre Cedar Rapids