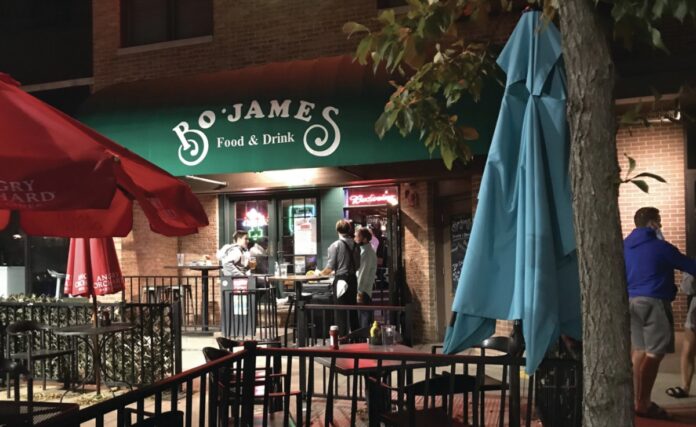 Outside Bo James, a popular bar in downtown Iowa City, on a recent evening. PHOTOKATHARINE CARLON
By CBJ News Staff
news@corridorbusiness.com
Iowa Gov. Kim Reynolds has reopened bars, breweries and wineries in Johnson and Story counties, after a five-week shutdown that left many local bar owners fuming over a lack of clarity and support.
The governor issued the proclamation on Friday, ending a five-week shutdown in the two counties as cases and positivity rates continue to drop at the University of Iowa and Iowa State University. The UI reported has reported only 11 new student cases and three employee cases since Sept. 30, according to an online dashboard, after reporting hundreds of infections at the start of the semester.
Bars and restaurants must continue to ensure social distancing of at least six feet between groups, and that all patrons are seated at a table, booth or bar, according to the proclamation, which is set to end Oct. 18.
Bar owners, speaking to the CBJ for a feature story in this week's print and digital editions, expressed their frustrations with the governor for the length and targeted nature of the shutdown, and with state government, which offered only one-time grants of $10,000 to bar owners facing tens of thousands in expenses and lost inventory while being forced to close.
For Jason Zeman, the owner of Eden, Studio 13, the Iowa City Yacht Club and Players, the governor's new proclamation is welcome news.
"There is no alternative because without government assistance, basically as a business owner, we have to operate or otherwise we are going to go out of business and our employees won't have a place to work," Mr. Zeman told news partner KCRG-TV9.
Johnson County bar owners are now hoping that new initiatives, such as the Iowa City Downtown District's new Bar & Restaurant Pledge, will encourage patrons to take the necessary precautions when visiting establishments, allowing Johnson County's bars and clubs to remain open for good.
"I think a lot of people don't want to see this happen again, so they will hopefully enforce the rules and follow the rules," Mr. Zeman said. CBJ