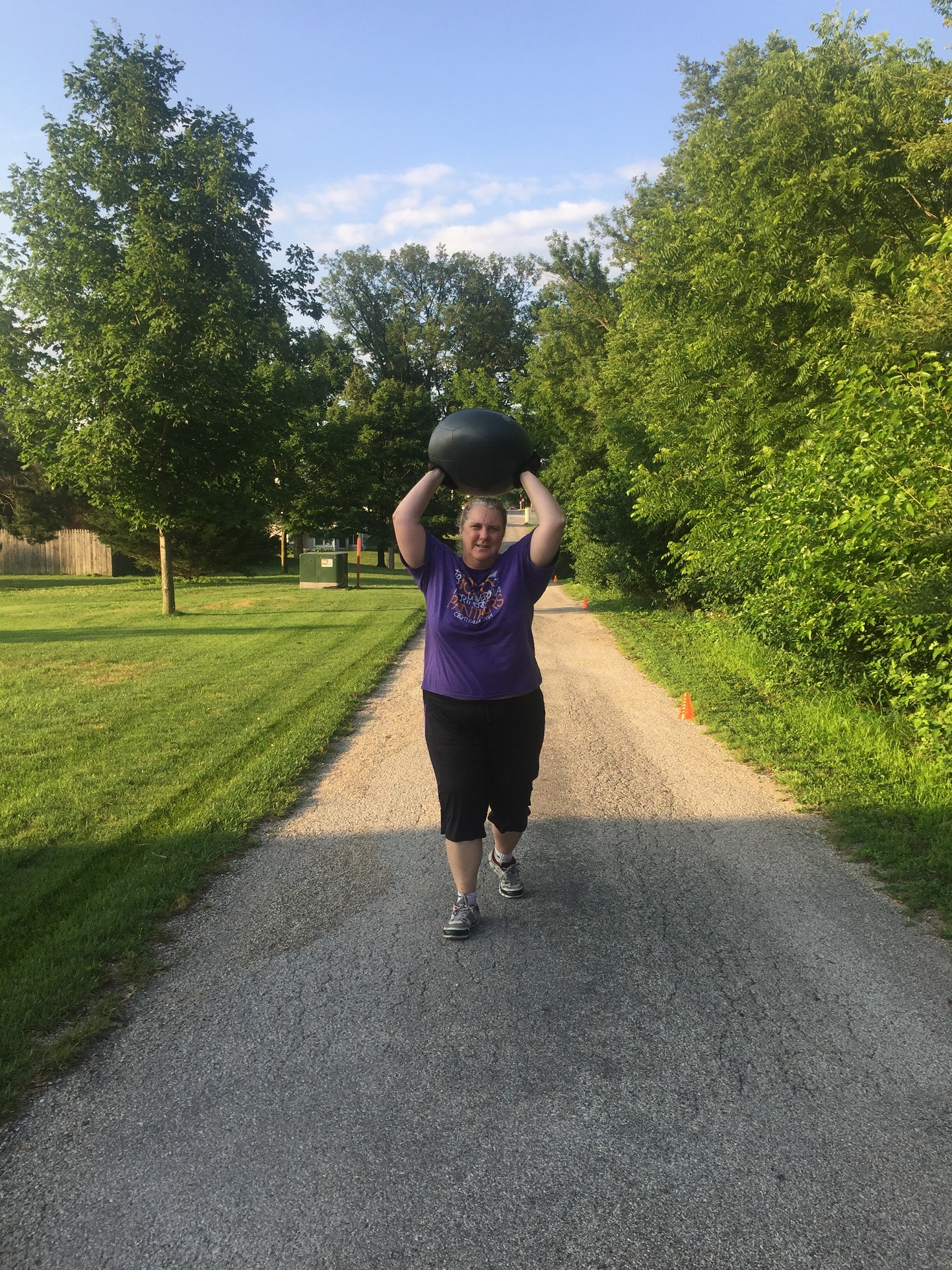 Balance editor Angela Holmes runs line drills for the first time in 30 years.
I didn't really care for line drills when I was a gangly 16-old basketball player. You can just imagine how I feel about them as a not-so-gangly 46-year-old working mother.
But for the past month, I have been putting myself through a rigorous exercise routine three times a week that often includes line drills with a 3-pound weight in each hand or a 10-pound ball in tow. A line drill – that's what we called it during basketball practice – is a conditioning exercise during which you run to a spot and back to the beginning, and repeat until you hit all the designated spots. They are called "suicides" in my workout class.
I signed up for the Boot Camp 10-Week Ultimate Body Challenge through Total Balance in Vinton on a whim the first week of June. Some Facebook friends were posting about it, and I decided it was finally time to get my body moving again.
I stopped going to kettlebell classes five years ago on the premise I would make time to work out on my own. Then I changed jobs. Then we moved and had to deal with family health issues. Then I fell down the steps and broke my foot. And we moved again a year later. I'm sure I could have come up with some more excuses this summer, but enough was enough.
I "liked" Total Balance's Facebook page in January and had been meaning to set up an appointment for months. Cindy Hadish's story on group exercise in the summer issue of Balance inched me closer to joining an organized class. Seeing the excited Facebook posts about Boot Camp sealed the deal. I inquired about the class on the first Friday of June and by Monday morning, I was doing line drills for the first time in 30 years.
Julie Lessig opened Total Balance in 2009 after returning to her hometown of Vinton. She was inspired to bring fitness to small-town Iowa after living in San Diego where people take advantage of the year-round beautiful weather by exercising outdoors. "It's all about fitness out there," she told me.
Total Balance offers spin classes, Pilates, kickboxing, Zumba and Piloxing classes, among others. Six years ago, Ms. Lessig started the Boot Camp 10-Week Ultimate Body Challenge during the summer at various outdoor locations in the Vinton area.
There is just one level of classes, combining well-seasoned athletes wanting to challenge themselves to people like me wanting to get off the couch and back into the game.
"Everything we do, there's always other options," Ms. Lessig said. "If an exercise doesn't work for someone, we can change it up."
For example, my legs aren't strong enough yet for jumping jacks with weights so I substitute standing squats. I also don't kid myself in thinking I can keep up with the others while running, so I go at my own pace.
It's not meant to get any easier along the way, either, Ms. Lessig said. Once she sees that people are becoming more comfortable with the workouts, she takes it up a notch. Hence, drills up and down a sledding hill, mixed in with a trail run and more line drills last week.
Combined with the running drills, we do stretching and strength exercises such as planks, mountain climbers, leg lifts and lunges.
"You need cardio and strength to balance it out," Ms. Lessig said.
Halfway through the 10-week challenge, I have noticed changes in my breath control and feel a little more toned. I'm not to the point where I feel just fabulous after a workout, but I do feel a sense of accomplishment.
I'll keep you posted on my progress, and I'll also take you into my garden as I strive to eat healthier. I would love to hear about your fitness and nutrition goals. Drop me a line at angela@corridorbusiness.com
Angela Holmes, editor of Balance, is a middle-aged working mom trying to maintain a healthy work-life balance.