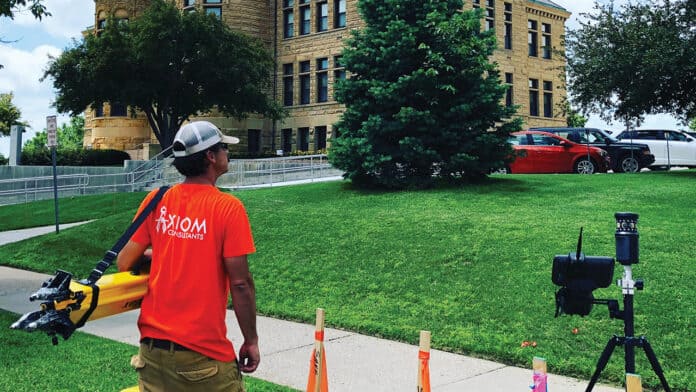 When Brian Boelk and Rob Decker started Axiom Consultants in 2018, becoming the Fastest Growing Company in the Corridor wasn't even on the radar.
But just three years later, the Iowa City-based firm specializing in civil, structural, mechanical and electrical engineering makes its debut appearance on the CBJ's Fastest Growing Companies list at the top, with 339.34% growth over the two-year period from 2018-20. 
"It certainly was not one of our goals when we first started the company a few years ago, but I think a lot of that can be attributed to starting very small and having a great support staff that was able to join us in a fairly short time frame [and] that we can fully trust," said Mr. Boelk, Axiom co-founder and civil services manager.
He and Mr. Decker had worked together for 11 years for the city of Iowa City in engineering and construction roles.
"We always thought our skills were a good fit together," Mr. Boelk said. "From there, we went into consulting and realized that we were successful working together and we enjoyed it. We felt that we really could build an office and got the confidence that we could do it on our own."
It took some nudging from Mr. Decker, but Mr. Boelk agreed to take the plunge to form their own firm with a focus on communication and trust between staff and clients alike.
"There's a lot of great engineering companies in the Corridor and the area, so we thought about how we would set ourselves apart," Mr. Boelk said. "The way we do that is based on communication and relationships. Rob and I and most of our staff have been around for a long time. So, the relationships develop, and you build them, and the key is to keep them and keep them in good standing."
Central to keeping strong, reliable relationships is being responsive and attentive to clients.
"Instead of a client having to wait a couple of days to hear back or a couple of weeks to get a response to a request, our goal is always to be very quick with the response whether it be the answer or not. It just may be 'hey, I acknowledge that you're trying to get a hold of me or you're looking at this; I'm checking it out and I will get back to you,' rather than quiet and silence on the other end. As we made our move, we heard that from clients that they were seeking that."
Clients favorably responded to that attention to detail, as Axiom was voted Best Engineering Firm in the CBJ's Best of the Corridor awards in 2019 – the first year it was eligible – and again in 2020. 
Axiom's commitment to relationships starts with the hiring process.
"We were lucky enough to bring in some great staff, most of which we knew and had relationships with prior to, and then certainly have added on a few from there," Mr. Boelk said. "We're really careful on who we bring in and when and how we bring them in. We don't want to just have people to have people, we want to make sure they're a good fit professionally and personally."
The family-like atmosphere gives each staff member the confidence to perform their jobs.
"We have a great staff, both from the senior leadership all the way down, that we trust," Mr. Boelk said. "We don't want to micromanage, but we want to be here to assist and to help and to guide and push, but we trust in our staff in doing so. It makes it a lot easier for us to be able to do these other things."
The entire staff, from top down, is also flexible enough to pitch in other areas when needed.
"We wear a lot of hats, because we're not a huge company, we're only 20 people. Rob and I might wear the HR hat for a couple hours, and on the financial accounting side for a couple hours. And then, of course, we get the actual technical side of things with the engineering and reviewing plans," Mr. Boelk said. "The next day might look totally different. With that, you have to be able to have really good staff under you that you know are getting the project done and doing so in a timely fashion and doing so in a quality basis."
Like most businesses, Axiom had to quickly adapt to the disruption caused by the COVID-19 pandemic, including transferring operations to a remote format and navigating clients' reactions to the distressed economy.
"We questioned whether or not our clients would be able to continue to build. We had a couple projects that were put on hold or canceled. So, we certainly had that concern on the financial side of things," Mr. Boelk said. "But for the most part, we were blessed and lucky enough that our business kept moving along pretty well. In fact, we've been as busy as ever."
The company is working on a couple of different student housing multifamily projects in the Riverfront Crossings area in Iowa City as well several single-family developments on the south side of Cedar Rapids, Iowa City and the Quad Cities.
"On the development side, we've seen things continue to progress, and particularly residential wise, not as much commercial," Mr. Boelk said.
A big area of work is in the senior living and assisted living realm, including the Summit in Bettendorf and facilities in DeWitte and Pella.
"Our goal was to make sure to diversify as much as possible, so all of our work is not just in private development, or institutional projects or city municipal projects. So, if we do hit a recession and private development slows down, then we have the public work and the city work to help supplement that and vice versa," Mr. Boelk said. "That's really been our focus the last three months in particular, really making sure we're doing our best to diversify our portfolio and making sure we have work in a lot of different areas."
While there is excitement about resuming activities and getting back to "normal," there is also some trepidation about logjams in the supply chain and rising costs caused by a variety of events such as the pandemic and storms in Texas earlier this year. 
"I think we are on, at least on the development and construction side of things, a little bit on pins and needles because there's definitely some difficulties with materials and with costs and those things associated with it," Mr. Boelk said. "We're trying to make sure that we're not hitting a 2007-08-type recession. I think it is a little different than that because a lot of this is just a response from the last year of the pandemic. But there is certainly a little cautiousness of what the next six months or a year are going to look like."
Like with everything else that has been thrown at them in a short amount of time, the Axiom staff will take new challenges in stride.
"It's been a fun three years; it's gone crazy fast. We still learn things every day," Mr. Boelk said. "We learn from mistakes, and it's what you do with it and how you respond to it."   CBJ