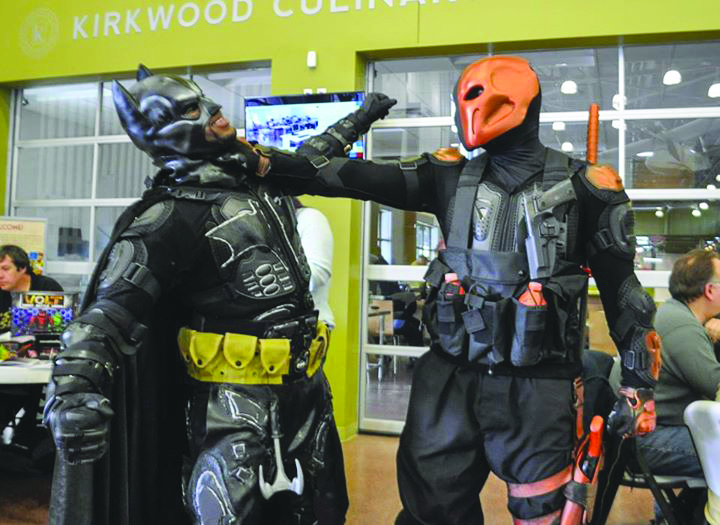 By Dave DeWitte
dave@corridorbusiness.com
When a group of Cedar Rapids comic and game fans put on NewBo Con on Feb. 7, they weren't exactly expecting attendance to reach several thousand, according to Preston Moore, one of the organizers.
The event was a comic convention – more popularly known as a Comic Con – and attracted enthusiasts and collectors of comics, graphic novels, science fiction movies and sci-fi/fantasy games from around the Corridor.
NewBo Con exceeded attendance expectations and received plenty of positive feedback, according to Mr. Moore, but there was general agreement on one thing: there weren't enough vendors. Unfortunately, adding more was not a possibility, because of the market's plans to add more permanent vendors.
This month, event organizers set out to vanquish that dragon by scheduling a much larger event, now called Cedar Rapids Comic Con, for Feb. 6, 2016, at the DoubleTree by Hilton Cedar Rapids Convention Complex. Organizers hope to fill 70 vendor spaces, up from about 20 last year.
Comic Cons have grown in number and popularity over the past decade or two, but until this year, the large organizers with their traveling casts of vendors, actors and artists have bypassed Iowa. That will change this summer, when Wizard World, one of the largest Comic Con promoters, brings a three-day event to the Iowa Events Center in Des Moines June 12-14.
Zach Power, owner of Daydream Comics in Iowa City, said he's previously been a vendor at the Wizard World Comic Con in Chicago five or six times. Although he's doubtful that a Cedar Rapids Comic Con can attract 70 exhibitors in the middle of February, he's willing to give the event a try as a vendor.
Besides being close by, he expects the booth rental to be a small fraction of $1,000-plus he'd pay to sell at one of the big Comic Cons.
A low-cost entertainment model is in fact one of the reasons organizers expect the Cedar Rapids Comic Con to be a success, according to Mr. Moore.
Admission to the Wizard World Comic Con in Des Moines will be $35 for a one-day pass and $75 for a three-day pass, not including the cost of photo ops and autographs. A photo with William Shatner of Star Trek fame will set attendees back $80, while one with Cassandra Peterson of Elvira fame will cost $50.
"What I really want to do is make this the most affordable and accessible event in the Midwest," said Mr. Moore, whose day job is director of marketing and communications at the National Czech & Slovak Museum & Library. He hopes to keep admission ticket prices in the $5-$10 range.
Mr. Moore said that goal will be possible by skipping the high-priced actors and artists, which charge big appearance fees. He says the organizers will need only about $6,000 to cover upfront costs.
A crowdfunding campaign seeking $2,500 for the event began April 6 on Indiegogo, and was 112 percent funded by April 15. The rest of the seed money will be raised through advance booth rentals and ticket sales, Mr. Moore said.
The reason Mr. Power isn't sure Cedar Rapids Comic Con can attract 70 vendors is that big national organizers like Wizard World tend to get only 100-125 vendors in Chicago – a city where a Comic Con can attract 50,000-60,000 attendees over a three-day weekend.
The number of vendors registered by April 15 was already at 30, according to Mr. Moore.
Mr. Power said Daydream Comics stopped exhibiting at the big Wizard World Comic Con because even though it made a lot of sales, by the time the travel, hotel, staffing and other expenses added up, it was hard to make that much more than he'd make staying at home and running his shop at 21 S. Dubuque St.
In addition, Mr. Power said the admission prices and autograph prices charged at larger Comic Cons tend to leave fans without a lot of money in their wallet to buy other things.
And while comics have always been a part of Comic Cons, Mr. Power said it's become a relatively small part of their focus, as the events have expanded to include all kinds of sci-fi, fantasy cosplay, gaming and other entertainment young people are exposed to on the Internet.
"The focus is not on comic books anymore; it's on geek culture," Mr. Power said.