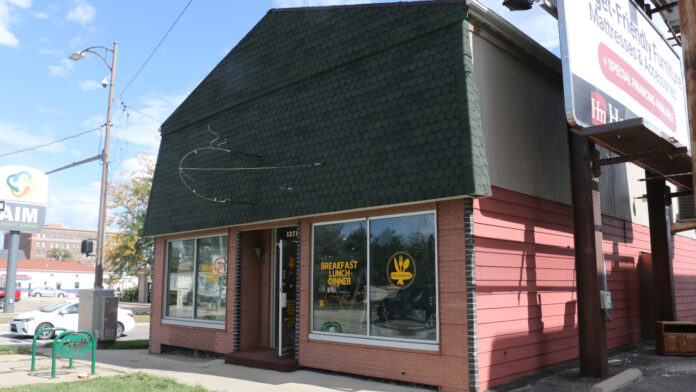 A group of Cedar Rapids entrepreneurs are working to renovate and reopen a pair of Cedar Rapids buildings near Coe College as an art gallery and a cafe.
Curtis and Emily Stochl, Thaddeus Walters and Anna Yeagle are revitalizing the buildings at 1271 First Ave. SE, across the street from Coe, and 111 13th St. SE, to become new homes for small businesses, including the art gallery and cafe.
The property at 1271 First Ave SE will be the future home of Café Allez, a cafe, bakery, and espresso bar inspired by the Tour de France and European travels.
The building was formerly home to Tee's Liberian Dish and, for many years, Brewed Awakenings, and has long been a cornerstone of the Coe College neighborhood. As Coe College alumni – who met and were married on the campus – Curtis and Emily Stochl say they're thrilled to bring a coffee shop back to the space.
"This is a location that has had a special place in my heart for 15 years now," Ms. Stochl said in a release.
Before opening the cafe at 1271 First Ave. SE, Mr. Stochl and Mr. Walters will complete an extensive renovation on the building.
Though this is their first building renovation, both have a long history in food and hospitality service. Mr. Stochl has worked in his father's restaurant – Pizza Haus in Williamsburg – for nearly 25 years. Mr. Walters has worked at Greyhound Deli & Cafe and Cappy's Pizzeria, and was most recently a co-owner at Goldfinch Cyclery before returning to the restaurant industry.
The property, built in 1920, has housed many small businesses over the last 100 years. A November 1920 issue of The Gazette names the address "College Grocery."
Plans to renovate the space include new flooring, ceiling, and extensive structural repairs.
"There were six layers of flooring laid in the space over the years," Mr. Stochl said. "It's been two months of heavy demolition work thus far, but we're excited to restore the building to its former glory."
Future plans for the cafe include a storefront redesign and a patio.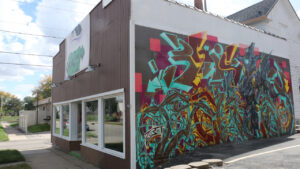 Newly renovated, the property at 111 13th SE. is now home to the 237 Collective, a local art gallery owned and operated by Paxton Williams and Abby Long-Williams.
The 237 Collective offers art materials and spray paints and locally-made clothing, along with classes, markets, live paintings and other events to come.
The 237 Collective celebrated its grand opening Sept. 15, featuring a debut solo art show from Paxton Wiliams, titled "Momentum."
Follow @237Collective on social media for details on upcoming events, including a parking lot market for local artists, makers, and vintage sellers Sunday, Oct. 8.
Follow @cafeallezcr on social media for construction updates and information on the cafe's grand openingC, planned for sometime in 2024.