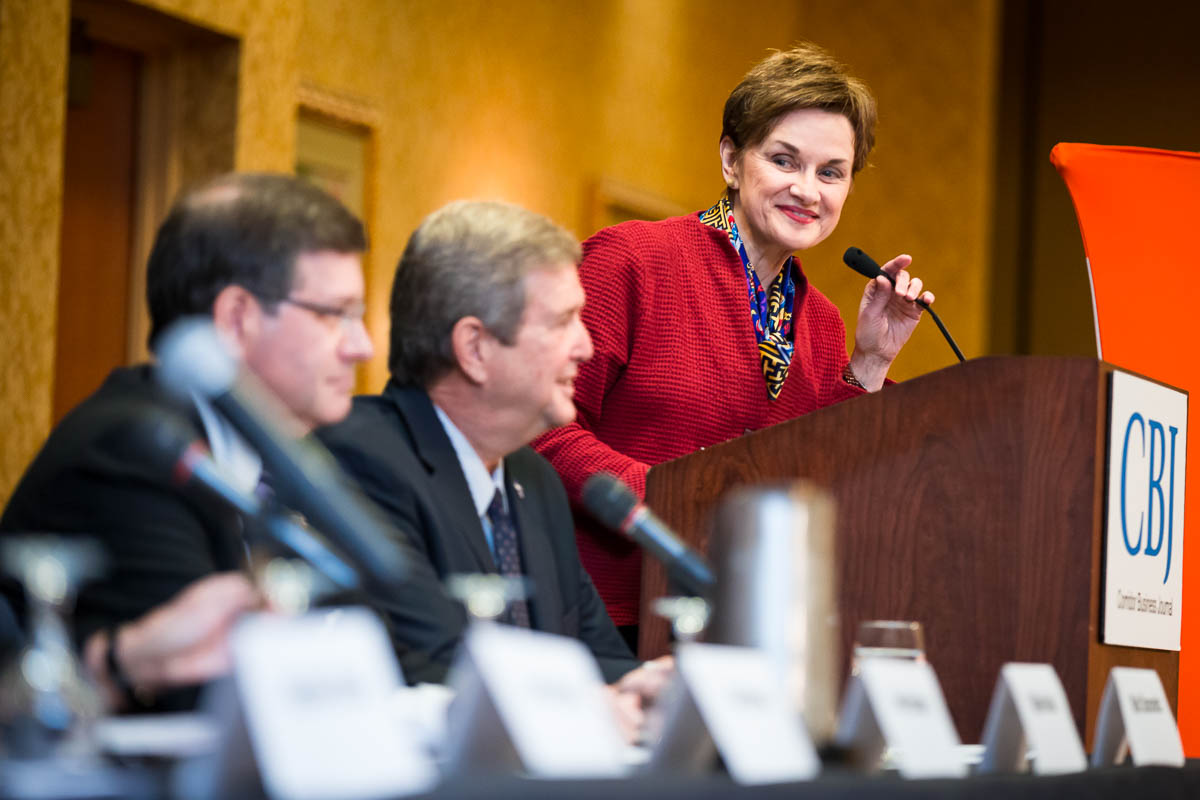 By Angela Holmes
CEDAR RAPIDS—Although the panelists at the CBJ's "Future of Higher Education" forum represented schools ranging from the state's largest public university to small, private colleges, they shared similar thoughts about their institutions' quality and affordability, and the growing role that technology plays in education.
The third and final edition of this year's CBJ Power Breakfast series was held Nov. 5 at the Cedar Rapids Marriott, and brought together six presidents of the Corridor's higher education institutions.
The panelists included Jonathan Brand, of Cornell College; Laurie Hamen, of Mount Mercy University; Sally Mason, of the University of Iowa; Dave McInally, of Coe College; William Ruud, of the University of Northern Iowa; and Mick Starcevich, of Kirkwood Community College. The panel was moderated by Kate Minette, general manger, SVP, Scoring & PAC Portfolio with Pearson.
The performance-based funding formula approved in June by the Board of Regents was one of the morning's hot topics. The plan bases 60 percent of state funding allocations on the enrollment of in-state students. The remaining allocation includes 15 percent for progress and attainment, 10 percent for access, and five percent each for sponsored research, graduate and professional enrollment and Regents-selected metrics.
Of the three Regents universities, the formula stands to have the most negative impact on the UI, which has many more out-of-state and international students than ISU and UNI. Based on those percentages, the UI stands to lose $46.5 million under the model over the next three years, although Regents President Bruce Rastetter has said the Board of Regents has requested $12 million in backfill funding from the legislature to offset the first-year's loss
Ms. Mason argued that performance  should be based on data and metrics, something she has "argued for very strenuously from the start."
"Performance is truly 'outcomes,' and outcomes can be measured in different ways," Ms. Mason said. She noted that outcomes translate into graduation, regardless of a student's major or whether they are an undergraduate or graduate student.
"It costs more to train a neurosurgeon than it does to train an English major," she added.
While Ms. Mason said the UI needs to grow with in-state students, she noted that out-of-state students are vital to the university and the state as a whole.
"We are blessed to be able to bring in a lot of out-of-state students," she said, noting that 40 percent stay in Iowa, and many of those in the Corridor. "We can import (talent) into the state – not too many groups can do that."
Mr. McInally said private colleges are also concerned about performance-based funding, even though they do not receive funding through the Board of Regents.
"We are concerned about the competition it creates," he said.
Mr. Starcevich, whose college is also not funded by the Regents' formula, agreed that all Iowa colleges are competing for in-state students, citing that in the last 13 years, the number of students graduating from Iowa high schools has been declining.
"All of us will be fighting for these students," he said. "We've already felt the impact."
Affordability
Ms. Minette raised the issue of affordability and lingering college debt with the panelists, who all agreed that Iowa colleges are more affordable compared to other, similarly-sized institutions around the country. For example, the annual in-state cost of UI undergraduate tuition is around $8,000, while Penn State's is upward of $16,000-$17,000.
Mr. McInally said that financial aid is increasing faster than cost, and pushed back against perceptions that the cost of higher education has outpaced inflation.
"The price has gone up faster than inflation, but the cost to students and their families has not," he said.
Ms. Hamen said in keeping with the Sisters of Mercy's mission of helping the poor and underprivileged, Mount Mercy this year began offering the Catherine McAuley Scholarship, which provides full tuition to qualifying students with an annual household income of $45,000 or less.
At Kirkwood, K-12 partnerships help lower college costs by providing concurrent enrollment, Mr. Starcevich said.
The state's public universities also provide a wealth of financial aid.
"We tell families, 'Don't be scared by the sticker price,'" Ms. Mason said. "Sit down with us and let us walk you through all the ways in which we can help you."
The panelists noted that another way to keep higher education costs down is by accelerating progress toward undergraduate degrees or graduate programs, including through three-year degree programs and free credits during summer school.
Technology 
While technology is an important tool in modern higher education, it doesn't replace the need for student-faculty interaction, panelists said.
Mr. Brand said the greatest technological innovation over the past 100 years is the "seminar table" which is a "metaphor for the notion that the most powerful educational experience happens when you have faculty and students communicating and talking with each other."
Education is shifting from a "sage on the stage" to a "guide on the side," Mr. Starcevich noted, moving from lecture-based classes to an technology-assisted collaborative effort between students and faculty.
With technology, the smallest college in the smallest town can have the same access to information as Harvard University, Mr. McInally noted.
"Rather than replacing residential education, it (technology) enhances education,"he said.
Even the buildings on campus have changed to enhance technology.
"We don't have much of a main library anymore," Ms. Mason said. The open, highly-wired and totally transformed space – created according to students' wishes – is packed at all times, she noted.
At UNI, the College of Education is repurposing its buildings in preparation of the future, Mr. Ruud said.
"The technology is going so fast that there's stuff that's going to show up in 2020-2030 that we haven't even heard about or thought about, so we have to build buildings in preparation."