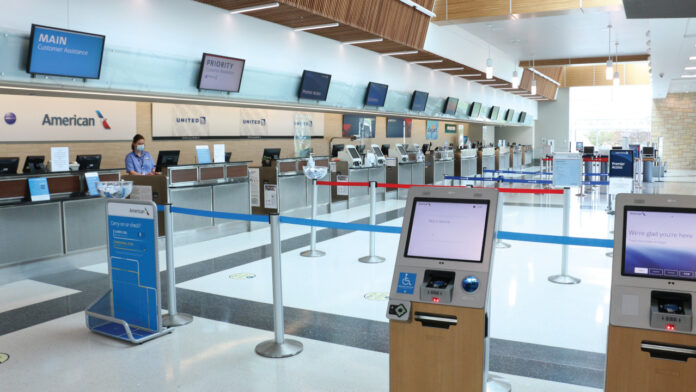 The Eastern Iowa Airport will be receiving another $20.4 million for terminal upgrades under the federal Airport Terminal Program, officials announced Thursday, July 7.
A total of five airports statewide will be receiving funding under the program, part of the bipartisan infrastructure bill signed into law earlier this year.
Eastern Iowa Airport (CID) director Marty Lenss said the funds will be used to complete Phase 4 of the airport's four-phase terminal modernization program, which began in 2014.
Phase 4 will be bid in November and awarded in December, Mr. Lenss said. Work on the project itself will begin in the spring of 2023, with a construction timeline of 18 to 24 months.
The project will include a host of terminal improvements, including expansion of the airport's geothermal heating/cooling system, additional aircraft parking gates, additional passenger gate seating, enhanced concessions, a pet relief area, a passenger sensory room, new and expanded restrooms, more natural daylighting, an outdoor patio, gate-checked baggage valet elevators and mother's rooms.
Mr. Lenss said it's anticipated the final investment in the EIA airport terminal modernization program will serve the Eastern Iowa region for the next 20 to 30 years, and will allow the airport to continue to better handle larger aircraft as the industry moves away from 50-seat regional jets.
"With Dubuque losing air service, we anticipate (our) market will continue to expand, and the Eastern Iowa Airport will continue to serve as Iowa's second gateway airport," Mr. Lenss said. "Air service and airport infrastructure plays an important role in business attraction and retention, workforce recruitment, and overall quality of life, and we believe CID will be well-positioned to enable the region to cement ourselves as the best midsized market to live, work and play in the Midwest. It is certainly an aspirational goal, and the airport is ready to meet that challenge."
"Iowa's regional airports support all kinds of economic activity, from transporting goods to providing Iowans with connections to various destinations across the country," Sen. Chuck Grassley said in a statement announcing the grant funds. "It's critical that we keep our airport infrastructure up to date to maintain a resilient supply chain and a healthy economy. I supported the bipartisan infrastructure law to invest in Iowans and Iowa's economy, and I'm glad to see our state is continuing to benefit from this investment."
Other Iowa airports receiving funding from the infrastructure bill:
Council Bluffs Municipal Airport (CBF) – $112,500 to improve accessibility;
Des Moines International Airport (DSM) – $5 million to complete the first stage of a new terminal construction project;
Dubuque Regional Airport (DBQ) – $1.3 million to make improvements to the passenger terminal; and
Washington Municipal Airport (AWG) – $129,675 to make improvements to the general aviation terminal.
The funds are part of $5 billion in federal infrastructure funds to provide regional airports with grant opportunities nationwide. Following a competitive application process, the U.S. Department of Transportation awarded grants to airports that are seeking to update crumbling infrastructure, increase airport capacity and safety and improve air traffic control towers, which may be contributing to flight delays or cancellations.
The grant is the second federal funding award announced for the Eastern Iowa Airport this year. In June, the Iowa Department of Transportation announced $100 million in grant awards for Iowa commercial airports, including a $28.35 million grant to the Eastern Iowa Airport.
The funds were originally announced in March by Iowa Gov. Kim Reynolds as part of an historic investment to modernize and strengthen Iowa's air transportation system through the Iowa Commercial Aviation Infrastructure Fund (ICAIF). The $100 million was allocated through the American Rescue Plan Act (ARPA).