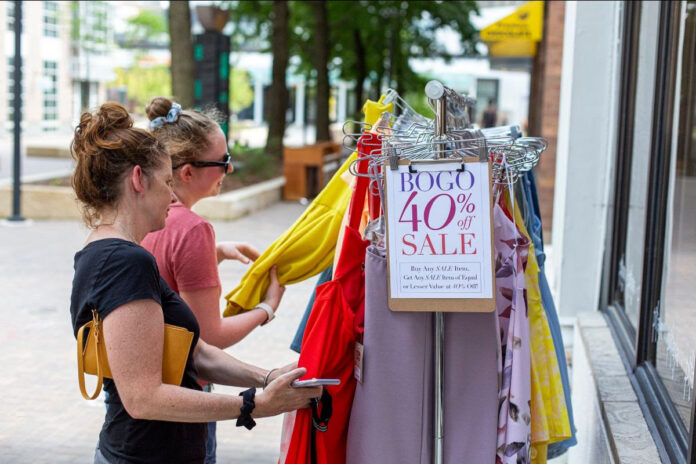 Iowa City's 55th Annual Sidewalk Sale is taking place Thursday, July 13 through Sunday, July 16.
Each year in July the sidewalks are filled with tables and tents for downtown Iowa City's annual Sidewalk Sales, a tradition that began in 1968, according to a news release.
A long-standing tradition of the Iowa City downtown and Northside Marketplace, shoppers can find amazing deals at over 30 unique downtown shops and boutiques.
"The Sidewalk Sales has been a beloved tradition in Iowa City for over five decades, bringing together locals and visitors alike to explore the diverse range of shops. From trendy fashion boutiques to quaint bookstores, there's something for everyone. This weekend, shops are clearing out their inventories to free up space for new products and fall inventory. The biggest summer retail event has always been a festive environment with attendees coming from all over the area to score great deals while supporting their favorite local businesses and discovering new shops," said Director of Marketing for the Iowa City Downtown District, Christopher Hunter, in a release.
This year, the Iowa City Downtown District is giving shoppers the opportunity to win 2 tickets to upcoming Shop Crawl events by supporting local businesses. This includes the Fall Shop Crawl (October 27), the Hot Cocoa Crawl (Winter 2024), and the Summer Shop Crawl (May 2024). To be entered in the drawing to win, customers should save and submit their receipts from participating Sidewalk Sales businesses.
Each submission must include receipts totaling up to $100 or more (excluding taxes, fees, and shipping costs). Customers have until Friday, July 21st to submit receipts via this online form. For every $100 spent, customers can submit multiple times to increase their chances of winning. More details can be seen via the submission form.
The list of participating shops and sales is available via the event map. Maps can be picked up at any participating retailer.