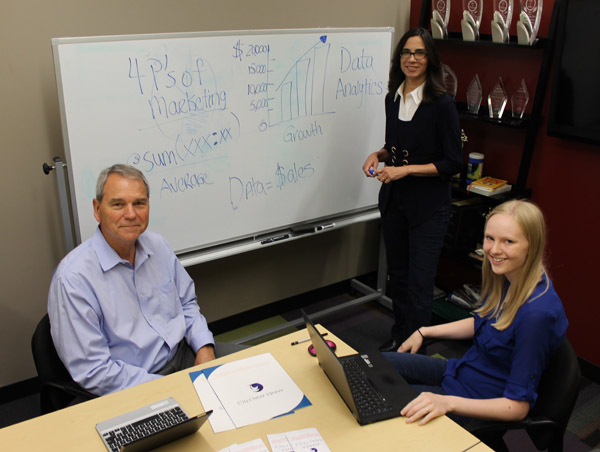 Annex Analytics Chief Operating Officer Jim Thebeau, President Peggy Stover and Research Associate Maddie Shepard are shown in a conference room at Amperage Marketing, where Mr. Thebeau formerly served as chairman.  PHOTO/DAVE DEWITTE
By Dave DeWitte
dave@corridorbusiness.com
Data analytics has matured as an effective strategy for helping businesses make better decisions, but not all companies have shared equally in its benefits.
Relatively few small companies have explored the possibilities within their data because of the cost to hire the specialized consultants – or employees with in-demand skillsets – needed to make sense of it all.
That could change with the arrival of Annex Analytics, which was launched last month by two marketing veterans in the Corridor: former Amperage Marketing chairman Jim Thebeau, and Peggy Stover, lecturer and director of the undergraduate Marketing Institute at the University of Iowa's Tippie College of Business.
Mr. Thebeau said he observed the growing importance of the big data trend over the past five years at Amperage and Henry Russell Bruce, which merged with ME&V Advertising in 2014 to form Amperage.
Businesses have been collecting large amounts of data regarding their customers and interactions with them, but are analyzing on average only 12 percent of that data to make business decisions.
In recent years, technology has brought together data mining software, relational databases, massive processing power and inexpensive data storage, making it possible to analyze more of that data and unearth new insights.
"I see it as a tsunami that's coming to drive business decision-making," Mr. Thebeau said.
Meeting through an intern at Amperage, discussions between Mr. Thebeau and Ms. Stover began with the idea of how to keep the growing number of UI grads with degrees in marketing and business analytics in the Corridor. They decided forming their own company would be a smart move for both themselves and UI graduates.
"It was a happy accident," he said.
Mr. Thebeau was unable to find other companies in Eastern Iowa that specialize in data analytics. Such firms often charge $40,000-$70,000 in initial fees, Mr. Thebeau said, which is beyond the range that many small- and mid-sized firms consider affordable. Annex Analytics is aiming to offer services at rates that won't drive small businesses away, he added.
A central question that marketing analytics can answer is how to differentiate your business to gain an advantage in a highly competitive landscape, Ms. Stover explained.
"It can give you a really deep knowledge of how you're selling and who you're selling to, and put that together so you can realize opportunities within your industry and your customer base," she said.
Annex Analytics offers businesses competitive, industry trend and pricing analyses, and many other services that glean insights from data. It steers clear of services such as public relations, branding, social media and media buys that traditional agencies provide.
Beyond providing insight, Ms. Stover said the firm can also educate companies about how to collect valuable data. Many aren't collecting enough data, don't collect the right data or even collect too much data.
"One issue a lot of companies face is they tend to put that [data collection] issue on the back burner until it is too late," she noted.
Mr. Thebeau said a typical client relationship involves a client supplying data from sources such as sales and warranty records. The customer pays a nominal fee for an analysis, and is provided with an overview of what kinds of questions could be answered by more deeply analyzing their data.
The ensuing discussion can help pinpoint areas for further research, such as how the company's data compares to industry norms. Some customers want a monthly or quarterly data 'dashboard' to help the company see how the tracked data points compare to past performance and industry competitors.
Annex Analytics uses non-disclosure and confidentiality agreements to protect the privacy and competitive data of its clients. The data it uses is stripped of personal identifiers and aggregated for reporting purposes. At the end of the project, it's either destroyed or returned to the client.
Annex Analytics' first employee is Research Associate Maddie Shepard, a 2016 UI graduate with a specialization in marketing analytics. Ms. Shepard, "a huge numbers girl," started out working toward a finance degree, but discovered in her introductory marketing class that there could be a strong overlap of her statistical interests between finance and marketing. The idea of making big things happen using both numbers and people clicked with her.
"I said, 'cool, this is exactly what I want to do,'" Ms. Shepard recalled. She was selected for the Marketing Institute at Tippie, which provided her with real-world experience in data analytics at companies including Target.
Annex Analytics has already held discussions with more than 20 clients and prospective clients. The latter include health care companies, banks, insurance companies, and even a company that sells cookie dough.
Mr. Thebeau said Annex Analytics isn't in competition with his former firm, and in fact the two firms refer business back and forth, because their marketing services don't overlap.
The founders are bootstrapping the costs of the startup, but Mr. Thebeau isn't nervous. They are operating as a virtual company from various locations, helping to keep the overhead down, and they believe in what they're doing.
"I'm seeing the future of marketing unfold in front of me," he said. "It's software, analytics and marketing