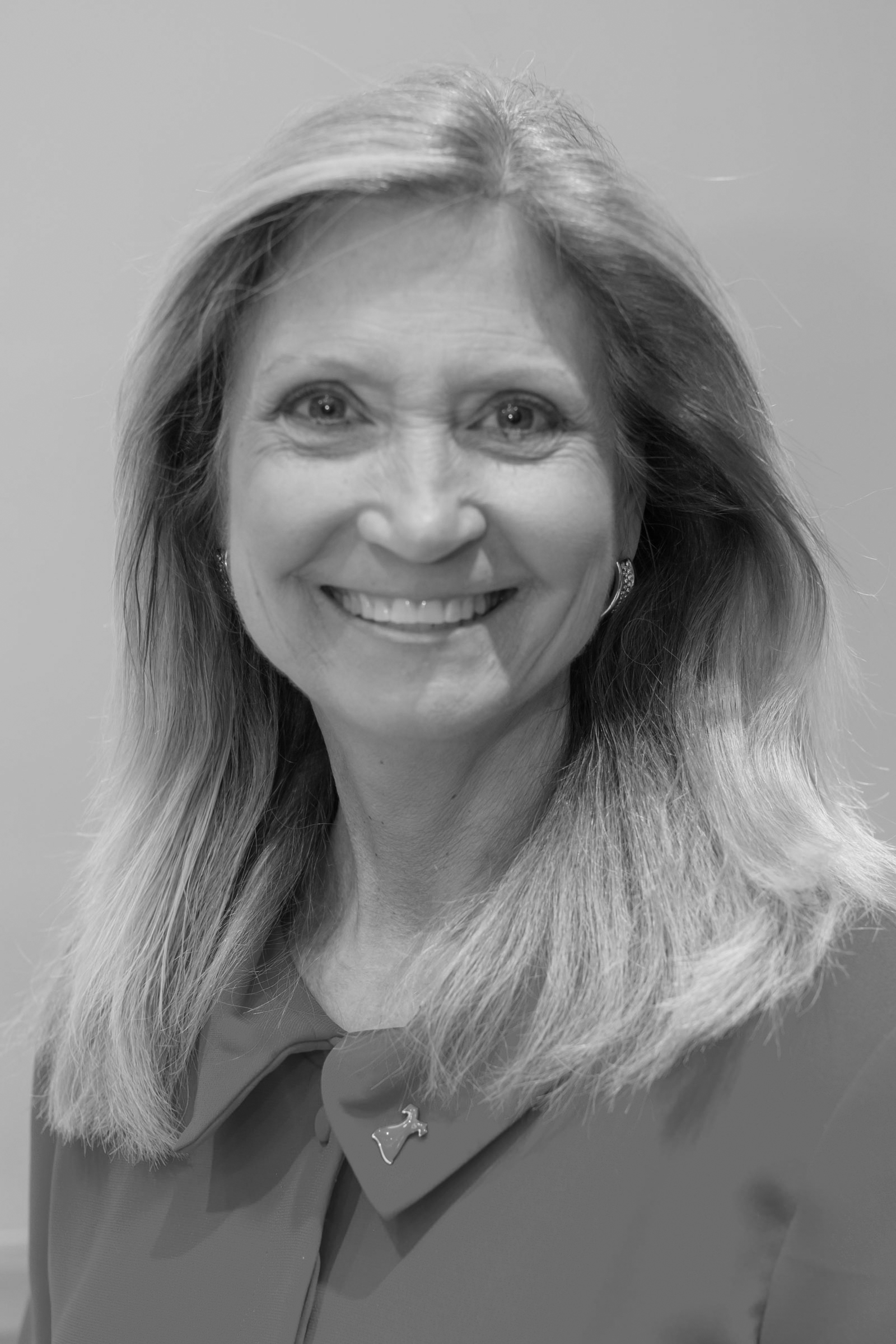 Senior Assistant Director
University of Iowa Hospitals and Clinics
Amy O'Deen is a master juggler.
The senior assistant director of University of Iowa Hospitals and Clinics manages work, family and community involvement, and she loves it.
"There are so many personal rewards from each facet of my life. I am blessed," she stated in an email interview. "Although some things fall through the cracks at times, I just try to do my best to keep all these balls in the air."
In her role as senior assistant director, a position she has held for 18 years, Ms. O'Deen serves as the administrative liaison to UI Women's Health. She has helped implement a vision for coordinated, accessible care for women throughout their life spans, across all services.
She's responsible for several other services at UIHC, including: the UIHC Child Care and Early Learning Center, surgical services credentialing and A Massage Oasis. She also provides support for other programs like the e-Health efforts, women's leadership, high census planning and community benefit reporting.
"I think everyone has the capacity to influence others or outcomes. Within the UIHC, I have been blessed to work with an amazing complement of faculty and staff," she said. "When everyone is motivated by a similar vision, it is relatively easy to realize the organization's goals."
Ms. O'Deen earned a master's degree in hospital administration and a bachelor's degree in nursing from the UI. In 2007, she was awarded fellow status in the American College of Healthcare Executives, the highest healthcare management credential.
"Several of my family members are physicians, dentists and nurses, so I was acclimated to the healthcare field at a very young age," she said. "I was always drawn to the fundamental concept of helping others in their time of need and making a meaningful difference."
She has spent her entire career at the UI.
"The UIHC is highly committed to innovation, so it is an exciting place to work and continually learn. I feel a tremendous sense of loyalty to this institution because it has  afforded me so many incredible opportunities and experiences," she said.
Ms. O'Deen has been vice chair of the Iowa Women's Leadership Conference board since 2011 and has served as the chair of the program committee since 2006.
"I believe my nomination for the WOI award is largely a reflection of my efforts to develop the Iowa Women's Leadership Conference and related programming over the years. The  event was the brainchild of Donna Katen-Bahensky, my boss and the former CEO of UIHC," Ms. O'Deen said. "I had the good fortune of working closely with her and many other wonderful women throughout the Corridor to organize and sustain what has become widely recognized the premier leadership forum for women in Eastern Iowa and beyond."
This year's conference, April 23-24 in Coralville, will feature speakers such as Martha Stewart, Gloria Steinam and the Rev. Bernice A. King.
"Amy was instrumental in the planning and implementation of the inaugural Iowa Women's Leadership Conference in 2007," stated Ms. Katen-Bahensky, a 2005 Woman of Influence and now the president and CEO of the University of Wisconsin Hospital and Clinics, in her nomination of Ms. O'Deen. "I personally watched Amy give tirelessly in making the first conference a tremendous success and she continues to provide leadership to this program."
Looking ahead, Ms. O'Deen wants to continue to advance the goals of UIHC, serve her community and nurture a healthy, happy and productive family.
"I'd like to support the continued growth and success of our outstanding women's health programs, including developing better coordination and consolidation of services for women in a warm and inviting environment, enhance patient access and satisfaction by capitalizing on emerging e-health strategies and sustain the Iowa Women's Leadership programming at a world-class level," she said.
Ms. O'Deen, who played volleyball at the UI as a student, is vice chair of the President's Committee on Athletics.
Christine H.B. Grant, retired director of Intercollegiate Athletics for Women at UI, has known Ms. O'Deen since 1977 when she was a freshman volleyball player at the university.
"Perhaps one of my most important observations is that Amy gives so much in such a very quiet, unassuming and totally effective way that in any venture in which she has a leadership role culminates in a successful event," Ms. Grant stated in her nomination letter.
Ms. O'Deen grew up in Waukesha, Wis., and Park Ridge, Ill. She has two children and lives in Iowa City with her husband, Mike.
Although she has had many accomplishments over her long career at UIHC, Ms. O'Deen said her family is her most important.
"Of course, my two children, Alli and Ryan, are my absolute greatest accomplishment, with my husband of 27 years, Mike," she said.
-Pat Shaver