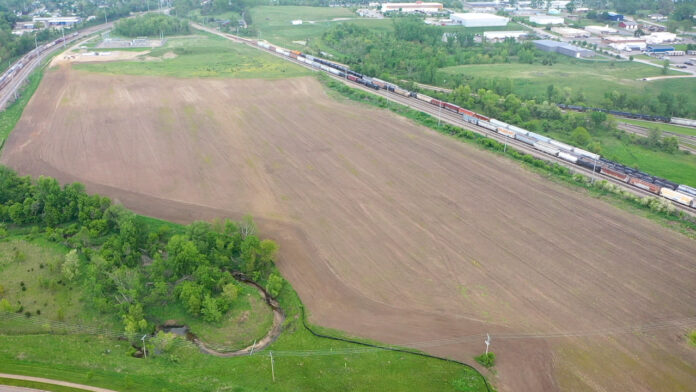 Expanding on its goal to attain net-zero carbon emissions from energy generation by 2050, Alliant Energy said Tuesday, July 12 it will establish its first Iowa community solar "garden" in southwest Cedar Rapids.
The 4.5 megawatt solar energy project will consist of 18,000 solar "blocks," with each 250-watt block expected to produce 541 kilowatts per year. At full capacity, the project, to be installed on company-owned property north of the 1100 block of 33rd Avenue SW, could produce enough energy annually to power 3,600 homes.
Construction on the project will begin this summer, with completion expected by the summer of 2023.
Nearly two-thirds of the project's energy generation has already been allocated, Alliant officials said in a news release. Transamerica and Aegon Asset Management (Aegon AM) has committed to purchase 60% of the garden's solar blocks and become the anchor tenant for the project.
"We've learned that businesses, like Transamerica and Aegon AM, are increasingly interested in solar and renewables as efficient ways to meet sustainability goals," said May Farlinger, Alliant's vice president of customer and community engagement. "The simplicity and flexibility of community solar allows companies, especially those with multiple locations, to benefit from clean energy without the need to build, operate and maintain their own systems."
Additionally, Alliant said it will donate $400,000 in solar blocks from the project to Cedar Valley Habitat for Humanity homeowners. Over the 20-year life of the garden, Alliant will issue up to $600,000 in bill credits to Habitat for Humanity's participating residents, bringing the total donation to an estimated $1 million.
"This partnership will further empower Cedar Valley Habitat homeowners through savings on the cost of their energy bills," said Cedar Valley Habitat for Humanity executive director Brittany Scanlon. "Taking away the pressures of staying housed and keeping the lights on allows our families to focus on opportunities to improve their health, transportation, education (and) employment."
6,000 solar energy blocks from the balance of the project's energy generation will be available for purchase by customers on a first-come, first-served subscription basis. The blocks are priced at $395 each, and can also be purchased for another Alliant customer or donated to the Hometown Care Energy Fund.
Subscribers receive monthly credits on their electric bills for every block of energy purchased.
Alliant officials said the company has long planned a solar installation on the Cedar Rapids site, and is being installed in response to customer requests for additional opportunities to access renewable energy.
The Cedar Rapids-based garden is part of Alliant's Community Solar program, allowing the company's electric customers to benefit from solar power without installing solar panels on their property.
Subscribers receive monthly credits on electric bills for every block of energy purchased. Credits will begin once the project is operational and continue for the life of the project.
"We are excited for our Iowa customers to enjoy the benefits of clean, renewable energy," Terry Kouba, president of Alliant Energy's Iowa energy company, said in a statement. "We anticipate all blocks will be sold quickly given the level of interest we've gathered from our Iowa customers. The Community Solar program is just one more way we can use our knowledge and resources to serve our customers while bringing them options and solutions to meet their needs."
This is the second of multiple community solar locations Alliant Energy has planned across Iowa and Wisconsin. The first project, in Fond du Lac, Wisconsin, became operational in late 2021.
Alliant officials said the Cedar Rapids community solar garden is an important milestone in the company's Clean Energy Blueprint, a roadmap to accelerate its transition to renewable energy through its Clean Energy Vision, which includes a goal to attain net-zero carbon dioxide emissions from electricity generation by 2050.
Alliant is also pursuing a utility-scale solar project at and around the former Duane Arnold Energy Center nuclear power plant near Palo. Under the plan, Florida-based NextEra Energy Resources has proposed to develop and install 200 megawatts of solar generation and a 75-megawatt battery energy storage facility. If approved by Linn County and the Iowa Utilities Board, the project would be constructed in two phases, and once completed, ownership of both projects would be transferred to Alliant Energy, through its subsidiary Interstate Power & Light Company (IPL), for ongoing operation.
For more information on the Cedar Rapids solar garden project, go to alliantenergy.com/communitysolar.