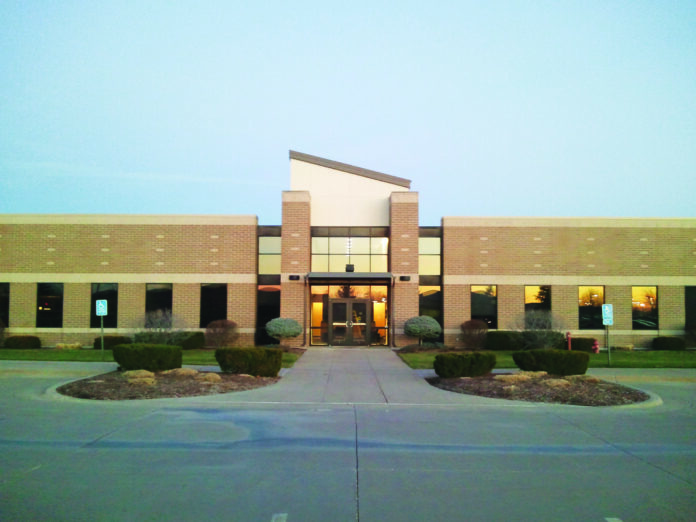 By Sarah Binder
HIAWATHA–With a new year comes new jobs.
That's the case at Alliance Claims Solutions, anyway, which recently announced plans to hire up to 200 people beginning after the holidays.
The Cedar Rapids-based company, which employs about 75 people, will move to a larger office space in Hiawatha. Alliance plans to increase its headcount to at least 135 and the new facility will have room for up to 350 people, company officials said.
"We have progressively grown larger and larger over the years," said Brian O'Mara, vice president of national contact centers for Safelite Solutions. Safelite Solutions, which owns Alliance Claims Solutions, is a sister company to the better-known Safelite Auto Glass, and provides 24/7 claim management services to the insurance industry.
Services include worker's compensation claims, liability and auto glass. Based in Columbus, Ohio, Safelite Solutions employs roughly 1,700 people in call centers, including another in Phoenix.
A trend in the insurance industry is a willingness to partner with other companies to provide additional services when needed, Mr. O'Mara said. Alliance can answer phones for other insurance companies during routine night and weekend shifts or handle high call volume during catastrophe situations. The company works mainly with small- and medium-sized insurance companies.
For example, during Hurricane Sandy, the company's call volume went up 900 percent. Alliance was able to keep its average answer time to 20 seconds. In other words, a customer could talk to a real person within about four rings of a home phone, Mr. O'Mara said.
Technological advances have made this possible, with software that analyzes past call volume and compares it to staffing needs.
"We can have the bodies in the chairs before the phone starts ringing," he said.
Alliance Claims Solutions employs a mix of full- and part-time people working various shifts. Mr. O'Mara said this allows them to have staff in place around the clock, as customers increasingly expect to be able to reach a representative at any time.
This model provides employees with flexible schedules, he said, including students and working parents. The ideal candidate has some college experience, but Mr. O'Mara said high school graduates are also considered.
"Most importantly, they've got to care about people, be articulate, and somewhat familiar with technology," he said.
Alliance Claims Solutions will also use the Iowa New Job Training Program administered through Kirkwood Community College to find and train new employees.
Melina Metzger, public relations manager for Safelite Solutions, said the decision to move to Hiawatha was based on square footage, quality of the building, condition of the interior, parking availability, existing furniture in place, lease terms, and local workforce. The new location at 1125 Dina Court is 21,220 square feet.
Alliance Claims Solutions isn't the only company planning to add of hundreds of jobs in the next year. GEICO announced the addition of 100 jobs at its Coralville office late in November, as the company celebrates its 15-year anniversary in the Corridor. Pizza Ranch announced plans earlier this month for a new location in Cedar Rapids that will bring another 75- 100 new jobs to the area.
Correction: The printed version of this article misspelled the names of Alliance Claims Solutions and Safelite Solutions. The Corridor Business Journal regrets the error.