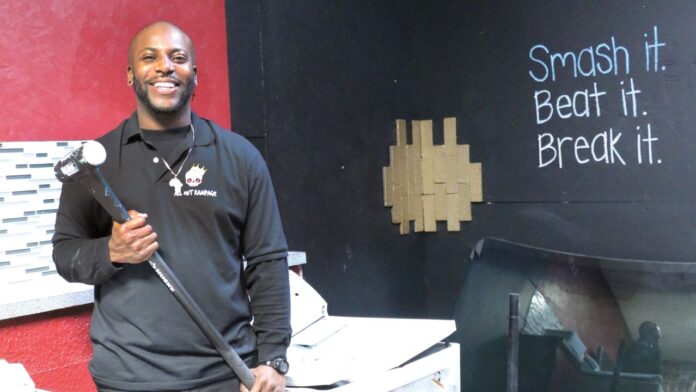 Self-help advocates often promote a constructive approach to deal with life's stresses, frustrations or pressures.
Roy Green would suggest a more destructive option – under the right circumstances, of course.
Mr. Green is the owner of All Out Rampage, billed as the Corridor's first "rage room." And if you're imagining a facility that allows you to break, smash and obliterate various objects in a controlled setting – well, then, you have the general idea.
All Out Rampage officially opened to the public in mid-December in the Edgewood Plaza in northwest Cedar Rapids. It took several months to renovate the building, a former beauty salon, and create several individual "rage rooms," which can be arranged with a variety of breakable objects – either provided by the facility itself or the customer.
Then you don full personal protective gear, including coveralls, gloves and a full face mask, pick your weapon of choice from All Out Rampage's extensive gallery, enter the rage room and create as much chaos as possible within a 20-minute time limit.
It's a new concept for the Corridor, but Mr. Green said rage rooms are popular in many parts of the country, as well as countries such as Japan and Dubai. He said he decided to pursue the concept locally after his job as an over-the-road truck driver ended unexpectedly in April 2020 and he needed to pursue a new career venture.
"I had to decide if I wanted to start my own business, try to find another job or go back to school," he said. "I decided I should try to find something that I like to do, that someone else likes to do as well, have fun and try to figure something out."
As he mulled his options, he said he saw his daughter watching YouTube videos when a rage room commercial began playing. "There were people smashing stuff in this room, and I thought that looked pretty cool," he said. "I would like to do that. From there, I just went down this crazy rabbit hole."
Mr. Green had a severance package to fund his new venture, but it took some time for him to find a location with an accepting landlord. He also struggled to find insurance for the business.
"It took me a good month," he said. "I got like 50 no's. They would ask me exactly what I was doing as far as protection and safety."
As his idea matured, Mr. Green said he visited several other rage rooms, including the closest one he could find, in Moline, Illinois. "I paid $25, and they had a room with a wooden spool, a laptop and a box with some glass you could take out and throw against the wall," he said. "I thought I could do better."
All Out Rampage has already found a niche in the Corridor, particularly among teens and young adults, Mr. Green said. In the spirit of the theme, there are a number of humorously-labeled breakage packages available, from a basic "Tease" – five plates, five glasses and one small breakable item for $10 – through other packages such as "Cry Baby," "Mad As Hell," "Going Ape" and "The Purge." There's also a "Date Night Couple Rage" package, "The Crew" for groups of up to four people, and an option to bring your own breakables (BYOB), which requires prior approval of objects.
Larger group packages are also available – Mr. Green has already booked a party in February for up to 45 employees from a Marion business – and he wants to offer "Paint and Sip" parties for those with less violent tendencies.
A series of weapons is available for maximum destruction, from baseball bats to hockey sticks and sledgehammers, and the list of breakable objects is extensive – computers and electronics, household appliances such as washers and dryers, office furniture, dishware and glassware and more. Car windshields are a favorite option, Mr. Green said, and he's arranged with a local salvage yard to bring junk cars on site for larger-scale outdoor destruction.
And customers don't even have to clean up after themselves – Mr. Green takes care of that as part of his fees.
There are a few items that can't be destroyed in the rage rooms, such as fluorescent light bulbs and appliances or CRT's containing hazardous materials, but otherwise, donations are welcomed and encouraged to maximize All Out Rampage's breakable options. Participants are also required to sign safety waivers before any destruction commences, and safety is stressed throughout the process.
Mr. Green said he hopes the community embraces his concept in the intended spirit – a safe, controlled way to relieve life's stresses.
"People get so frustrated with life," he said. "I relate it to COVID, when people are laid off or at home with their kids, they just want something different to do, especially in Cedar Rapids. And now that it's cold, you can do this inside. It's something new, something different, and something where you can just let loose and have fun."
ALL OUT RAMPAGE
Owner: Roy Green
Address: 371 Edgewood Rd. NW, Cedar Rapids (in the Edgewood Plaza, just south of Planet Fitness)
Phone: (319) 396-3644
Email: alloutrampage@gmail.com
Hours: Wednesday – Thursday, 1-9 p.m.; Friday – Saturday, 1-10 p.m.; Sunday, 1-7 p.m.; appointment only Mondays and Tuesdays
On the web: https://alloutrampage.com/