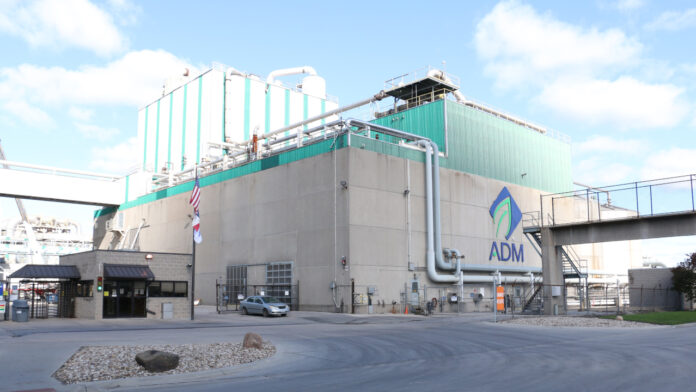 ADM reported dramatic increases Tuesday in most financial categories for the first quarter of the company's 2022 fiscal year, significantly exceeding analysts' estimates in the process.
The food processing and commodity trading company, with operations in southwest Cedar Rapids, reported revenue of $23.65 billion for the quarter, up more than 25% from the $18.89 billion reported in the same quarter of 2021 and beating estimates by just over $3 billion. Adjusted earnings per share (EPS) totaled $1.90, a 36.7% increase from the $1.39 reported last year and $0.49 higher than analysts expected.
Adjusted segment operating profit totaled $1.556 billion, a $357 million increase (29.8%) from the $1.199 billion reported in the same quarter of 2021.
In a statement, ADM chairman and chief executive officer Juan Luciano said he expects the company's performance for 2022 to exceed 2021's results, despite continued global grain market tightness from reduced crop supplies caused by the weak Canadian canola crop, the short South American crops, and disruptions in the Black Sea region.
""Our first quarter financial results … reflect an extension and amplification of the factors that drove our 2021 performance: Great execution by our team, including exceptional growth in nutrition and effective risk management; a tighter supply environment, especially with the smaller South American crop; and robust and resilient demand," Mr. Luciano said. "Importantly, I'm also very appreciative of how our company has rallied to support our colleagues in Ukraine and the country's agriculture industry."