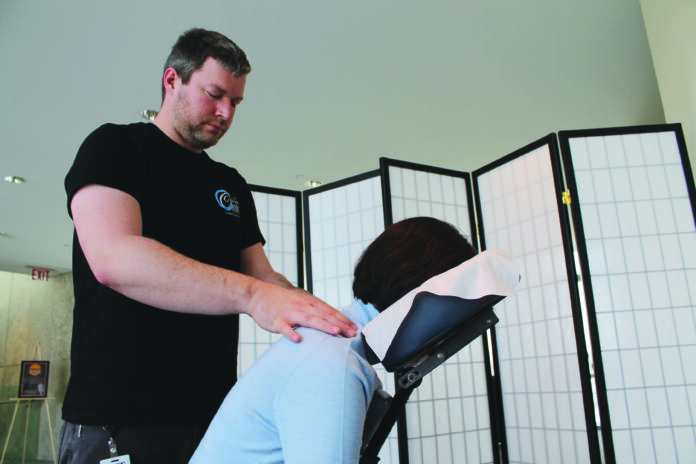 Free massages, fitness classes available
By Pat Shaver
IOWA CITY—Sandy Stewart received an email from a fellow ACT employee who had worked for the company for 37 years. It was feedback about the company's decision to offer free massage services to employees.
"She has been at ACT for 37 years and said this is the best thing that has ever happened," said Ms. Stewart, ACT's wellness manager. "I don't think people realize even the benefit of a 10 minute chair massage. The feedback has been amazing, I think people love it."
Since the new CEO Jon Whitmore started in 2010, ACT has taken an aggressive approach to employee wellness.
"His goal was to be one of the best places to work, and wellness is right up there," Ms. Stewart said. "The forward thinking companies that are doing this are looking at it more holistically than a fitness center. It's total team member well being."
In the fall, ACT began offering employees free massages.
"Any of the things you do for your employees that are positive are going to come back many times over," Ms. Stewart said.
Ms. Stewart, who has received massages for 30 years, said research shows that the activity increases productivity, reduces stress, decreases absenteeism and leads to healthier, happier employees.
"Any time you hold stress in your body you are apt to illness and injury," Ms. Stewart said. "By bringing it into the work environment it really helps mental and physical well being and there's a convenience of not having to go anywhere."
Upfront costs to the company for wellness initiatives are worth the investment, Ms. Stewart noted.
"I think a smart company is doing something to invest in the health and welfare of its workforce," she said. "Health care costs are unsustainable with where they are now."
During a Blue Zones committee meeting, Ms. Stewart met Kristin Sharma, executive director and owner of East-West School of Integrative Healing Arts in North Liberty. Ms. Sharma also owns A Massage Oasis.
A Massage Oasis was started in part so graduates from East-West School could have a place to work, Ms. Sharma said. The company, a professional therapeutic massage therapy program, has two locations at the University of Iowa Hospitals and Clinics where massages are offered to patients, visitors and employees. They also have a location at the UI Campus Recreation and Wellness Center, 309 S. Madison St., Iowa City.
Upon hearing about what A Massage Oasis was doing at UIHC, Ms. Stewart approached Ms. Sharma about forming a partnership. A Massage Oasis is now the company that ACT contracts to provide employee massages.
When the program began in the fall, A Massage Oasis had massage therapists at ACT about nine days a month. That has since increased to about 12 days a month from 10 a.m.-4 p.m., Ms. Sharma said.
"Over the years, more research has come out that shows massage really does make a difference," Ms. Sharma said. "It increases morale in the workplace and decreases sick leave."
What makes ACT unique, she said, is that the company is paying for the services. Other companies may bring in massage service, but the employee has to cover the fee, Ms. Sharma said.
"Making it a part of their benefit package I think is so smart," she said. "It just creates great energy, a lot of people love massage."
Employees at ACT can sign up for a 10 minute slot. They receive a chair massage, where they lay face down in a massage chair, focused on the shoulders, neck and upper back. The employee remains fully clothed and no oils or lotions are used, Ms. Sharma noted.
"We would like to continue to grow, we're starting to market our corporate program," she said. "I'd love this thing to go all over the state and all over the country because I love it so much."
As an athlete in high school, Ms. Sharma fractured her vertebrae but she didn't want to take medications and she didn't want surgery, so she chose massage therapy. She has managed the chronic back injury for 30 years through massage, she said.
Massage is one of many perks that ACT offers to employees. Most days there are fitness classes on the ACT campus in Iowa City during the lunch hour and after the work day.  They offer, for example, Tai Chi, Zumba, jazzercise, yoga, cardio, strength training, laughter yoga and classes to improve joint problems, depending on the day.
There is frequently an on-site nurse available who can write prescriptions. During tax  season, the company brings in H&R Block to help employees file their taxes. On-site dry cleaning pick-up and delivery is also available. The company is focused on motivating employees to participate in health risk assessments and screenings and expects to offer an incentive program for participation.
ACT allows employees to take one paid day off for volunteering and gives three paid days for professional development.
Standing work stations and walking work stations are also available to employees. Also, this year, the campus went completely tobacco free.
"We thought we could really walk the talk if we were tobacco free," Ms. Stewart said.
Ms. Stewart's long-term goal is to establish a dedicated facility to expand its wellness programs. The hope is a facility is constructed in three to five years and would likely be
called the Center for Well Being. It would include a daycare, pool, fitness center, space for fitness classes, locker rooms, showers, basketball court and racket ball courts. The building could also include space for professional development classes and an auditorium, among other features, Ms. Stewart said.