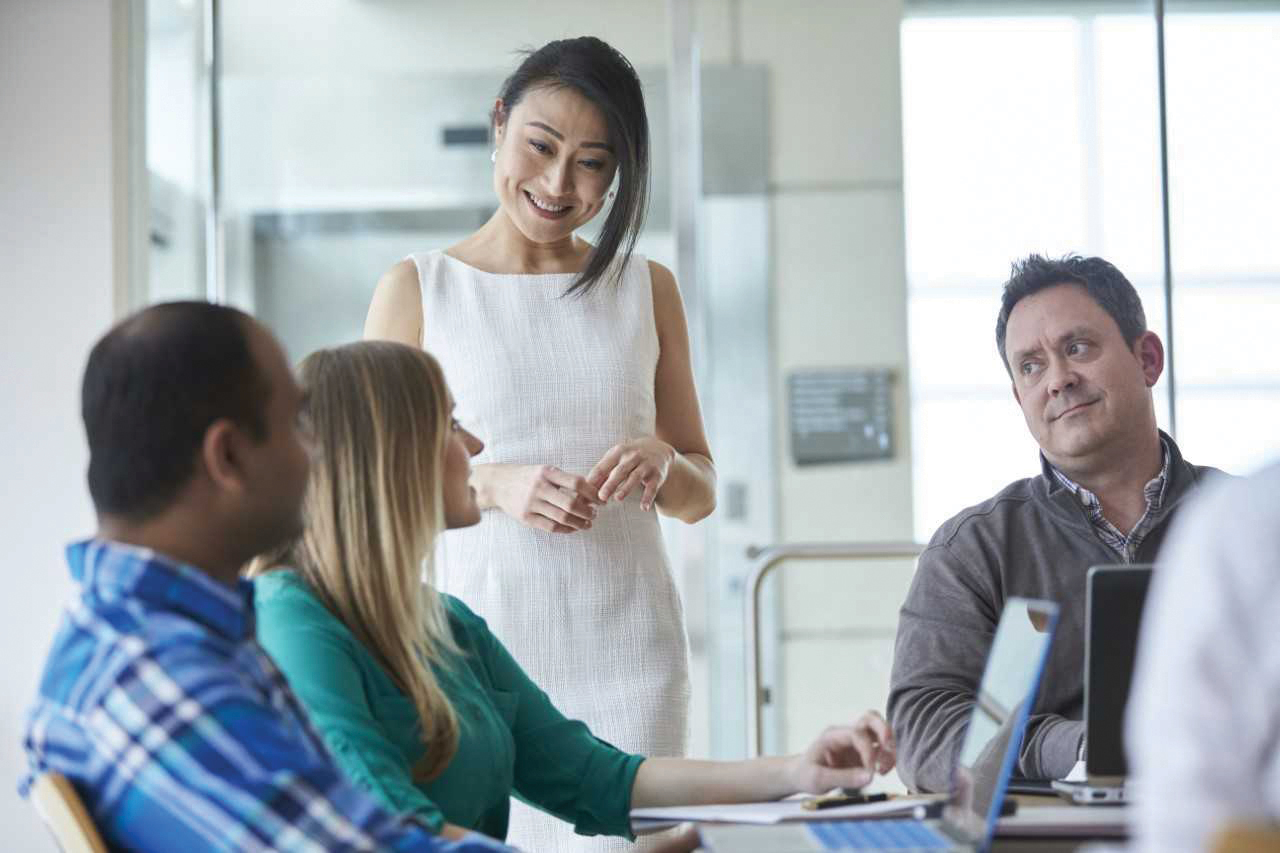 Associate Professor Alice Wang teaches a marketing class in the part-time MBA program at the University of Iowa's Tippie College of Business. Close to 1,000 students currently attend the part-time MBA program. PHOTO UNIVERSITY OF IOWA
By Dave DeWitte
dave@corridorbusiness.com
It's no wonder that more MBA degrees are being minted in the Corridor through part-time programs, as online programs and satellite campuses with convenient offerings for adult learners multiply.
Still, it arguably takes an even stronger commitment to learn while juggling the responsibilities of job and family that don't encumber most traditional full-time MBA students.
Some positives for adult learners pursuing a master's part-time is that they can align their area of studies to career goals that are more clear and immediate, and can often bank some educational assistance from their employer.
The CBJ asked program leaders at four of the Corridor's leading part-time MBA programs how to navigate this educational challenge, and received some candid advice for surviving and thriving during the two- or three-year process that can be both exciting and stressful.
Finding the program for you
Increasingly, the big choice is between online and on-campus.
"Now tech is so mobile you don't have to have two hours on this night to sit at home and do it," said Upper Iowa University MBA Program Director Becki Wissmiller. "If you need to travel, you can take it along. If you're going to sit for two hours at soccer practice, you can take it along. We make sure all our materials for our program can be viewed electronically."
The online MBA program is growing faster than the others at the University of Iowa, although it remains a fraction of the overall students. Many students still prefer the on-campus programs because they feel they can learn better with the interaction and structure of a classroom, according to Michel Pontarelli, director of student experience for the online MBA program.
Then, there's what Mount Mercy University calls its blended approach, in which students can either go to class or take part online through a live feed. It's a lifesaver when a student is sent away on travel or has a sick child at home, according to Marcie Van Note, Mount Mercy's MMBA program director. She said one student who unexpectedly was sent on a travel assignment remoted into class from Switzerland.
Among the other factors that should be considered are the MBA areas of emphasis offered by the institution, its flexibility in transferring credits, and whether the student can switch from the on-campus to online format if, for example, their employer transfers them to a different location.
Getting employer buy-in
Pursuing an MBA while working full-time should involve a consultation with your employer, according to Dale Cyphert, director of the MBA program at the University of Northern Iowa.
"You don't want to do it at work and the boss not know about it," Ms. Cyphert said.
There may be days when you have to leave early, or give up overtime requests because of conflicts with the MBA program.
Prospective MBA students will also want to consult their employer about where they see their career opportunities heading, which can influence their course selection and the MBA specialty or certificate areas they pursue. If they don't see you as an important part of their management bench, she says it's good to know early on because that will reduce the value of your MBA investment.
The conversations with the employer should clarify what kind of tuition assistance the employer may provide, and the requirements to receive that assistance. Most of the UI's part-time MBA students receive employer financial assistance, ranging from $5,250 to $15,000, Ms. Pontarelli said.
A good selling point to employers is that MBA learning can increase your value as an employer immediately, often through classroom projects that can solve a problem or analyze an opportunity for them.
"I've had students who were practically bringing their boss with them to class because they were coming in with real problems," Ms. Cyphert said. "It's one of the best feedbacks I get."
Brushing up your student skills
Many part-time MBA students don't have an undergraduate degree in business, and haven't set foot in a classroom in a decade or more.
Most MBA programs have some foundation classes that help bring students up to speed. At the UI, nine core courses "kind of level the playing field" between students who haven't taken business classes and those who have, Ms. Pontarelli said.
It's still a good idea to brush up on Excel spreadsheets, which are a key tool for MBA students. The UI offers a tutorial to help students become fluent in Excel.
Many students will also have to step up their game in time management and refresh their study skills. Both are areas that most MBA programs can help with, but it's better to be proactive than to wait until you're falling behind.
One of the hardest mental adjustments for new MBA students to make is "they have to let themselves rise to the top of the priority list and make the time" even though they might tend to put their children or partner first as they have in the past, explained Ms. Pontarelli.
Keeping family life sane
A high percentage of part-time MBA students are young parents. The average age at the University of Iowa's PMBA program is about 34, and many have young children.
"This commitment to going back to school to get a master's degree is a family commitment," said Ms. Van Note, of Mount Mercy University. "It's a commitment that the spouse is going to support you to do this and watch the kids."
Relying exclusively on a spouse or partner is something Ms. Van Note doesn't recommend.
"If you have a sick child and your spouse is running late because they're working, what's your backup plan to come to class?" she asks. "I say, 'what's your backup plan, and what's your backup to your backup?'"
Ms. Cyphert agrees that a family buy-in is critical for a part-time MBA student.
"It's really going to be tough to finish the program if your spouse is not with you in this," she said. Fortunately, the spouse is often the first to understand that an MBA can make life better for the entire family if it creates more opportunity. However, she does not recommend that families settle for a simple shifting of responsibilities.
"The families that have been the most successful are those that have creatively figured out 'what does that do for us as a unit,'" Ms. Cyphert said. "Mom's in class on Tuesday night, so that becomes Dad's night to take the kids bowling. The other parent does something with the child, or takes the kids shopping. You have this structured commitment you've made, so you can creatively think about how you repurpose this time."
The adult learner can set a precedent for good study habits in the family. The part-time MBA student may want to post their graded papers on the refrigerator as a kind of challenge to the kids.
"Everybody's studying, so let's make it a family study time," Ms. Cyphert said. "Everybody's together studying around the dining room table. Now it's the entire family making a commitment."
Managing the load
A part-time MBA program at Upper Iowa University usually takes 15-20 hours a week, between class time and work on reading and assignments, according to Betty Whitesell, dean of the Upper Iowa University School of Business. In the University of Iowa part-time MBA programs, it's a good idea to budget 10 hours a week.
"All our students are fully employed, so they know how to do time management," Ms. Pontarelli said. "But what they need to do is adjust."
Part-time MBA students learn to find scraps of time they weren't utilizing fully before, like studying for an hour while eating lunch, or studying after the kids are in bed instead of watching television.
Collins Aerospace employee Scott Wegener temporarily left his company golf league because it was on class night, and devoted time after the children were in bed between 9 p.m. and midnight to studying.
"It's after the kids are in bed and lets me get just enough sleep to be at work the next day," Mr. Wegener said in an email. He adds, "I've had to learn to be super focused during the times I have for class and homework."
There are times when important life events take precedence over school, and many MBA programs allow students to take a summer or a semester off, which can help with things like weddings, coaching Little League or other important responsibilities.
"Many take one semester off during the program for kids, weddings, job moves or promotions," Ms. Pontarelli said. "We have found that if you stay out two or more semesters, you are less likely to come back." CBJ