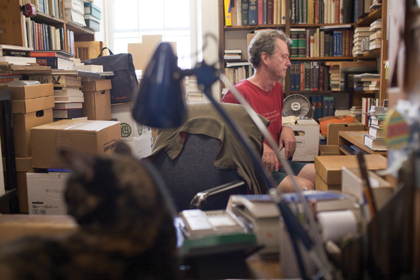 Plenty of room for multiple bookstores, owners say
By Gigi Wood
Iowa City is a bibliophile's delight.
It didn't take Iowa City's designation in 2008 as a UNESCO (United Nations Educational, Scientific and Cultural Organization) City of Literature to become a bastion of booksellers. The University of Iowa, its Writers' Workshop and the confluence of book lovers, writers, students and faculty those entities attract have long made Iowa City a hardcover haven.
While there are plenty of places to buy books in the Corridor, whether online at Amazon.com, at Half Price Books in Cedar Rapids or Barnes & Noble in Coralville, the local, independently owned booksellers in Iowa City say there is plenty of room, if not more, for the small, brick-and-mortar bookshops.
The nexus of Iowa City's bookstores is downtown, at Prairie Lights Books, 15 S. Dubuque St. In its 33rd year, the store consistently ranks as one of the top 10 independent bookstores in the country, attracting writers and readers from across the country. More than a store, it hosts literature readings and is a community center of sorts for the local writing community.
Local booksellers say the City of Literature designation hasn't increased book sales on a daily basis during the past few years, but it has helped in other ways, such as increasing visibility and improving partnerships between store owners. The increase in literature-related events, which include mainstays such as the Iowa Summer Writing Festival and the relatively new Iowa City Book Festival, the third year of which will be held July 15-17, has helped as well.
"We've been delighted with the literary atmosphere, the arc of literary activities and organized events brought about by UNESCO, the Writer's Workshop, the Summer Writing Festival," said Jane Murphy, co-owner of Murphy-Brookfield Books, a used books store at 219 N. Gilbert St. "It has brought about vibrant, weekly book-related activity. We've been very pleasantly surprised to see not only interest in writing and books increase, but stuff is going on all the time. UNESCO makes us only busier and more visible."
What was once a casual relationship between store owners, Ms. Murphy said, has become stronger and more organized thanks to the City of Literature organization.
"(UNESCO Executive Director) Jeanette Pilak has gathered booksellers in a way that hasn't happened before," she said. "We knew each other before and cooperated; this is just a more systematic approach."
Ms. Murphy said the local owners previously referred customers to one another and handed out paper bookmarks that list all the stores in town, but now the stores all appear together on the UNESCO web site and are hosting author readings during the book festival.
"We're very lucky to have the number of independent bookstores we have here," Ms. Pilak said. "We are beginning to attract bus tours from other communities. There's one that comes from Washington, there's one coming from Marshalltown, there's talk of one coming from Ames. The libraries and other tourism groups are putting them together to come and tour the City of Literature and take our literary tour and then make time to go to independent bookstores because those communities don't have independent bookstores anymore."
Iowa City's literary tour includes tours along the Iowa Avenue Literary Walk, which features bronze plates in the sidewalks with quotes from authors with UI or Iowa ties. Museums and UI facilities are hotspots along such tours, often exhibiting literary-related displays and shows, as well as the newest addition, the BookMarks project, which features public art book statues stationed across the area.
Jan Weissmiller, co-owner of Prairie Lights, said book lovers visited Iowa City on literature-themed tours before the UNESCO designation was made and that she often refers those visitors to other bookstores in the area.
"Everyday I'm calling Murphy-Brookfield or the Haunted Bookshop to see if they have some book that one of our customers wants that isn't here, like an out-of-print book," she said.
Often those visitors come for Prairie Lights, she said, without being aware of the other stores. UNESCO has given the town's bookstores more of a common endeavor, but Iowa City's reputation for literature and books is nothing new, she said.
"Prairie Lights was named a destination bookstore, so people will get off the highway to come here, but they won't necessarily know about Murphy-Brookfield or the Haunted Bookshop," Ms. Weissmiller said. "But they're bibliophiles and they want to know, so I tell them about those stores. I know UNESCO wants us to feel like we're a very book-oriented town, but we have felt that way for about 30 years."
The Haunted Bookshop
The Haunted Bookshop, 203 N. Linn St., has undergone several transitions throughout the years.
Nialle Sylvan bought the Haunted Bookshop from its third owner, Thomas Fast, in 2004, when it was located at 520 E. Washington St. She had been looking for a more organized, accessible space when she heard the owners of the Northside Book Market, which opened in 1997, were planning to retire. Her Washington Street lease was up, as was theirs, so she moved into the Linn Street location in 2008.
For several years, Real Records occupied a section of the space. When Craig Kessler, Real Records' owner, decided to close the shop in February, Ms. Sylvan had another opportunity. Joe Michaud, the owner of The Bookery, another local bookstore, decided to retire. Ms. Sylvan bought its inventory and filled the vacancy left by Real Records with Bookery stock.
The Haunted Bookshop has more than 45,000 books for sale, in general fiction, poetry, art, plays, biologues, memoirs, literary criticism, history, military history, philosophy and many more areas, including cookbook and children's sections.
"The children's room is what it's all about for me," Ms. Sylvan said. "This is where they become future readers. I love referring children to different authors based on what they like and I look forward to referring them to other sections of the store as they become adults."
The store's cats, Nierme and Logan, as well as the store's piano and seating areas, add to the Haunted Bookshop's community-minded, homey feel. So do the more than 1,000 species of animal puppets for sale. Ms. Sylvan said she enjoys supporting a fun craft like puppet-making and they are big sellers.
The Haunted Bookshop buys books from customers every day except Sundays. Very little of the stock is sold online, except for highly specialized books that might not find a buyer locally. Ms. Sylvan scoffs at the idea that online sales and digital books will phase out brick-and-mortar stores and printed books.
"I have 25,000 books that are cheaper than digital," she said. "And when someone reads a great book on their Kindle and want to refer it to their friends, they don't lend them their Kindle, they buy the book. And not everyone can afford a Kindle."
She said the local bookstores are similar to an informal fraternity, supporting one another. Ms. Sylvan and her staff buy new releases from Prairie Lights and Prairie Lights customers are often recommended to the Haunted Bookshop.
"I happen to occupy a different niche, which is used and out-of-print," Ms. Sylvan said.
People on book tours often visit the store, she said.
"If somebody can drive 30 miles, 50 miles, 100 miles and visit Prairie Lights and two good used bookstores on the same five-block area, they love that. We love that," she said.
Murphy-Brookfield Books
Murphy-Brookfield is housed in one of Iowa City's oldest buildings, at 219 N. Gilbert St. Located just north of the Riverside Theatre, it was constructed in 1847.
Mark Brookfield and Ms. Murphy opened the store in 1980 after attending college and working at bookstores in Kansas City. The couple wanted to run a store of their own, and friends recommended Iowa City.
"Iowa City is such a good book town," Mr. Brookfield said. "We're your typical college town used bookstore, so we're going to aim a lot of the stuff for the college student, the grad students and the professors."
The store has more than 20,000 books on shelves that Mr. Brookfield built, which are located on two stories. The rooms of books are separated by topic, with more than 4,000 poetry books, countless history books, two rooms of fiction and literature and another devoted almost entirely to literary criticism and university press books. Science, history, art and a variety of other topics are represented. The selections are largely academic, as the two often buy books from UI faculty and students. While perusing the shelves, customers often encounter Martha, the store cat.
Mr. Brookfield said most of the store's business comes from online sales. He uploads lists of books available to a handful of sites each night. Murphy-Brookfield buys books for cash or trade. He said they're picky about the condition of books they buy and they tend to have an instinct for what titles will sell.
Defunct Books
Gregory Delzer opened Defunct Books, 521 E. Washington St., in 2007.
Before the purchase, he was living in Spokane, Wash. The owner of Defunct Books in Spokane retired and he bought the business. Mr. Delzer moved the store to Iowa City because he had visited in the past and fell in love with the town.
He said he carries slightly more than 20,000 titles, which tend to reflect his interests, such as creative writing, English literature, American history and religious studies. His shop also has a children's section and sells a variety of other books. Carts of $1 bargain books greet customers on the porch as they enter his store, which is above the Red Avocado restaurant.
Mr. Delzer, who added that he has another 20,000 books in storage, said there is plenty of room for all the independent bookstores in town. With the recent retirement of a handful of bookstore owners, there could be room for even more, he said.
"It does have a lot of bookstores for its population but I think Iowa City is known for its bookstores, so it tends to even out," he said. "There's no way to corner the market on various titles when there are 10 million books that have been written."
The City of Literature designation hasn't changed his sales figures much, but associated festivals bring customers into the store, he said.
Online sales are a large part of his business, he said. He sells on Amazon.com and a variety of other bookselling web sites. Defunct buys books for cash or trade.
Iowa Book
Around the corner from Prairie Lights at Iowa Book, Owner Pete Vanderhoef said his store doesn't actively compete with the used bookstores in town. Iowa Book, 8 S. Clinton St., buys and sells mostly textbooks, as well as literature and academic publications.
He said that as the industry trends toward online sales and e-books, his store is searching for ways to keep pace with the transition.
"We live in interesting times; everything's changing," he said.
Iowa Book hasn't seen much of an impact from the City of Literature designation, but it is participating in the BookMarks public art project.
The Book Shop
Located south of the Sheraton Iowa City Hotel, The Book Shop, 608 S. Dubuque St., specializes in anthropology, fiction, history, health, philosophy, religion, science and women's studies books. The store also is a sanctuary for stray cats in the area and has a variety of outdoor cat houses to shelter them. Owner Will Ingles declined an interview request. The Book Shop buys books for cash or trade.