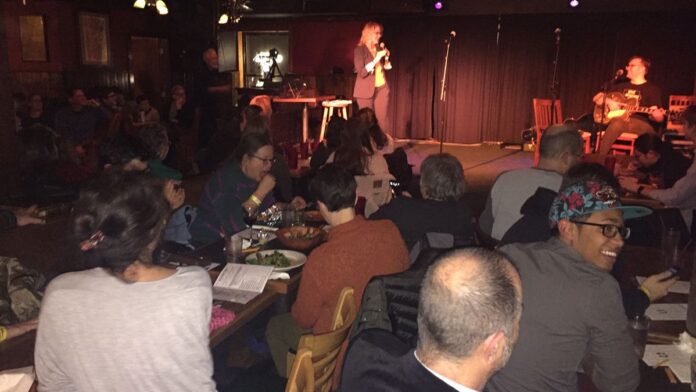 People vent their frustration over President-elect Donald Trump at "Last Night in America" held at the Mill in Iowa City on Thursday, Jan. 19, 2017. CREDIT KCRG
By CBJ News Staff
news@corridorbusiness.com
After nearly 60 years in business, an Iowa City bar and restaurant has announced it is closing its doors under the current ownership and looking for a new owner.
"After 17 years of keeping the Mill going through its 58th year in business, it's time for us to step away," owners of the 120 E. Burlington St. establishment posted on Facebook. "We hope that someone else might want to take over the mission to preserve this institution. It's a cool place and important to a lot of people in Iowa City."
The venue, "known for its pizza and spaghetti, vintage pew seating, vine-draped patio and, of course, its performance space," according to Little Village, helped give a platform to a number of local music legends, including Greg Brown and Dave Zollo. The Mill has been a performance site for the Mission Creek Festival and the Floodwater Comedy Festival and provides the stage for the Run of the Mill theater company. It has also hosted political events and served as a venue for presidential candidates to introduce themselves to Iowans.
The Mill, founded by Keith Dempster as a coffee shop branded as the Coffee Mill, has been at its current location for 48 years. It was taken over by Marty Christensen, a former bassist for Mr. Zollo, in 2003, Little Village reported.
The Mill had been closed since May 2 due to the COVID-19 pandemic. CBJ