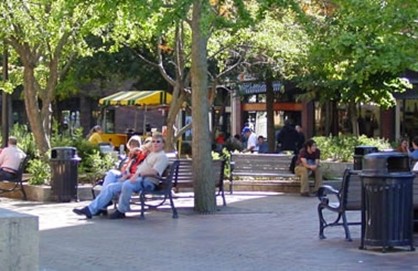 Thirty-five people have applied for as many as 19 seats on the board that will oversee the new SSMID (Self Supported Municipal Improvement District) in downtown Iowa City.
The SSMID is a tax on downtown property owners that was lobbied for by businesses in the district. It will add $2 per $1,000 to property tax bills and will expire in four years. The tax will generate $280,000 annually. The tax will go into effect in October 2012.
The University of Iowa has committed to contributing $100,000 to the fund and Downtown Association of Iowa City (DTA) activities, which are likely to be folded into the SSMID organization, would generate another $50,000 for the fund, for a total of $430,000.
The SSMID board will manage the revenue generated from the tax. The board will consist of property owners, tenants and other downtown representatives. Fourteen to 19 members will be selected to serve four-year terms. The SSMID is classified as a 501(c)6 nonprofit organization.
The nominees will be notified of their appointment by Jan. 4. The first SSMID board meeting is scheduled for Jan. 12.
Board members will be selected by a five-person committee of representatives from the University of Iowa, city of Iowa City, Iowa City Area Chamber of Commerce, Iowa City Area Development Group (ICAD) and the Iowa City/Coralville Area Convention & Visitors Bureau (ICCVB).
Applicants for the board are:
Property owner (or rep) assessed value greater than $1.4 million; two available seats: Melanie Baker, Sheraton Iowa City; David Barker, Brewery Square; Dean Carrington, Phelan Tucker Law Firm; Scott Cray, Paul Helen Building; Kevin Digmann, Old Capitol Town Center; Kent Jehle, MidwestOne Bank; Marc Moen, Moen Group; Jim Mondanaro, Bread Garden, Joseph's, Givanni's, Mondo's Saloon, Hot House Yoga; Andre Perry, Englert Theatre
Property owner (or rep) assessed value less than $1.4 million: two available seats: Benjamin Chait, Chait Galleries Downtown; Mark Ginsberg, M.C. Ginsberg; Scott Kading, Yacht Club/Gabe's; Joe Moreland, Hayek Brown Moreland & Smith; William Nusser, Hands Jewelers; Steve Pajunen, Zephyr Printing & Design; Kevin Perez, Short's Burger & Shine; Anne Rizzo, 19/21 & 135 S. Dubuque St., 308 E. Burlington St.; Naftaly Stramer, Oasis Falafel; and Mark Weaver, Active Endeavors
Business owner who leases greater than 3,000 square feet of space; two available seats: Gabe Aguirre, Iowa City Press-Citizen; Melanie Baker, Sheraton Iowa City; Dean Carrington, Phelan Tucker Law Firm; Benjamin Chait, Chait Galleries Downtown; Catherine Champion, Cheap & Chic, Catherine's; George Etre, Iowa City Fitness, Takanami, Formosa; Mark Ginsberg, M.C. Ginsberg; Kent Jehle, MidwestOne Bank; Scott Kading, Yacht Club/Gabe's; Karen Kubby, Beadology Iowa; Joe Moreland, Hayek Brown Moreland & Smith; Jim Mondanaro, Bread Garden, Joseph's, Givanni's, Mondo's Saloon, Hot House Yoga; William Nusser, Hands Jewelers; and Kevin Perez, Short's Burger & Shine
Business owner who leases less than 3,000 square feet of space; two available seats: James Clayton, the Soap Opera; Sheila Davisson, Revival; Monique Holtkamp, Sweets and Treats; Ritu Jain, Textiles Inc.; Scott Kading, Yacht Club/Gabe's; William Nusser, Hands Jewelers; Steve Pajunen, Zephyr Printing & Design; Kevin Perez, Short's Burger & Shine; Naftaly Stramer, Oasis Falafel; and Veronica Tessler, Yotopia Frozen Yogurt
Northside Marketplace business; one available seat: Dean Carrington, Phelan Tucker Law Firm; and Naftaly Stramer, Oasis Falafel
At large; four to 10 available seats (all preceding nominees also qualify for at large consideration): Regenia Bailey, Bailey Leadership Initiative; Lisa Barnes, Iowa City Summer of the Arts; Mike Finlayson, MidwestOne Bank; Michael Huber, Toyota of Iowa City; Patty McCarthy, Iowa City Public Library; Linda Schreiber, community volunteer; and Steve Wilson, Knutson Construction