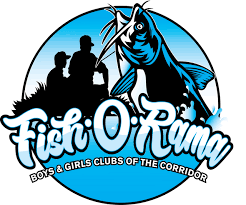 The 21st annual Fish-O-Rama, presented by New Leader Manufacturing, raised over $180,000 in funds to benefit the Boys & Girls Clubs of the Corridor.
The funds will go toward serving vulnerable children and teens in the Corridor through the Club's youth development programs. The event took place Aug. 5 and 6 at Robbins Lake in Cedar Rapids, hosted by the club.
This year, nearly 1,400 anglers joined the event to fish in hopes of winning prizes.
While the Toyota Tacoma prize was not given away this year, more than 1,000 other prizes were distributed, including bicycles, kayaks, TVs, gift cards, jewelry, toys and various items. 
The Fish-O-Rama fundraiser is one of the Club's largest annual events and enables the Club to provide diverse daily activities for 300 young people across six locations in the Corridor.
John Tursi, the Club's executive director, expressed gratitude for the community's support through sponsorships, in-kind donations, volunteers and the active participation of community members. 
"We can't thank the community enough for supporting the Club through Fish-O-Rama," Mr. Tursi said in a release. "This support ensures a safe haven for local kids, with youth development programs, daily nutritious meals, and essential resources that contribute to their journey towards a successful adulthood."