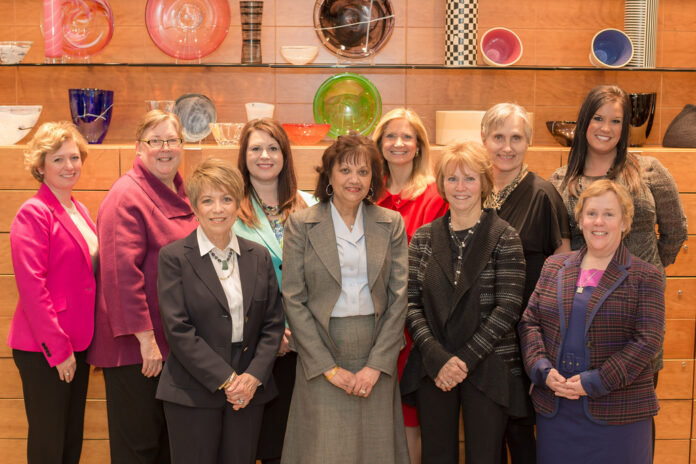 By Gigi Wood
CORRIDOR—They're doers.
The 10 recipients of the 2013 Women of Influence each play a strategic role in improving the Corridor and beyond.
Since 2005, the Corridor Business Journal has hosted the Women of Influence Awards and each year, an independent panel of judges has selected an impressive group of women, who have made a tremendous impact on the region. This year is no different.
Amy O'Deen empowers women to learn and take on leadership positions, Elaine Harrington has played an instrumental role in the growth of Kirkwood Community College, Graciela Coffman encourages women to enter politics, while Leah Rodenberg helps  distribute more than 600 grants to charities a year. Nan Mattai has become a leader in the avionics electronics industry, overseeing more than $1 billion in research and development at Rockwell Collins. Quinn Pettifer has worked tirelessly to promote and create partnerships in the Corridor, while Stefanie Munsterman-Robinson advocates for civil rights equity and Sue Dvorsky has knocked on hundreds of doors to promote the Iowa Democratic Party. Susan Craig has orchestrated the Iowa City Public Library's growth and success. Then there's Dr. Terry Wahls, who conducted her own research to develop her own methods to overcome the symptoms of her multiple sclerosis diagnosis.
Demographically, this year's class is split evenly throughout the Corridor, with five from Linn County and the other five from Johnson County. Most work for the public sector; two are employed by private companies.
Ms. Harrington is the only honoree who grew up in the Corridor, in Vinton. The rest all grew up in hometowns outside the region. Seven have earned advanced degrees.
As in previous years, this year's Women of Influence selection process began with reader-submitted nominations, which included supporting details, resumes and other materials to be considered. Those nomination packets were forwarded to a selection committee made up of last year's Women of Influence honorees, who made the final decision on the 10 chosen for this year's awards.
Most nomination packets were as thick as a book, with many recommendation letters and resumes listing pages and pages of accomplishments, as well as volunteer activities.
"Leah is truly tireless in her efforts to help the non-profit community in everything she does," Ann Stark stated in her nomination of Ms. Rodenberg. "Because I live near Leah, I am probably more aware than most how hard she works at this. Most weeknights her office light is on very late, as she is usually working on a project for one of the non-profit groups she volunteers for."
The influence and efforts of the honorees have been noticed by many throughout the Corridor.
"Tita is indefatigable," Charles Coulter stated in his nomination of Ms. Coffman. "She approaches every task with gusto, charm and boundless optimism. It is virtually impossible to say 'no' when she asks you to do something. She is, indeed, a woman of influence in the Corridor."
Those glowing remarks are common for each honoree.
"Stefanie has helped to bring the Cedar Rapids Civil Rights Commission to another level of discipline, application of truth and visibility," Karl Cassell, the commission's executive  director, stated in his nomination of Ms. Munsterman-Robinson. "She has compassion for all people and puts her passionate energy into highly-productive and effective programs benefitting our community."
And many in this year's Women of Influence class have made an impression on their peers for years.
"I have known Amy O'Deen since 1977, when she was a freshman on the University of Iowa volleyball team," Christine Grant, retired director of intercollegiate athletics for women at the University of Iowa, stated in her nomination of Ms. O'Deen. "Anyone who has read her extensive resume will immediately note that the promise of this young undergraduate that we saw … has been fully realized by the accomplishments she has achieved and by the leadership she has provided over the decades."
The honorees received their awards at a dinner reception March 7 at the Coralville Marriott.