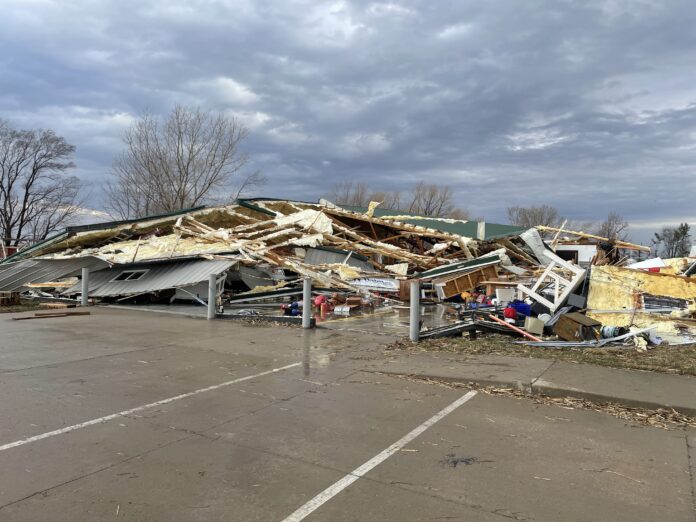 A 5,760 square foot warehouse used as the main storage space for Iowa Valley Habitat for Humanity's (IVHFH) supplies to build and repair homes was lost in tornadoes in Eastern Iowa on March 31.
 "Our organization has determined that our clients, staff, and the majority of our most dedicated supporters stayed safe and have been unaffected by last week's storms, and for that we are grateful," IVHFH Executive Director Scott Hawes said in a press release. "This loss, however, is still devastating. It has not yet been confirmed, but it is likely a tornado hit our warehouse and our neighboring HabLab classroom during the storms on March 31."
Constructed in 2016, the IVHFH warehouse located in Iowa City has been utilized to store the organization's backstock of materials and supplies for building and repairs such as lumber, windows and doors. 
The space was also large enough to park construction vehicles and trailers. Additionally, brand new appliances destined for Habitat homes and projects were stored in the warehouse. The space was also built with volunteer capacity in mind, so winter volunteers could join construction staff at the warehouse to carry out tasks needed for future builds like framing windows and doors. 
Volunteer workshops were hosted at the property so staff could teach building techniques, tool identification, construction safety, and more. On several occasions, the organization hosted large volunteer groups for wall builds, in fact, IVHFH had plans to host a Frame Decorating Party for the Mary Mascher Women Build at the warehouse on April 28.
In addition to the total loss of the IVHFH warehouse, the neighboring HabLab facility sustained significant damage. The HabLab is a building with a classroom, kitchenette, bathroom facility, staff office, and additional storage space. Heated and cooled, HabLab pairs perfectly with the warehouse when hosting volunteers in addition to precious storage space. While the HabLab still stands strong, it will require several critical repairs.
"The warehouse was my dream project for more than a decade," IVHFH Construction Manager Christy Shipley said in a press release. "I always said we needed a space where we could work with and train volunteers year-round. A space that could store every essential piece of equipment, every tool, backstock supplies, materials, vehicles. Everything we needed to carry out the work we do in our communities. A space we could work even through the winter months or even as a backup volunteer site when we got rained out at a build. So, when I got the word we were ready to build this space back in 2016, I was thrilled. It had been everything we wanted and needed to grow our construction capacity." 
As neighbors throughout IVHFH's five county service area — Cedar, Iowa, Johnson, Louisa, and Washington counties — react to the damage and devastation caused by the storms, the organization is committed to responding to emergency requests for home repairs, major appliance replacements, and any other home repairs offered under its Helping Hands program. 
To continue this critical work without interruption in services, IVHFH is looking to the support of the Iowa Valley community to raise funds and rebuild the Habitat warehouse.
Warehouse donations needed
IVHFH has set up a fundraising campaign to collect donations that will be used to cover the cost of rebuilding including waste/debris removal and general cleanup, insurance deductibles, and replacement of valuable supplies, materials, tools, equipment and more.
Most importantly, donations will allow us to immediately replace valuable tools, equipment, and supplies that we need to continue building. It will take time to rebuild and determine what can be replaced by an insurance claim, but in the meantime, we have to continue building.
To donate to the Warehouse Rebuild visit: https://bit.ly/habitatwarehouse. 
Volunteers needed 
IVHFH staff will host volunteers this Saturday, April 8 as a first and major step in the clean-up process. 
"We see this community come together after every disaster, and right now we need that support," Ms. Shipley said. "We will rally a big group of enthusiastic folks who are ready to get dirty and lend a helping hand!"
Volunteers who can assist with cleanup on April 8 from 9 a.m. to noon must register at this link: https://app.giveffect.com/campaigns/26171-warehouse-clean-up.