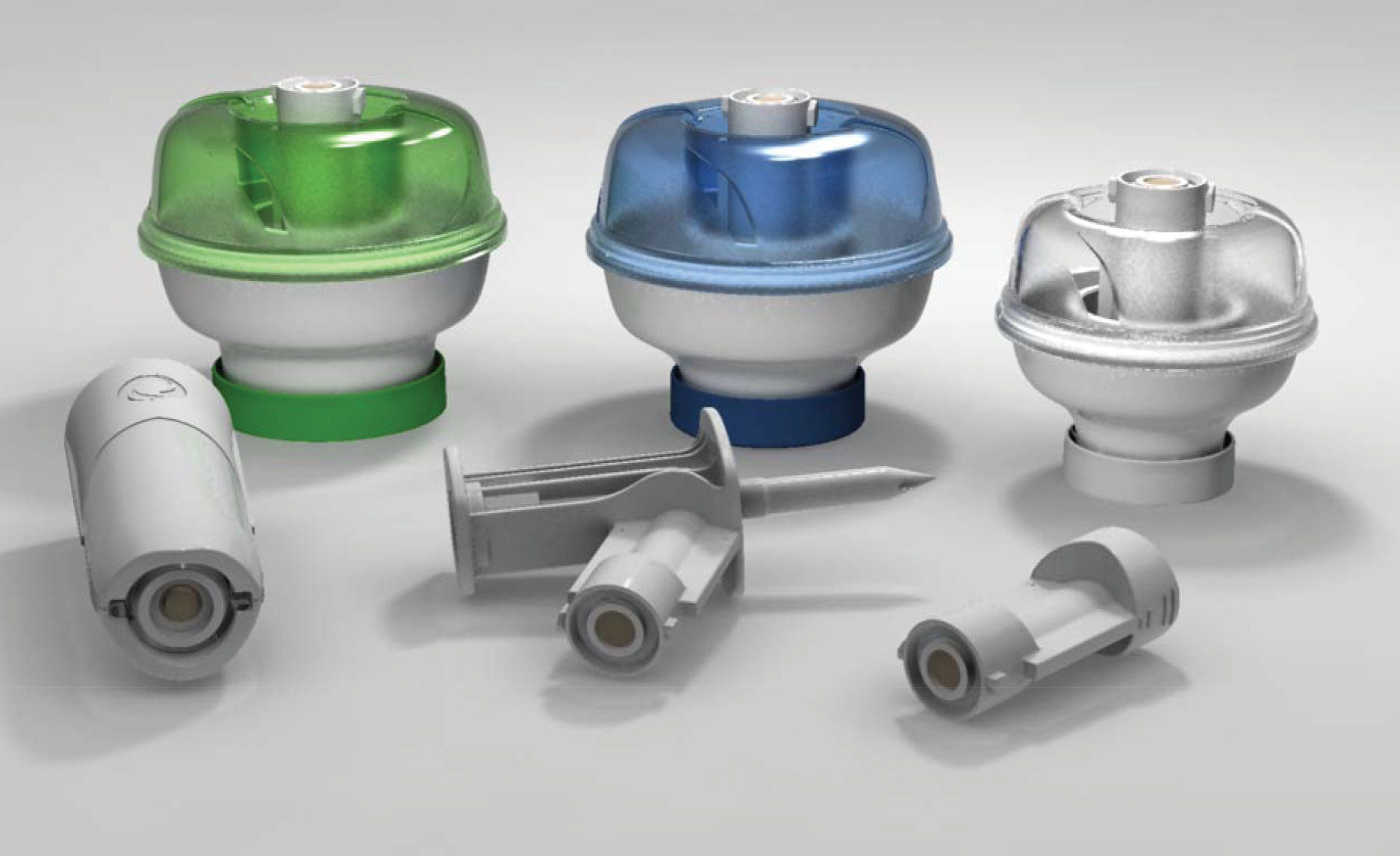 By Dave DeWitte
dave@corridorbusiness.com
For Jared Garfield and John Slump, founders of Coralville-based Corvida Medical, a seven-year journey to bring the company's first medical device to market is coming to an end.
The Halo, Corvida's closed system transfer device (CSTD) that protects medical professionals and patients from unintended exposure to toxic drugs when administering cancer therapies, received U.S. Food and Drug Administration 510(k) clearance in June.
Exposures to hazardous cancer drugs can lead to acute and chronic health effects such as skin rashes, infertility, spontaneous abortions, congenital malformations in newborns, and possibly leukemia and other cancers, according to the National Institute for Occupational Safety and Health.
The FDA gave the device an ONB product code classification, meaning it demonstrates no escape of hazardous drug or vapor concentrations, no transfer of environmental contaminants and prevents microbial ingress.
Corvida is essentially cleared for takeoff.
"It's been a long road coming and it's been a fun rollercoaster ride," Mr. Garfield said. "We've had great support from the state of Iowa, the university, the National Cancer Institute, and our investors from around the country have provided great support as well."
Messrs. Garfield and Slump originally formed Corvida Medical as J&J Solutions when they were undergraduate students at the University of Iowa's Tippie College of Business. Based in the UI Research Park, the company's is now led by CEO Kent Smith, a medical device industry veteran.
Having a product cleared by the FDA is a game-changer for the company, according to Mr. Garfield, who added that the phone is ringing more as of late.
"With investors, it's a big milestone for the company and it makes us attractive to new investors, new strategic partners, new entities," Mr. Garfield said. "It's a different stage in the company's lifecycle."
Developing medical devices and getting them through regulatory approvals tends to be time-consuming and expensive, often running into the tens of millions of dollars.
Mr. Garfield declined to comment on the amount of capital raised by Corvida, preferring to say that "we're sufficiently capitalized to move the product forward and the product will be available later this year."
Ease and simplicity of use are two of the advantages espoused for the Halo versus other closed system transfer devices already in the market. It has fewer pieces and requires fewer steps to dispense drugs safely.
"We're passionately committed to making health care safer," Mr. Garfield said. "We're not, unfortunately, curing cancer. We're preventing cancer and making treatment safer."
The Entrepreneurial Development Center of Iowa (EDC) has worked with Corvida since its early days to help it overcome obstacles to growth. Curt Nelson, CEO of the center, said the FDA clearance for Corvida shows what a pair of tenacious UI students can do with a strong support network. It also shows the capability to bring a medical device from concept to market within Iowa.
"It's a wonderfully necessary product," said Mr. Nelson, who placed Corvida in the top five companies the EDC has worked with in terms of time invested.
Most medical device startups take root in places like Minneapolis or Boston, which have clusters of medical device companies and a strong support network, according to Mr. Garfield. He said it might have been easier for Corvida to launch in such a location, but that the company remained loyal to Iowa because of the early support it received here.
"The state as a whole is making a really good push to make it more entrepreneur friendly – not to say that it's not already," Mr. Garfield said.
Many medical technologies developed at the UI don't turn into local business ventures.
Research discoveries coming out of the university are often licensed by the UI to established companies that produce the product elsewhere, Mr. Nelson said. That provides a useful stream of revenue to the university and the contributing researchers.
Efforts to help entrepreneurs commercialize their research discoveries here in the Corridor are accelerating, Mr. Nelson said, because the economic benefit to the area of building a company here such as payroll, capital investment and R&D spending can often be much greater than revenues from licensing.
Corvida's next step is setting up partnerships with leading cancer research centers to demonstrate the safety and effectiveness of the Halo in the safe handling of drugs. While it has no endorsement from the National Cancer Institute, it has received $5 million in NCI grants.
"We're the only solution in this space that has received the support of the NCI through multiple rounds of grants, and that helps," Mr. Garfield said.