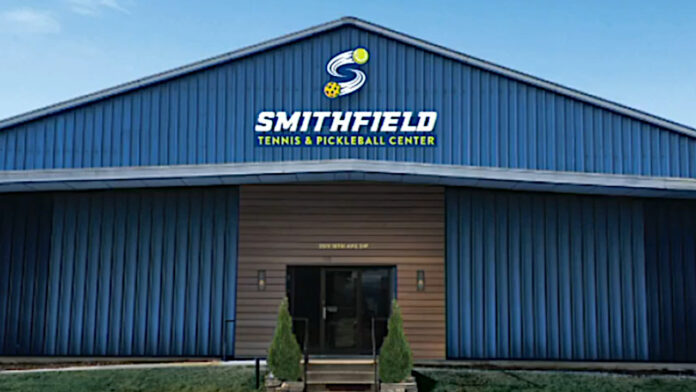 The former Westfield Tennis Center in Cedar Rapids is set to be reborn as a tennis and pickleball facility under new ownership.
The Cedar Rapids City Council on Tuesday approved a package of financial incentives for the new Smithfield Tennis and Pickleball Center at the former Westfield site, 3511 18th Ave. SW, which was founded in 1976 by Chuck Schillig, his wife Elsie and his brother Don.
The Westfield Tennis Center was heavily damaged in the August 2020 derecho and never reopened. The facility was acquired in September 2021 and is being redeveloped by Eleven LLC as a tennis and pickleball facility in a project valued at $1 million.
The project is set to include renovation of the existing 41,400-square-foot building, including six indoor pickleball courts and four indoor tennis courts, and will create eight new jobs, Cedar Rapids economic development manager Caleb Mason told the council.
The project qualifies under the city's Commercial Reinvestment Economic Development program, Mr. Mason said, and as such it qualifies for the city's standard incentive under that program – a 10-year declining-scale exemption of the increased value and taxes generated by the investment.
Mr. Mason said the city estimates the project will generate $480,000 in taxes over the 10-year program period, of which $125,000 would be exempted.
City council member Ashley Vanorny said she was pleased with the redevelopment plans, because like many others in southwest Cedar Rapids, she and her brother both learned to play tennis at Westfield.
"It's incredible that this is being reinvested in, because we thought that it was just going to be a total loss, to be honest," said Ms. Vanorny, a former Jefferson tennis player. "It's a sizable space. Having that recreation accessible on that side of town is pretty foundational and important, particularly to all the J-Hawks over there. I'm glad somebody's doing something really wonderful with it."
The project is expected to return to the council in May or June for council consideration of an Urban Revitalization Area designation to move the project forward, Mr. Mason said.
In a related development, the council also unanimously approved a resolution adopting plans and form of contract for a public pickleball court complex at Jones Park in southwest Cedar Rapids. The project's current budget is currently $400,000, but proposed alternate plans – expanding the current eight-court proposal to 10 courts and adding lights to the complex – could push the costs higher, Cedar Rapids landscape architect Steve Krug told the council. The project will now be opened for bidding.