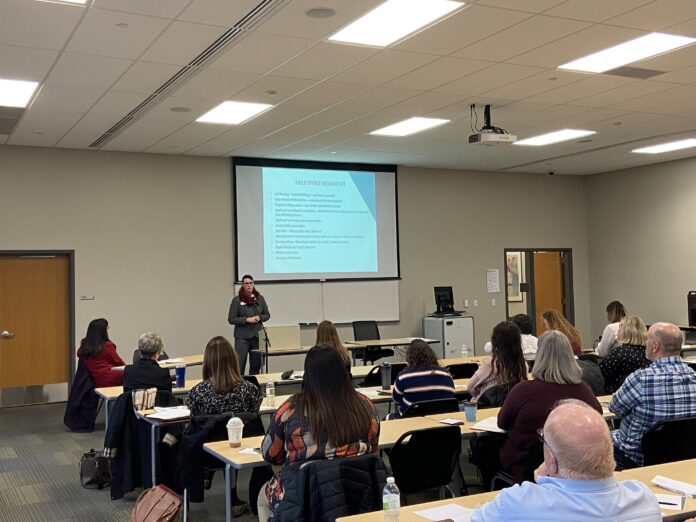 Iowa Workforce Development (IWD) and IowaWORKS hosted a workforce roundtable on Nov. 15 for Corridor-based businesses to discuss the latest strategies and resources to attract employees, just days after a September jobs report found that 4.4 million people quit their jobs in September.
The mass exodus wasn't an anomaly, either. 4.3 million people quit their job in August, furthering the narrative of a 'Great Resignation' among workers around the country.
The event's speakers touched upon various ways to assist businesses including child care reform, work-based learning pathways and resources to utilize, before opening up the floor for an informal question and answer session.
"It's not just one of those things where it's a single issue with a single resolution," said Beth Townsend, director of the IWD, speaking about the child care industry. "We all know we don't have enough child care facilities, enough affordable child care, we're not paying child care workers enough money for them to stay in the industry and we don't have a pipeline to create those child care workers."
In February, the Governor's Economic Recovery Advisory Board recommended four workforce-related proposals to get Iowa on track following the pandemic. One of the primary task items, developing an overall strategic plan to tackle the child care crisis, was partially addressed earlier this month when Governor Kim Reynolds released a series of initiatives to address common problems child care centers face.
The advisory board also recommended 75% of Iowa school districts have one or more school-based partnerships by 2023, and that all students have the opportunity for a high-quality work-based learning experience by 2024. This includes career exploration opportunities, job shadowing, apprenticeship programs and internship programs.
There are 57 schools currently participating in the apprenticeship program, representing 27 different occupational programs and 160 apprentices. These types of opportunities are extremely beneficial in helping local businesses attract a motivated workforce and promotes quality jobs in the region, but also plugs what can become a "leaky pipeline of talent" where valuable Iowa graduates move to other states and never come back, says Christine Bullock, the director of Workplace Learning Connection.
After hearing a long list of ideas and resources for businesses to utilize, attendees voiced concerns over the implications of potential vaccine mandates on already shrinking workforces, as well as the uninspiring effects of some employee incentive programs.
Graduate Iowa City Hotel offers several generous sign-on bonuses that are eligible to new employees after working at the company for just 10 days and after 30 days, but the incentives are not competitive enough and have not changed the hotel's hiring situation, says Assistant General Manager Abbey Tillman.
The root problem, however, is low wages across the board, said Joey Purpura, apprenticeship coordinator and instructor at Iowa Laborers' Education and Training Trust Fund.
"We're finally seeing wages going up but what most people don't seem to understand is that as inflation goes up, the gas prices are going up," said Mr. Purpura "The cost of living is expensive. You're not going to find a single, one-bedroom apartment in this area for less than $700 a month. At a base rate of $15 an hour, if you do the math [after other expenses] they are left with nothing. While you're balancing and hovering this amount of money over their head, it's only enough to stay afloat … and we all know that in the back of our minds."