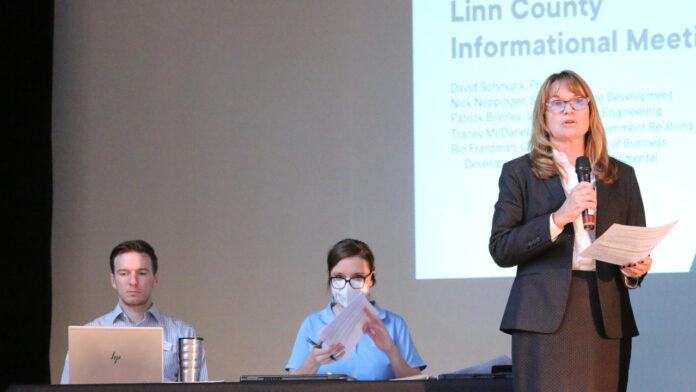 Wolf Carbon Solutions says it will conduct a series of new informational meetings about a proposed carbon pipeline project through Iowa and Illinois, after some affected property owners said they didn't receive proper written notice of the initial meetings about the project.
The decision was revealed in a document filed in the project's Iowa Utilities Board docket Oct. 3.
Wolf Carbon and the IUB conducted a series of public meetings about the proposed carbon pipeline project, including in-person meetings in five Iowa counties in August and a virtual meeting in mid-September.
"During the public informational meetings, some participants indicated they may be affected landowners but did not receive written notice of the meetings to which they were attending," the filing says. "At the time of the informational meetings in question, Wolf believed in good faith that all necessary and appropriate notice requirements had been satisfied."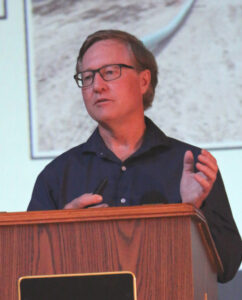 The notification issues were among several concerns about the pipeline project raised by attendees at the Linn County public meeting on the project Aug. 30. At that meeting, Wolf Carbon officials said they decided not to notify more than 5,200 property owners along the two-mile-wide route corridor because the company determined their properties would not be directly impacted by the project.
However, after an internal review of the notification process, Wolf Carbon officials "recognize(s) and acknowledges some anomalies have occurred that potentially resulted in certain landowners not receiving notice by certified mail, separate from Wolf's efforts to provide notice by other means, such as the properly published public newspaper notices."
"As such, Wolf is currently taking prudent measures to rectify the issues related to its initial mailing," the decision says. "As a part of this process, Wolf has resolved that, with approval from the Board, it will voluntarily re-conduct in-person public informational meetings as soon as possible, and will strive to reach out to all potentially 'affected persons,' as well as re-publish public notices of any upcoming public informational meetings in local newspapers."
The decision does not indicate when the new public meetings will be held, and does not indicate that Wolf Carbon will be sanctioned in any way for the notification "anomalies."
Wolf Carbon Solutions has proposed building a 280-mile carbon dioxide sequestration pipeline between Cedar Rapids and Decatur, Illinois.
The pipeline, referred to as the Mt. Simon Hub by Wolf Carbon Solutions officials, would transport liquefied carbon dioxide through a pressurized 16-inch pipeline from ADM plants in Cedar Rapids and Clinton to an ADM sequestration facility near Decatur, Illinois, where the gas would be pumped underground at the Mt. Simon Sandstone saline reservoir for permanent storage.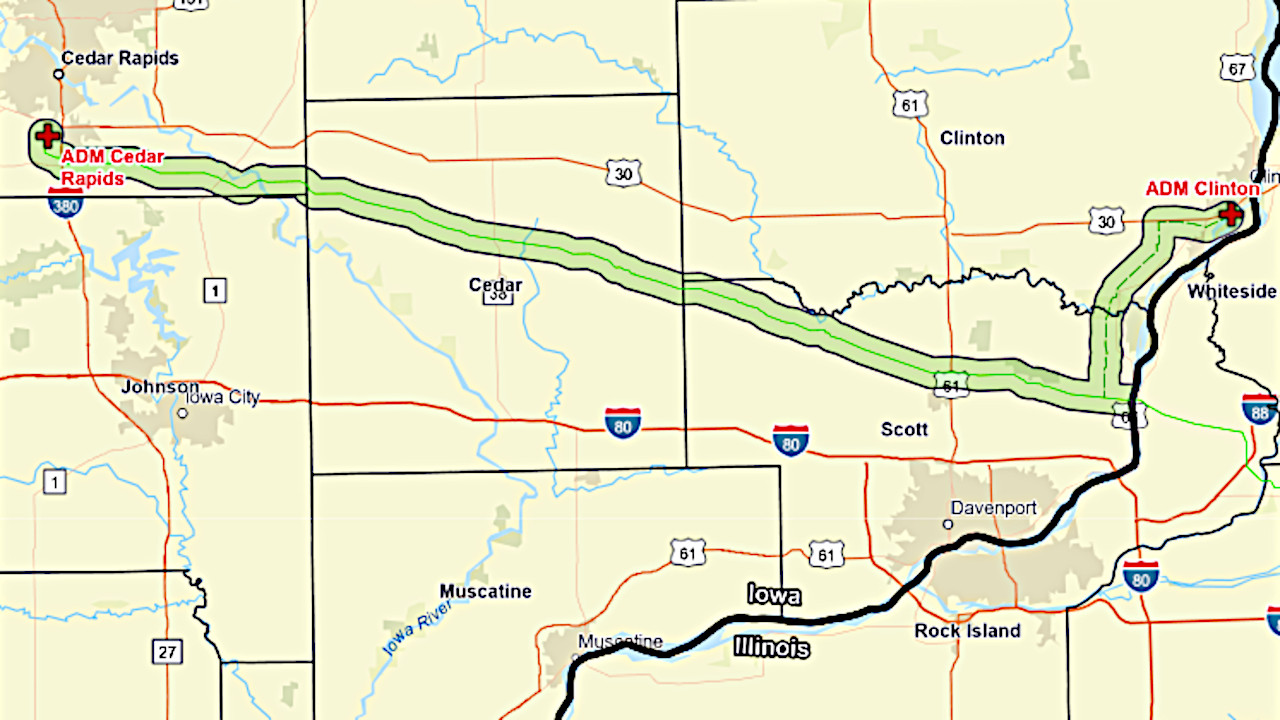 The pipeline, first proposed in January, would run through the southern portion of Linn County and a small portion of northern Johnson County southeastward through Cedar, Clinton and Scott counties in Iowa, then further eastward to the sequestration site. About 90 miles of the pipeline would traverse Iowa properties, including about 20 miles in Linn County.
ADM says the pipeline would have the capacity to transport 12 million metric tons of carbon dioxide per year from its Cedar Rapids and Clinton plants.
Wolf Carbon officials said the pipeline would have significant spare capacity to serve industrial customers looking to decarbonize across the Midwest and Ohio River Valley. They also say the project would bring a $1.1 billion economic impact to Iowa, including a $208 million investment in Linn County, and offer more than 400 construction jobs with $50 million in overall wages and salaries during construction.
ADM says its existing carbon capture and sequestration capabilities in Decatur have allowed it to safely and permanently store underground more than 3.5 million metric tons of CO2, paving the way for increased decarbonization of the company's operations.
The projects are touted as an environmentally-friendly solution to deal with carbon dioxide emissions from large-scale industrial facilities, but critics question the environmental claims.