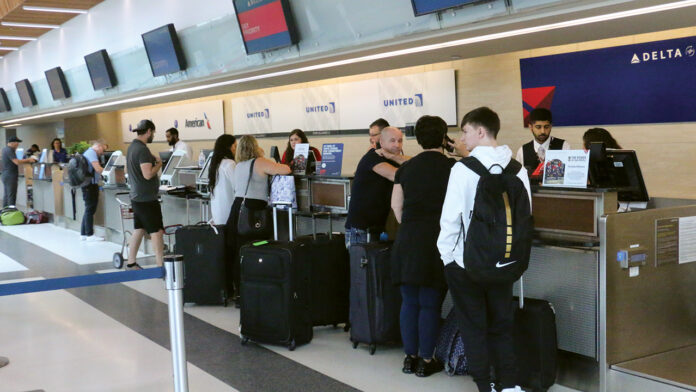 The travel industry has seen a dramatic rebound from the COVID-19 pandemic, with a near-record number of travelers reported over the recent Independence Day holiday.
But so far, a majority of the industry's recovery has been spurred by leisure travelers, as pent-up demand for vacations and family events has spilled over to the travel industry, particularly with those choosing to travel by air – nearly 2.5 million passengers were reportedly screened at Transportation Security Administration (TSA) checkpoints July 1, the highest total since the pandemic began in March 2020.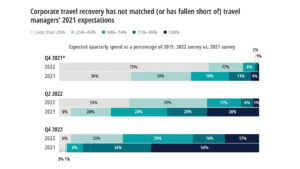 Eastern Iowa Airport Director Marty Lenss said that after a drop to near-zero air travel in the early parts of the pandemic, the airport was currently on track for the second-highest passenger count in its history for the month of June. However, he acknowledged that business travel numbers have trailed well behind pre-pandemic levels.
"We've seen really strong leisure demand," he said. "We've also seen a rebound in business traffic, but we're still not 100% back. I would say we're averaging about 75% of what (business travel) was before the pandemic."
The passenger mix has also changed somewhat as the pandemic has eased, Mr. Lenss said, noting that the airport has historically seen a mix of 60% business travelers and 40% leisure travelers.
"I would say we've been averaging probably 70% leisure through the pandemic and 30% business, but we're starting to get back to more on the 50-50 range now," he said, noting that revenue has been increasing more quickly on the business travel side because average business fares tend to be higher.
Duane Jasper, CEO of Travel Leaders/Destinations Unlimited, a travel agency with offices in Cedar Rapids and Iowa City, largely concurred with Mr. Lenss' assessment on business travel.
"2019 was probably a record year for business travel," Mr. Jasper said. "Then we basically went down to almost zero during certain months in 2020 and 2021."
As the pandemic has eased, business travel bookings are nearing 70% of their 2019 levels with Destinations Unlimited, Mr. Jasper said.
"But with air fares being as high as they are, companies are probably spending more like 80 or 85% of their travel budget (as compared to 2019)," Mr. Jasper said. "And we're continually seeing that rise by 4-5% a month, so we're anticipating that we're going to be close to 2019 activity in the fourth quarter of this year, probably more so in revenue than trips. I don't think we'll be back to 100% of trips anytime this year, but in terms of a client spend, they'll be close to 100% as long as air fares continue to be this high."
Views vary on future
It's difficult to find a consensus on how business travel will evolve into the future.
Deloitte expressed strong optimism about business travel growth in an April 2022 study.
"This spring and summer, many large companies will implement the return-to-office plans they delayed in the fall of 2021," the study indicated. "An uptick in travel will likely accompany this shift to more office-based work. Over the remainder of 2022, corporate travel should grow significantly from its now-small base. Team meetings that have been postponed multiple times will finally take place. More conferences will shift back from online to in-person, and those that already have will likely see attendance improve … As health concerns subside, companies will want to continue to bank some of the financial savings and environmentally friendly practices realized from two years of very limited travel. Corporate travel's return has begun, but the conferencing technology that replaced nearly all of it beginning in early 2020 will likely continue to replace some of it for the foreseeable future."
A Forbes article in March painted a decidedly less bullish picture.
"According to Morning Consult data, the percentage of frequent business travelers who say they'll never return to the road has ticked up from 39% in October 2021 to 42% in February 2022," the article indicated. "At a New York Times event back in November 2020, Bill Gates sent a chill through the travel industry when he predicted that more than 50% of business travel and more than 30% of days worked in offices would go away permanently. Flash forward 16 months and Gates' assessment is now accepted, more or less, both inside and outside the travel industry … While few people expect business travel to disappear completely, the sector is going to look very different on the other side of the pandemic."
TravelPulse straddled the middle ground in an April article.
"American workers' desire to return to business travel is being reflected in a number of surveys, and the latest data from American Express' Trendex Survey mirrors other recent data that suggests business travel could be ready for a boom," the article said. "American Express found that 75 percent of business travelers and 81 percent of frequent business travelers are interested in traveling for business now through the fall. The top reasons travelers are taking business trips include the standard fare: conferences, work training and networking opportunities … (But) there still seems to be some overall hesitation regarding traveling for work with older generations. Nearly half (44 percent) of Baby Boomer business travelers said that they were not interested in traveling this year at all."
Factors impacting air travel
Across the board, the airline industry has been reducing the overall number of scheduled flights, resulting in a cascade of issues affecting air travelers, from flight delays and crowded planes to outright cancellations and difficulties with rebooking passengers.
Many factors are at play in the problem, and a quick solution isn't likely, making travel a frustrating experience for business and leisure travelers alike.
"We've seen fewer flight frequencies for a few reasons," Mr. Lenss said. "One is pilot shortage. There's a dramatic workforce shortage across the industry. Nationally, there's just fewer aircraft flying today than pre-pandemic, and a lot of that can be attributed to the workforce shortage, particularly in the pilot ranks. (Airlines) simply can't fly the same number of airplanes today that they could pre-pandemic. 
"It's really less about fuel price, although that's a negative pull in the industry as it relates to fares. It's been as much about significant wage increases for pilots," he added. "Airlines are competing for a narrowing workforce and wages are going up."
There's also been a trend toward reducing the number of smaller, regional planes in airlines' fleets in favor of larger planes, and those planes are usually booked at or near full capacity, improving per-passenger cost efficiencies.
"It's harder to make money when you have less seats to spread costs over," Mr. Lenss said. "A lot of small markets where air service depends on 50-seat aircraft are really struggling. 
"Conversely, in markets like Cedar Rapids, we're seeing rapid growth in the size of airplanes. So we might have less frequency to a particular market. But we're seeing mainline aircraft now, the regional jets. When you're operating fewer flights and seeing a rebound in traffic, the flights are full, and if they're canceled for weather crews, it creates challenges for people to reroute or make their connections back. They may end up having to wait a day or two."
U.S. Transportation Secretary Pete Buttegieg has made travel issues one of the focal points of federal policy, Mr. Lenss noted.
"There's a heightened level of government interest on the topic, and the airlines have a lot of motivation to get the issue resolved quickly," Mr. Lenss said. "They will absolutely get back to the reliable schedules that we're all accustomed to. When you think about the industry, it's really quite remarkable how efficient it is. Airplanes moving across the country, weather issues, mechanical factors, getting crews to the right location at the right times – making all that work logistically is incredible, and it absolutely will get back to the reliability that we've all been accustomed to.
"Plus, the carriers are going to get out in front of this," he said. "They're a bit behind the curve right now, but it's in their best interest to get it fixed. I know the carriers that are having those challenges are working on a solution quickly."
A return to near-normal likely
Despite recent challenges, business travelers seem determined to return to a semblance of pre-pandemic activity.
Carrie Mick, corporate travel program manager for Alliant Energy, said that a majority of Alliant's travel activity involves trips to company facilities in Iowa and Wisconsin, and that employees are increasingly eager to meet in-person after two years of pandemic-induced virtual business gatherings.
"Our people are wanting to see other employees and clients," she said. "They want to get out. I think everyone's tired of being stuck at home. We're not really limiting what employees are doing (with travel), we're just asking them to do it in a safe manner that everyone is comfortable with."
Certain types of meetings, including conferences and training events, are best conducted in person, but virtual meeting attendance remains a viable option in some cases, Ms. Mick said.
"Internally, we're trying to get people to meet together and collaborate, but we'll often have both virtual and in-person options. If you're comfortable going in person, we want people to be in person."
Mr. Lenss and Mr. Jasper also agreed that after two years of near-isolation, workers are craving opportunities to meet in person, spurring a continuing surge in business travel activity.
"I think (virtual meetings) have found a permanent place in our work culture, and to some extent, they will replace some travel," Mr. Jasper said. "The virtual tools are being used most frequently right now by employees that used to sit next to each other in the office. They may be working for a company that hasn't required everybody to come back to the office, so virtual meetings can work for employee-to-employee communication. But we're hearing from a lot of our customers that they still have a strong need to do face-to-face business with customers."
Certain business segments are moving more quickly back to in-person meetings, including the construction and industry segments, Mr. Lenss said. Also, for many professions, continuing education credits are essential to obtaining or maintaining certifications, and those credits are most readily earned by attending in-person seminars, conventions or workshops.
"There's a whole industry out there in the convention and visitor's bureau space, and those sectors are rebounding now," Mr. Lenss said. "Plus, networking opportunities are huge. I'm a firm believer that business is won by relationships, and relationships are developed in person. The travel business, the conference scene – absent some sort of setback with the pandemic, it'll be back."
Mr. Jasper added that as the pandemic continues to subside, fiscal realities will likely dictate the continued growth of business travel.
"When employees are not all coming into the office, you don't have the opportunity to create those connections and relationships, so we're seeing companies that are sending groups of people to the same location to do 'team days' and build rapport," he said. "We're seeing an uptick in business group travel. They've got a need to bring people together, to collaborate and to be creative. If I'm in sales, I may try to get new business over Zoom. But the first time I lose a deal because my competitor went there and I didn't, that's probably going to change my travel pattern very quickly."