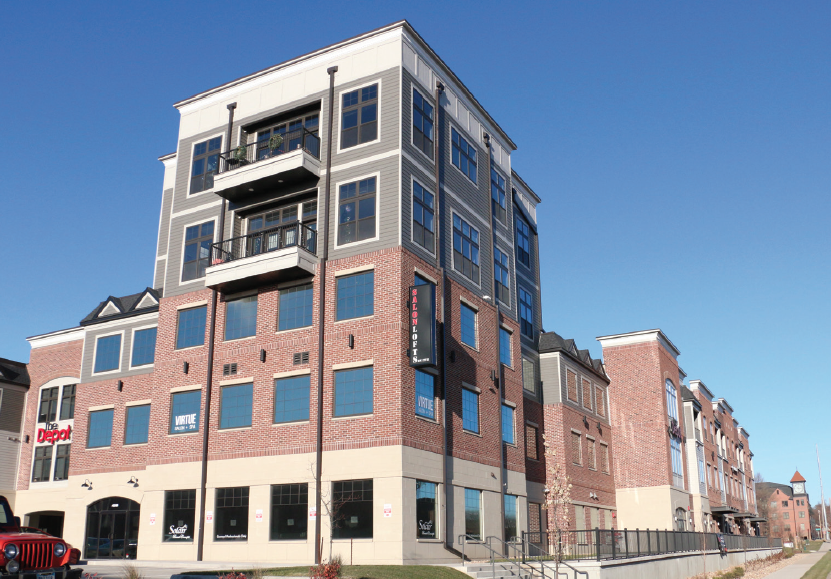 The Depot has transformed the 12th Avenue streetscape in NewBo, providing live-work opportunities in a former brownfield area. PHOTOS ADAM MOORE
By Dave DeWitte
dave@corridorbusiness.com
The Depot project is showing just what's possible in Cedar Rapids' NewBo District.
Since breaking ground in July 2016, Ahmann Companies has completed three buildings in the nearly $40 million mixed-use development, and recently broke ground on the fourth.
It has transformed a dirty industrial site once operated by Iowa Iron Works into a place where people work, live and shop. It's also added a more urban feel to the NewBo District, placing residents and visitors within walking distance of popular destinations such as NewBo City Market and Legion Arts' CSPS Hall.
Best of all, for Ahmann Companies, it's a project that is meeting its full leasing potential.
"It's one of those situations where demand has exceeded expectations," said Chad Pelley, director of business development for the Hiawatha-based development company. He said the project is on track to be done and fully occupied by mid-2019.
The Depot's unique and attractive appearance is due to a combination of factors, Mr. Pelley said, including the unusual triangular site, the city of Cedar Rapids' Czech Bohemia Overlay District design guidelines, and company owner Joe Ahmann's creative muse. It features ornate facades, steep rooflines and large windows that face the street.
"We didn't make it look like we were trying to replicate existing buildings as much as we were trying to create a building that fit well with them, yet had its own character," Mr. Pelley said.
Although the site required a raised retaining wall along Eighth Avenue, ample space was allowed between the retaining wall and the buildings for outdoor uses such as outdoor dining tables.
"We wanted them upfront," Mr. Pelley said. "We wanted them inviting. We wanted the first-floor retail to draw people into the district."
The first three buildings are each between 38,000-40,000 square feet spread over multiple floors.
Building One is a three-story building that houses Collective Data, a growing developer and supplier of asset management software, on the second floor, and 13 high-finish residential apartments on the third floor. It will be fully occupied by March 2018 when data center operator Involta moves into the first floor.
Building Two was purchased by Scott and Ronda Derby, who operate their Solair Beaute Concepts, a hair styling supply store, on the first floor, and live on the top floor. The Derbys operate the second and third floor spaces as Salon Lofts on 12th, leasing hair styling spaces to independent operators. Their daughter and son-in-law occupy the other fifth-floor condo and work in the building.
Building Three is designed for ground-floor commercial with 26 high-end residential apartment units on floors two and three.
Several Ahmann Companies divisions have been involved in the project: Fusion Architects designed it, Compass Commercial Services is building it and Pivot Real Estate is marketing the property. Work was expected to take from three to five years, and now appears to be headed for completion at the short end of that range.
"There's definitely a 'cool factor' to the neighborhood," said Craig Byers of Pivot Real Estate. "Because of that cool factor, office users are moving down there. They know that employees will appreciate the vibe."
Mr. and Mrs. Derby chose The Depot for their beauty supply business because it is central to its clientele of Corridor salon operators, far enough from competing beauty supply companies and an attractive destination for their clients to dine out or shop on their visits. Living in NewBo has also been a plus.
"It's definitely changed our lifestyle," Ms. Derby said. "We were in a house with a half-acre of land. We still have a nice rooftop, but it's definitely given us more time to play. We are always out in that [NewBo] area. We try to equalize the time and money we spend among all the businesses."
With the arrival of the Derbys, NewBo has gone from a neighborhood short on salons to a hair styling destination. Salon Lofts on 12th has 32 salon operators, with space available for more.
Redvelopment successes
The site used for The Depot had briefly been redeveloped for a sand volleyball complex, but its industrial past had left the soil beneath contaminated. That required an application for brownfield grant funding to remediate the site and extended the timetable on the project.
Cedar Rapids Community Development Director Jennifer Pratt said the redevelopment of the 4.8-acre Iowa Iron property, much like the NewBo City Market, has been a big step forward for the area, and is drawing accolades.
The district's redevelopment was recently selected as the EPA Region 7 winner in the Phoenix Awards, a nationwide judging of exemplary brownfield restoration and redevelopment, for bringing vitality back to the former Iowa Iron and Iowa Steel sites acquired by the city.
One decision that led to the positive investment and redevelopment was an early move to decline offers to redevelop smaller individual tracts within the area, Ms. Pratt said. By holding the parcel for one master-planned development, she said, the result was a project with greater investment and impact on the area's look and feel.
Ms. Pratt praised Ahmann Companies' thoughtful approach to redevelopment, which included a shared parking agreement with NewBo City Market urged by the city. Without the agreement, she said fewer people would be able to enjoy the area.
While completing The Depot, Ahmann Companies is also working with other investors on the 329 Building, a four-story building across 12th Avenue. It will have three stores of spec condos on on the upper levels and first floor commercial space.
The condo spaces will be available for buyers to customize and some will be owned by the building's investors. They include Involta owner Bruce Lehrman, who will be able to walk to work when Involta moves in across the street.
The soon-to-be completed 16th Avenue extension will open up even more property in an area of town that has awakened from years of stagnation. Hatch Development Group has been seeking investors for a $25 million project to house artists, entrepreneurs and businesses when that area opens up, and recently filed a rezoning application.
For now, The Depot has proven there's a vibrant market for both commercial and residential space in NewBo on a scale not seen before.
"It's one of my proudest projects, and it's far exceeded expectations as far as absorption of the units and the rental space," Mr. Pelley said. "The market demand we thought was there is there."