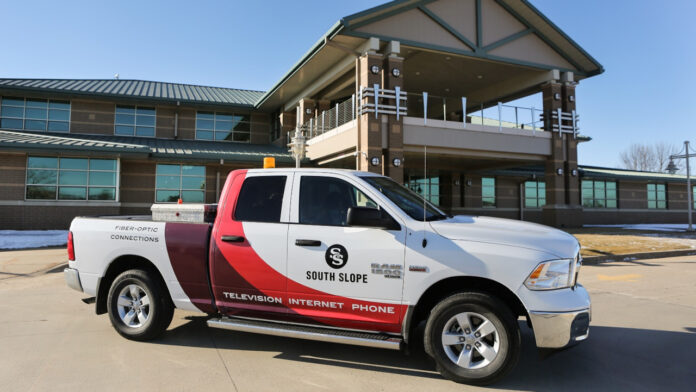 South Slope Cooperative Communications and Aureon have awarded matching charity grants to the Amana Fire Department, North Liberty Optimist Club, and Junior Achievement of Eastern Iowa. The Aureon Charity Grant Committee delegates funds to projects committed to the betterment of local communities.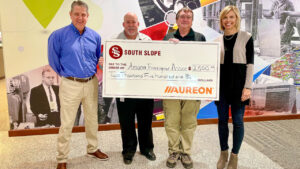 The Amana Fire Department will use their grant funds to purchase self-contained breathing apparatus (SCBA) and an adaptor for their rapid intervention team (RIT) pack.
The SCBA air packs keep firefighters from inhaling toxic fumes.
The Amana Fire Department serves the seven colonies of Amana with their volunteer firefighters.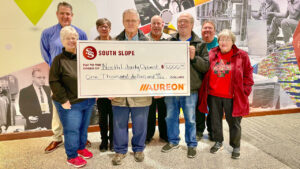 The North Liberty Optimist Club will use their grant money to purchase food and grocery store gift cards for families to use during winter break.
Winter outerwear items will also be purchased.
Having winter clothing and food available for students at elementary schools is a crucial community resource.
Junior Achievements'he group' goal is to be "Friend of the Youth". We spend our time learning about groups and organizations within our vicinity, raising money for youth organizations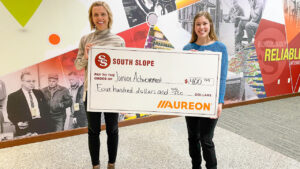 And Junior Achievement of Eastern Iowa will use grant funds to purchase program kits used within the College Community School District. The kits include lesson plans, student materials, and activities. Junior Achievement of Eastern Iowa is a nonprofit organization that partners with school districts to teach kindergarten through 12th grade students. The program kits will help teach children about how money works, how education leads to career success, and how to start and run a business.
South Slope Cooperative Communications provides broadband internet, phone and television services to homes and businesses in East Central Iowa. South Slope operates as a co-op, so members' investments go right back to improving Eastern Iowa infrastructure. Providing communications solutions since 1958, South Slope continues to lead the charge in delivering world-class technologies to its service area on an extensive fiber network.
Aureon provides reliable business solutions so clients can focus on their day-to-day operations. For more than 30 years, connectivity has driven Aureon's business. From technology to consulting to contact center operations, Aureon develops customized solutions based on knowledge and understanding of their clients.