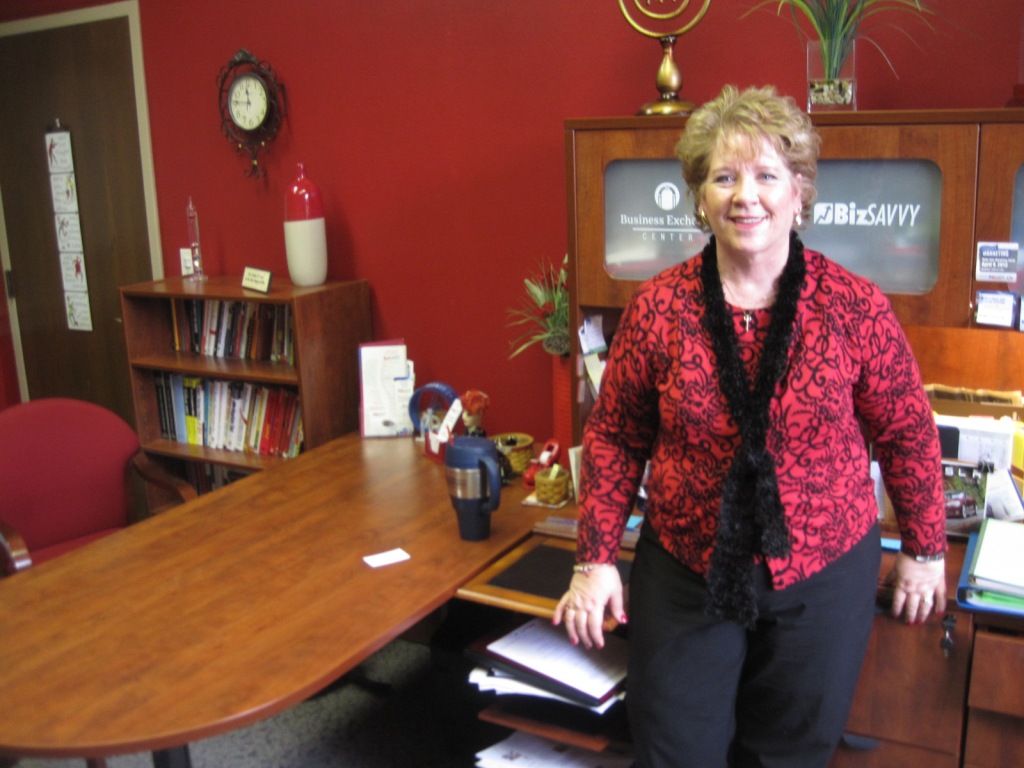 By Dave DeWitte
CEDAR RAPIDS — With a new small business counseling program called 99BIZ, Cedar Rapids business counselor Theresa Bornbach is testing a formula she believes will drive participants to achieve results in key areas such as marketing.
Launched in December, 99BIZ is a group counseling program targeting small business owners with employment projected at less than 99 employees. Participants pay $99 per month to take part in a 99-minute group business counseling session, with an emphasis on goal-setting and accountability.
The "99" concept is intended to address two of the issues common to most small businesses, according to Ms. Bornbach.
"They never have enough money or enough time," said Ms. Bornbach, who has two counseling groups with 20 participants under way, and expects to add a third this month.
At the core of the program is the process of establishing goals, making plans to achieve those goals, and being held accountable for following through on their plans.
"It's a mission of getting a small group of people together and helping them achieve something more," said Ms. Bornbach.
The number "99" is used mainly as a memorable brand for the business, but makes it easy to remember things like pricing and session length. Ms. Bornbach even set herself a personal goal of creating 99 jobs in the Corridor – one job per participant – in the first year.
Participants meet in groups of eight to 10 participants. Two groups began meeting in December, and a third will likely be formed in February. The participants commit for one year, but can withdraw after a set number of days (that's right – 99) if they decide it's not for them.
Group counseling for business owners is nothing new in the Corridor, but Ms. Bornbach says 99BIZ brings in outside networking and support tools, such as a relationship with salesforce.com to help participants organize their sales lead generation and pursuits.
One of the advantages group counseling offers business owners is the ability to share experiences. Ms. Bornbach said the business owners often learn as much from each other as they learn from their group leader, and can become an informal support network.
Members of the counseling group also tend to hold each other accountable for results in a way that a group leader could not, Ms. Bornbach said.
"It's just a lot of energy in the room, which is wonderful," said Ms. Bornbach, who holds the 99BIZ sessions in the conference room at her Business Exchange Center, 222 Third St. SE, Ste. 600.
Participants in the first two sessions have included business owners offering sales lead generation, retail jewelry, construction services, retail bakery, IT support, manufacturing and telecommunication services.
Some of them have complex goals, but others are simple.
One 99BIZ entrepreneur's goal is to become a supplier to Raining Rose, the growing Cedar Rapids-based contract supplier of natural body care products. For that business it became a matter of breaking down that goal into steps that would be necessary to earn the business of Raining Rose.
Marketing is easily the biggest emphasis of 99BIZ counseling, Ms. Bornbach said. With the evolution of social media, just about everything has changed in how small businesses must approach marketing in the past five to 10 years.
"There's got to be a total presence of your business online and offline, and they need to match," said Ms. Bornbach.
Accountability is one of the cornerstones of the 99BIZ program, Ms. Bornbach said. She follows up with participants and even sends emails between sessions to check on how they are doing on achieving their monthly goals.
One of the 99BIZ groups meet at 8 a.m. on the second Thursday of each month. The other meets at 1 p.m. on the third Tuesday.
Ms. Bornbach had a full immersion in small business counseling during the JumpStart program that assisted the hundreds of businesses in Cedar Rapids affected by the 2008 Cedar River flood. She obtained ActionCOACH business coaching certification and started the BizSAVVY business coaching team.
The idea of creating a small group coaching program and giving it the numerical theme came to Ms. Bornbach as she was driving one day in "one of those ah-hah moments." She liked the idea so well that she followed through, and now feels it has traction.
"All small businesses are the same," Ms. Bornbach said. "They want simple tools that work."
For more information, visit www.bizsavvyleaders.com/grow-business-new-99biz-group.