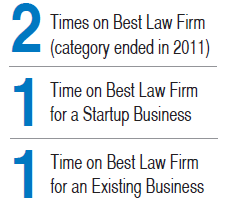 The Corridor's largest law firm prides itself on its wide range of expertise.
Simmons Perrine Moyer Bergman PLC, a law firm with locations in Cedar Rapids and Iowa City, is the third largest firm in Iowa and the largest in Eastern Iowa, said Randy Scholer, partner with the firm.
That could be one of the reasons the firm was voted the Best Law Firm for a Start-up Business and the Best Law Firm for an Existing Business, he said.
Simmons Perrine Moyer Bergman PLC became one of Iowa's largest law firms in January 2009, when two firms in Eastern Iowa merged. Although Simmons Perrine, PLC, and Moyer & Bergman, PLC, were competitors, they realized the value in joining together.
Between its two locations, 115 Third St. SE, Suite 1200, Cedar Rapids, and 1100 Fifth St., Coralville, the firm provides the full breadth of legal services, from business consulting to complex litigation.
"Many of our clients, whether large or small, have been with us for many, many years," Mr. Scholer said. "I think what makes us stand out is the very same reason we merged; that was to provide much more expertise in all phases of law so we could more appropriately serve clients."
Attorneys at Simmons Perrine Moyer Bergman also support educational, humanitarian, arts, entertainment, cultural and non-profit organizations and programs through pro bono legal services, monetary donations and volunteer services.
The firm has a wide range of clients, from individuals to small businesses to large publically traded companies, Mr. Scholer said.
"One way we can help startup businesses is having represented through all phases and all cycles. We've gained all kinds of valuable experience to allow a new startup business to anticipate what issues they may face along the road," he said. "And every business venture is very unique."
The firm has more than 50 attorneys and total employment is about 120 people.
"Anybody can start a business by going to the Internet and filing all the documents necessary to form it. The service you're not getting from those places, you'll get from our firm," Mr. Scholer said. "In our profession, and in any service industry, there's no substitute for experience."
Having clearly-stated, documented agreements between owners is important for the future of a business, he said. The firm can help people buy and sell businesses, and establish clear distribution of profits and sharing of losses, for example. Simmons Perrine Moyer Bergman has experience working with both successful and unsuccessful companies.
"You can go into things with a handshake agreement or the bare basic documents and you might be fine with them, but oftentimes, down the road you find an issue that crops up that hadn't been addressed previously," Mr. Scholer said.
Having assistance from a knowledgeable attorney is beneficial for both a new startup company and an existing business, he added. In his experience, Mr. Scholer hasn't noticed a big increase in the number of start-up companies, but a steady growth, depending on the condition of the economy.
"We haven't grown in terms of number of people, but I think we've seen the number of matters we're handling and revenue increases," he said.
The firm has a long list of practice areas, such as: agriculture, health care, immigration, taxation, real estate, intellectual property, municipal, antitrust and trade regulation, family law, product liability, workers' compensation, appellate advocacy, insurance and defense coverage, labor and employment law, mergers and acquisitions, corporate transactions and business counseling and renewable energy law, among many others.
-Pat Shaver