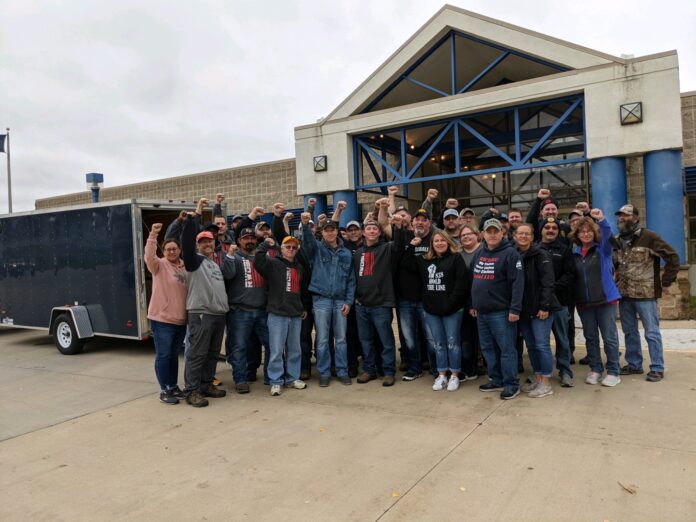 A delegation of Retail, Wholesale and Department Store Union (RWDSU) Local 110 members delivered food and supplies on Friday to support the United Auto Workers (UAW) union members strike at John Deere.
The RWDSU members — representing workers at Quaker and General Mills in Cedar Rapids and Cole's Quality Foods in North Liberty — donated packages of diapers, hand warmers, toiletries, food, frozen meat, cases of cereal and snacks to UAW in Waterloo, according to a release.
"This is America's heartland, and the heart our members are showing is just who we are," said Shane Forbes, president of RWDSU Local 110, in a statement. "We know that if we were in their shoes, they'd do the same for us. That's what being in a union is all about, having each other's backs."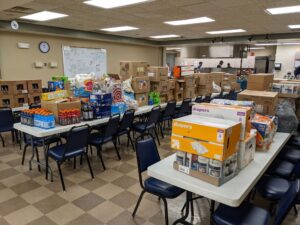 On strike for more than two weeks, around 10,000 UAW members walked off the job after rejecting a proposed new six-year contract. Among their demands, the workers are seeking wage increases and improved health benefits. John Deere's proposed offer on Oct. 14 would've given a 5% wage increase to some members and a 6% increase to others.
It is the first major strike at John Deere in 35 years.
RWDSU Local 110 members sought similar provisions during contract negotiations in 2019 before agreeing to a four-year contract that ultimately increased hourly wages and included vacation enhancements and protections against working during holiday weekends.
"When unions are strong, Iowa families are strong," said Roger Grobstich, vice president of the RWDSU. "What our members are doing shows that firsthand. I'm incredibly proud of the work Local 110 did to rally these donations and has been doing in support of our sisters and brothers at John Deere."
Picketing activities for striking John Deere workers near the company's Parts Distribution Center in Milan, Ill., were canceled for the day on Oct. 27 after a 56-year-old pedestrian was struck and killed while crossing the Milan Beltway near the facility around 6 a.m. The Rock Island County Coroner's Office confirmed the striker, identified as Richard Rich, died.
The RWDSU, affiliated with the United Food and Commercial Workers Union, represents 100,000 members throughout the United States.